Leslie Wilkes Brings a "Soft Hard-Edge" to Abstraction
---
IMAGE ABOVE: Detail from Leslie Wilkes, Untitled, P13.01, 2013. 36″ x 36″, oil on canvas, image courtesy of Leslie Wilkes and Women & Their Work.
---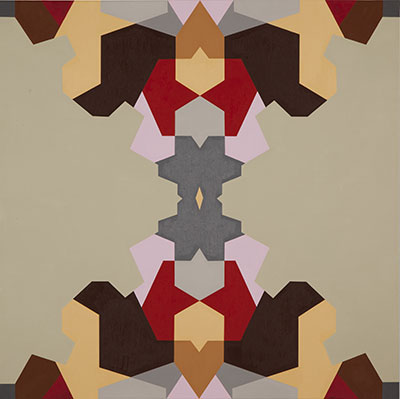 On March 29th, Leslie Wilkes opens her solo exhibition Optic Verve at Women & Their Work in Austin. She has exhibited work across Texas, but also nationally in Los Angeles, Santa Fe, San Francisco and New York. Known for her geometric, hard-edge paintings, Wilkes speaks about her process, her influences, and why she now calls Marfa home.
A+C:  How exactly do you generate your templates?
LESLIE WILKES:  I start with patterns that I have collected from graphic design manuals.  The repeating patterns lend themselves to finding new shapes within them.  Using a light table and working on paper, I create new shapes by combining or dividing cells within the pattern. The shapes are again altered in the painting process.  Once I start with the gouache, each color is a reaction to the colors that I've already laid down.  I never know how the piece will look until it is complete.
A+C:  What is your process like? I've read that you do not tape off your paintings and that you have also shown studies along with the finished paintings. Can you speak to the differences with those?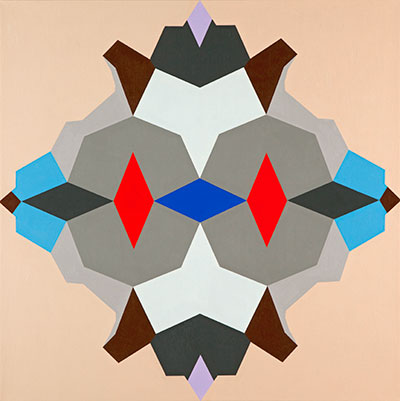 LW:  Not taping the paintings comes from a desire to keep the surface of the paint flat and soft.  I want to create a kind of soft hard-edge.
I don't actually do studies.  I make the gouaches as finished pieces, but when one of them feels like it would make a good painting, I'll replicate it on the size of canvas it dictates. Some paintings feel better large, some smaller, and my canvases range in size from 36  to 72 square inches.
A+C:  How does scale factor into your process? I've seen that your past work has ranged from small to as big as 6 square feet. Have you ever thought about directly painting on the wall, mural style?
LW: Mural style doesn't work well for me, because I need to adjust the painting throughout the process—move it up and down, sideways, whatever I need to really get to the shapes.  I also paint with oils and I love the feel of canvas.
A+C:  It sounds like your process is very physical when moving around a bigger painting. Do you ever think of it as performative in a sense?
LW: It doesn't feel performative. It's actually just part of the process of making the visual piece.
A+C:  Your work is reminiscent of high fashion, southwestern textiles, and Op-art. How do you relate to these themes on a personal level?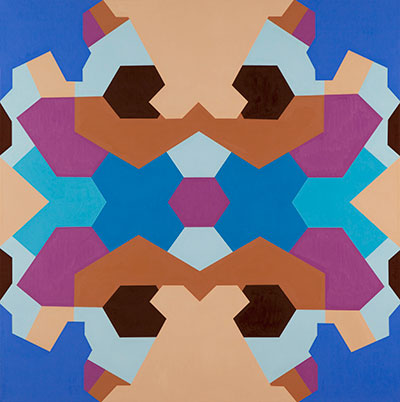 LW: I do look at textiles, mostly in magazines and books.  Those and wallpaper influence my colors.  I love to look at Navajo rug books, but I don't try to emulate them.  I don't really think of the textiles that interest me as being specifically southwestern.  Op art, tessellations and graphic design books influence the patterning in the work.
A+C:  Do you have specific artists and designers who have influenced your work?
LW: Bridget Riley, Philip Taaffe and Fred Tomaselli come to mind.
A+C:  Let's talk about symmetry. What about it do you find so appealing?
LW:  Symmetry allows the viewer to experience the painting like a kaleidoscopic image and also sets up a non-hierarchy in the paintings and gouaches.  There is no up or down, right or wrong, landscape or portrait.
A+C:  How and when did this become a main theme in your work?  
LW:   Shortly after I moved to Marfa in 2005, I started working on a series of red, white and blue pieces that were all based on the same pattern.  The pattern encouraged the symmetry and I have used it ever since.
A+C:  What can we expect to see in your Women & Their Work Show? When you do a large solo show, do you tend to stick with a similar palette for the works you are exhibiting?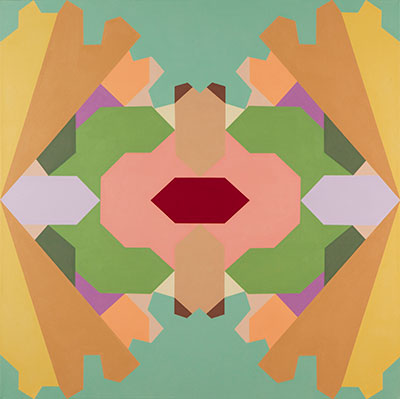 LW:   I'm super-excited to show 12 paintings on canvas and six gouaches on paper. The works range in size from 6 feet square canvases to the gouaches at 12 inches square. The palette question is an interesting one. I don't try to keep it similar, but the body of paintings I'm working on tend to have strong color relationships.
A+C:  It sounds like Marfa has influenced your practice quite a bit. What made you want to move there? What are your top three favorite things about living in Marfa?
LW:   Small town living, open space and people with an understanding of art and culture are the things that brought us to Marfa. I like that it's very safe and quiet here. I think gardening, cool summer evenings and my beautiful studio are three things I like best about Marfa.
—RACHEL ADAMS
---
Leslie Wilkes: Optic Verve
Women & Their WorkWomen & Their Work
March 29-May 18