Dancers: Roman Morgan and Shari Brown. From There, the Magnificent.
Photos by Kevin Gliner.

---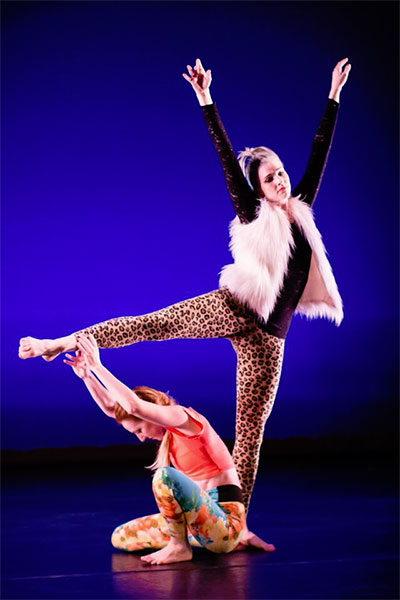 Austin-based modern dance choreographer Kathy Dunn Hamrick knew it was time to take the road more complicated.
That's not something you hear every choreographer say.
As artistic director of Kathy Dunn Hamrick Dance Company — now in its 15th season, making it one of Austin's longest-standing modern dance companies — Hamrick took a different creative route to develop her newest work, the 45-minute More Than One Complication, aiming to challenge not only herself as a choreographer, but also her eight dancers, all while exploring themes of adaptability and survival. The program runs June 11-13 at the AustinVentures Studio Theater.
"Every time you go into the studio, you're looking to reinvent yourself," said Hamrick. "I don't want to keep doing the same thing over and over. I wanted to lose control."
And that she did. Hamrick selected three guest choreographers to interject their own choreography into Hamrick's, ultimately complicating her choreographic process to lead to a work with unforeseen surprises: "It just twists and turns in unexpected ways that I don't think one choreographer could come up with. I try and reinvent myself for every piece, but I know I couldn't have done what these three choreographers do," she said.
Those three choreographers are Charles O. Anderson, associate professor of African American and African diasporic dance at The University of Texas at Austin and artistic director of Dance Theatre X; Lisa Nicks, former dancer and rehearsal director with Doug Elkins Dance Company in New York City; and Kate Warren, founder and artistic director of Circuitous Dance / Kate Warren and a frequent artistic collaborator of Hamrick's over 25 years.
The choreographers each took a different approach when it came time to work with the dancers. "Some of them would come in and want to see the work so far and incorporate some of those elements into their own sections," said Hamrick. "Others would not…I tried to be as hands-off as I could."
Warren was the first choreographer to interrupt Hamrick's choreography, choosing to begin her section mid-lift; her process proved disruptive in more ways than one, as the dancers had to be open to absorbing a new vision and style.
"I really admire [Warren's] process and her ability to work on specifics and details. She works a lot with imagery, too. She may describe a rushing motion as a storm coming through…It helps the dancers help you, as the choreographer, if they can understand what you're going for," said Hamrick.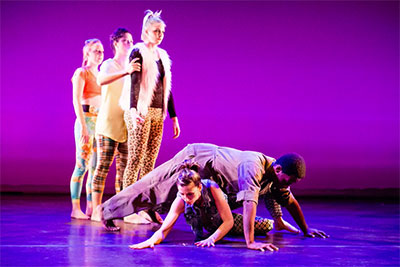 When Nicks began working with the dancers, they adapted to a movement style perhaps the antithesis to Hamrick's — Hamrick's movement language curves and spirals, whereas Nicks' is much more linear, and includes more partnering: "Her dances are more physical. There's contact-improv[isation] partnering. She also works with patterns a lot. She marked up the floor with a square-within-a-square."
Then there was Anderson's choreography, which has strong roots in Afro-ethnic movement: "With [Anderson's] choreography, a movement is not just a movement. It has a story behind it. There's so much narrative and storytelling…The dancers had to get used to a different way of thinking about their movement."
Noted Hamrick, "Generally, what fascinated me was how each choreographer came in with a different way of working and a different way of tying in what happened just before with their choreography."
With More Than One Complication, the method behind the choreography mirrors the work's themes: "It's about the comings and goings of people in our lives, how we adapt to change, how we adapt to each other. And how do we want to react to new people and things in our lives? We're always vying for space. We're trying to make room for ourselves as new people come into our lives, emotionally and physically."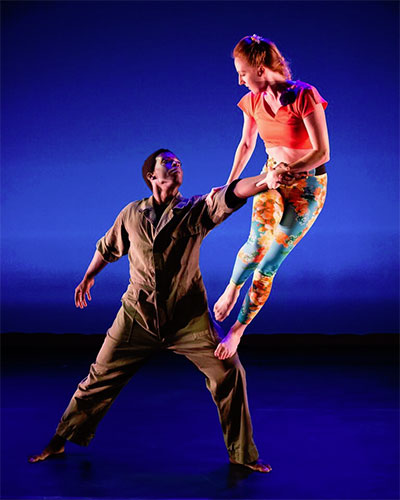 The complication-cherry on top of the proverbial dance-cake was selecting the critically-acclaimed Austin-based troupe line upon line percussion to play live what the group calls "the greatest piece of percussion music ever written" — Iannis Xenakis' four-movement Pléïades.
The percussion trio will be joined by an additional three musicians, who together will play a 19-keyed, microtonal metallophone, a percussion instrument consisting of a series of tuned metal bars (think: xylophone). The instrument is called a sixxen ("six" for the number of players, "xen" for Xenakis), designed specifically for Pléïades.
The kicker? The dancers don't get to practice with the music until the last couple of rehearsals before the premiere. "We know how much time we have — 45 minutes — so we just say 'Go!' and see what happens," said Hamrick.
Hamrick's excitement is simply contagious: "I can feel in my bones that More Than One Complication is going to be a large work, 'large' as in expansive, extroverted and unflinching. Watching it in the studio is thrilling. My heart pounds as I watch the dancers quickly calculate time, space, weight and force and give life to my choreographic ideas."
"I think I'm surprised at how well it worked out," she concludes. Her smile can be heard in her voice.
— CLAIRE CHRISTINE SPERA