Restless Natives by Charles O. Anderson.
Photo by Lawrence Peart, courtesy of Texas Performing Arts.
---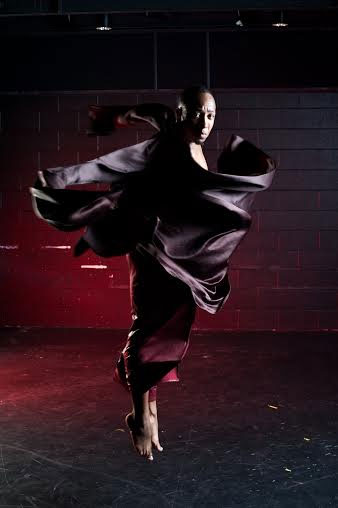 Charles O. Anderson is an associate professor of African Diaspora Dance Studies and the Head of the Dance Program at The University of Texas at Austin. During his time at UT he has brought in such guests artists as Sidra Bell, Kate Watson-Wallace and Manuel Vignoulle. In January, he facilitated a rehearsal residency for Kyle Abraham and Aparna Ramaswamy. Next year, he is producing a concert at UT examining the influence of African American culture upon contemporary dance in the 21st Century that will feature work by Rennie Harris, Benoit-Swan Pouffer (former artistic director of Cedar Lake Ballet), and Abby Zibikowski.
Anderson is also the artistic director of dance theatre X (dtX), which he founded in Philadelphia in 2003, and is now moving to Austin, TX. He has performed in the companies of Ronald K. Brown, Sean Curran, Mark Dendy and Miguel Gutierrez. His work has been presented nationally and internationally, including in Austin's Fusebox Festival and New York Live Arts. He has received grants and honors from many organizations, such as the Pew Fellowship in the Arts, and others. He was named one of "25 to Watch" by Dance Magazine, and one of "12 Rising Stars in the Academy" by Diverse: Issues In Higher Education Magazine.
This weekend, a preview of his newest work, (Re)current Unrest, set on UT BFA dance students, can be seen in the Spring Dance Repertory Theatre Concert, Bodies and Souls, April 8-10 and April 14-17 at University of Texas at Austin's B. Iden Payne Theatre.
Anderson visited with A +C editor Nancy Wozny on his personal story in dance, life and art.
I watched you move before listening to you talk describing how you move, and I'm glad that I did, because when I heard you call yourself a "Kinetic Storyteller" I had some reference point. Later on, you describe your role as more of a "conjurer." Talk more about that idea.
Essentially, my choreographed works are rooted in kinetic storytelling. I'm invested in creating pieces that serve as movement-driven testimonies of lived experience. Conjuring is the method through which I develop these testimonies. Conjuring is how I describe my process of taking what may seem like disparate ideas or movement elements and investigating their potential for meaning in service to a larger choreographic idea.
Within the context of the contemporary dance field, I am a choreographer. My approach to choreography is through storytelling. My process for creating the stories is conjuring.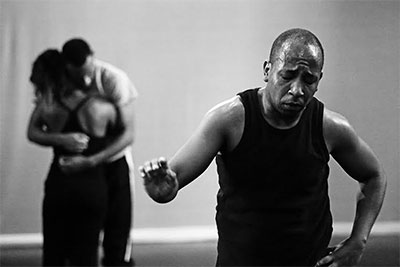 I'd like to learn more about your toolbox for conjuring choreography. You have Ron K. Brown and other seminal dancemakers in your dancer DNA, but you also mention your time in church. What are taking with you in motion?
Yes, Ron was definitely a major influence upon me, as studying and working with him helped me to realize that I have been dancing all my life. As I think I've mentioned to you before, I did not take a formal dance class until I was 19 years old while studying to be a mechanical engineer at Cornell University. It wasn't until I was about 21 that I realized that dance had always been a part of my life through my upbringing in VA. I was exposed to secular and sacred forms of dance that significantly impacted my approach to movement. My spirit learned to dance before my body.
Perhaps as it should be. How would you describe your approach?
I fully admit that my approach to movement and my style of movement is highly eclectic. It has been called 'a fusion', 'neo-African', 'afro-jazz', and what not…I think when I first began trying to incorporate my southern upbringing, and my experiences in gay dance clubs into my formal dance training, I was working in a kind of "movement patois," which I felt compelled to try to make into a kind of "movement creole" in order to "legitimize" the movement.
Ultimately, what I believe I bring with me in motion is a commitment to physical honesty and active cultivation of spirituality…that is 'the technique' of my movement style and the philosophical underpinning to my approach to choreography.
It took me some time to reconcile my formal training with my cultural upbringing. I'm pretty sure that's how I ended up in academia while simultaneously cultivating a professional career.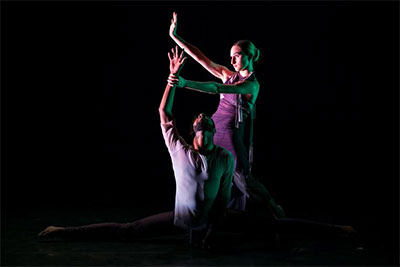 That would be exactly the person I would want standing in front me should I go back in time to major in dance. We want people who have come to dance on their own terms, with a story, a reckoning, a hybrid tale of what dance can be. So let's get to your post at UT. Dance in academia is a new thing these days as the old model of getting a dance job in a company needs an update. Dance makers are now kinetic thinkers. How did you get into teaching?
I stumbled into teaching as I started teaching chemistry and physics at a junior high school in East Harlem where I eventually became the assistant principal at 27.
But you were dancing during this time too?
Yes, at that same time I was realizing my major goal of dancing for Ron Brown as well as showing my own choreography and performing with other choreographers. Trying to work fulltime as an assistant principal and then rehearsing intensively with Ron-I burned out…but I discovered I had a knack for teaching. I also discovered that there were a lot of kids who grew up like me thinking that the arts were only for rich white kids and a waste of time if you could do anything else….The arts literally saved my life on more than one occasion and having the opportunity to teach those kids in East Harlem (I also taught dance afterschool) allowed me to help a few of them as well.
Why did you move to Philadelphia?
The funding for emerging choreographers was amazing…I started adjunct teaching at Temple, was invited to apply for their grad program, got a fellowship and that was that. After graduation, I taught as a replacement for one of the departing faculty at Temple. Simultaneously, I received my first major grant from The Pew Center for Arts and Heritage (at the time known as Dance Advance) and premiered my company dance theatre X. That led to me being recruited to become a visiting artist in residence at Muhlenberg College in Allentown, PA where I landed my first tenure-track position. Both at Temple and at Muhlenberg I had some of the best mentors and role models one could hope for…true artist-scholars who were successful both in 'the field' and in 'the academy.'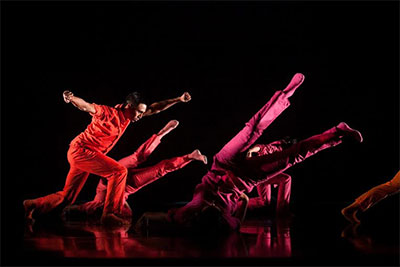 How do you see your mission at UT?
I see my mission in academia in general and at UT specifically as striving to be a role model for my students by continuing to further my own performance career outside the walls of academia while sharing these experiences with students by including them as active participants (in other words as engaged and informed observers and in some instances performers onstage). I do not see a rigid dividing line between my roles as a working artist and a teacher; being both make me a stronger mentor and passionate teacher and advocate of dance. I believe that good teachers need to be at the forefront of recent innovations in their field, in order to help students see the import and dynamism of our life's work. It is important for students of dance to see that concert dance in general, and Africanist expressions of concert dance in particular, are not stagnant, non-evolving art forms that are somehow outside contemporary society, but rather, alive with puzzles, contradictions, and new areas of inquiry that reflect today's culture- their culture.
Art is a platform for social commentary and for promoting social change; the performing arts are the vehicle through which to viscerally engage with the culture of which we are a part. I believe that this is applicable to both my approach to teaching and to my professional activity.
How would you describe the emphasis of dance today in light of everything you just said?
Both in the field and in the academy (and in early dance training I have noticed from students who have been dancing since they were toddlers) so much primacy is placed on 'the product' and process be damned….And when we consider process it tends to become formulaic and commodified as if there is only one way to arrive at art. I am in the academy to de-stabilize that myth…dance is art. Art is not formulaic….The French poet Henri Michaux warns that "before being a product, thought is a process" and that the pursuit of knowledge often requires that we "pass through difficult, undignified places."
You are in process of moving the company that you spearheaded in Philadelphia to Austin, which is not an easy thing. As dance people we take a long time to establish a network of support. So I fully understand that moving a dance company takes a big effort. What do you hope to build in Austin with your company?
What I hope to build here in Austin specifically and Texas in general with my company is a professional dance community that is in dialogue with the larger CURRENT dance field. In other words I hope to model (and draw more artists/companies that model) an inclusive approach to dance theatre hat reflects contemporary attitudes yet is also in dialogue with current social issues and traditions such as those from the African Diaspora. I want to see Austin and Texas be a major force in the future of contemporary dance.
—NANCY WOZNY