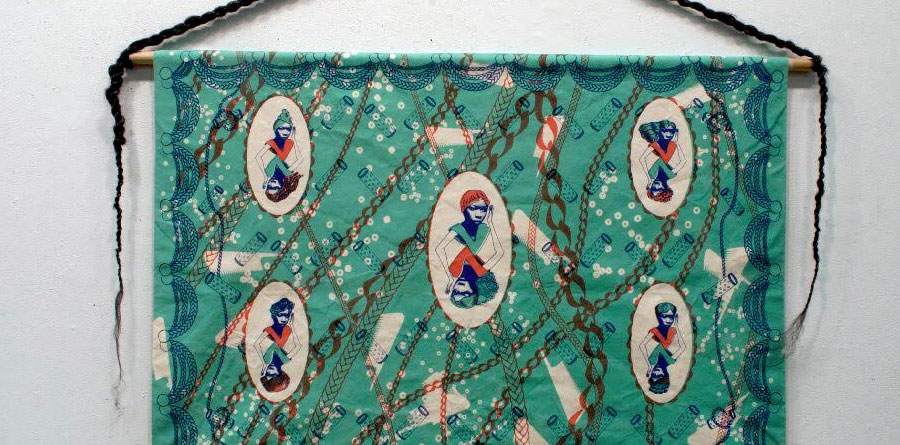 Language and Memory: Redefining Print at Community Artist Collective
Jessica Gatlin, Queen of the Tenderheads, silkscreen on canvas, assemblage.
---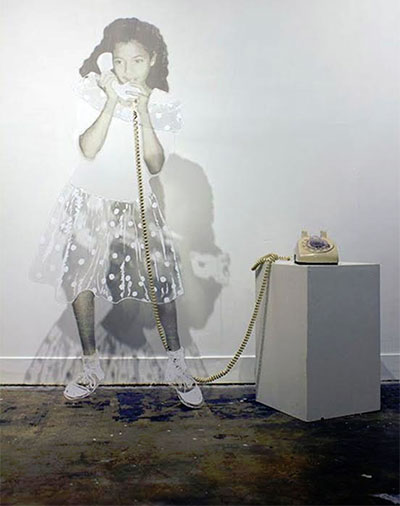 Lit up by natural light from outside, the white walls of the Community Artist Collective's gallery space, wherein Redefining Print: Contemporary Prints from Women of the African Diaspora, curated by artist Ann 'Sole Sister' Johnson, is on display until Aug. 28, 2015, are adorned with work that lives up to the title's claim.  Not only does this all-women show present an exciting, experimental medley of work that pushes the boundaries of traditional printmaking methods, but it also furthers important discourse on blackness, the body, memory, and language.
Abigail Lucien extends the spatial and temporal boundaries of the medium with Hello? (2014), a silkscreen on polyester film, depicting a young girl, perhaps the artist herself as a child, eyes bright and attentive, as she holds a telephone to her ear.  The expression on this nearly transparent, fleeting figure registers in both realms of reverie and excitement—the artist effectively captures this moment in the past in such a gestaltian fashion that its movement, words, and context extend out through the imagination of the viewer to find their completion.  This theme of extending out beyond itself is reiterated by the spiraling phone cord that trails the two-dimensional receiver held by the girl, progressing down to the beige rotary phone perched on the podium beside her.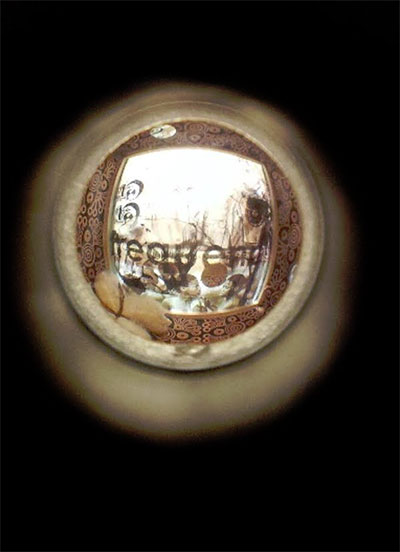 Houston-based artist Rabea Ballin's #sixwordstories (2012), inspired by the fabled six word novel penned by Ernest Hemingway, more directly engages the viewer to participate in the artist's work. While the mythical text attributed to Hemingway, as well as those shared using the hashtag on twitter by anonymous, mostly amateur writers, is ominous, the story being told by Ballin is far more grim.  All, however, ask for the viewer to dig deeper into meaning.  The silkscreened beige canvas sacks mounted on white podiums of differing heights, inscribed with words such as "noir. mulâtre. quadroon. ontoroon. griffe & blanc," terms used during the French colonial occupation of Louisiana to define the extent of one's blackness, highlight a meticulously constructed social hierarchical system in which racial difference permeate its vernacular. Specifically, the words reference the practice of plaçage prevalent in 18th century Louisiana, wherein free women of color were placed with wealthy white men in common-law marriages. This system of mariage à la main gauche, as it was referred, was created to circumvent French laws against interracial marriage and flourished not only in the French colonies, but also in Spanish settlements.  These institutionalized practices transformed the bodies of the placées, who were already marked by their gender and race, back into the realm of commodity, of prize, of objects to be bought, sold, and exchanged—a locale not very different from slavery itself.  Ballin's piece perfectly reveals the ideological workings of this manifestation of racial hegemony by transforming its language into commodities and reducing its history and identity into objects that transcend time and space—much in the same way the Hemingway "novel" has slipped by and through the history of American literature into mythology.  Ballin's skill in handling complicated histories is evident in this piece as her very process of reduction effectively explodes this "slept on" narrative into remarkable view.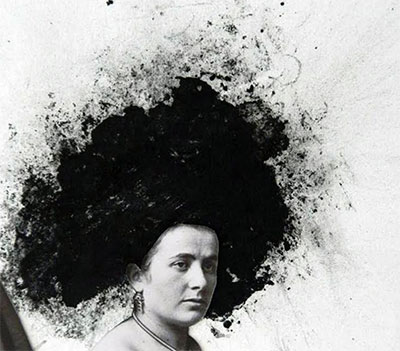 Jessica Gatlin's accordion book Holographic Memories (2015), also uses text to conjure up images of the past: "At the nighttime of year water out for signs of discomfort," reads the first lines of the opened book, petering out an image—a memory, perhaps, or perhaps fleeting imagery— that mimics water slipping through one's finger.  Adjacent to Gatlin's piece, as a perfect continuation of the theme, is Sukenya Best's Rumbling Existence (2014), a monotype of spiraling orange, red, and blue footsteps barely identifiable say for the swirls of light between them, as if marking their trajectory. The otherwise abstract work is beautifully balanced and conceptually engaging. Lovie Olivia's Glory Hole pieces (2012) explore the voyeurism of the term through the conflation of images of popular American culture with scenes of the quotidian of (seemingly) African villagers.
Redefining Print is a significant exhibition insofar as it expands the formal and conceptual reach of printmaking.  From the selection of its participating artists and their work, to the placement of the pieces themselves, Ann "Sole Sister" Johnson has created a pivotal show that reshapes traditional perception of what contemporary printmedia is, and who has the power to influence its trajectory.
—CHARISSE WESTON