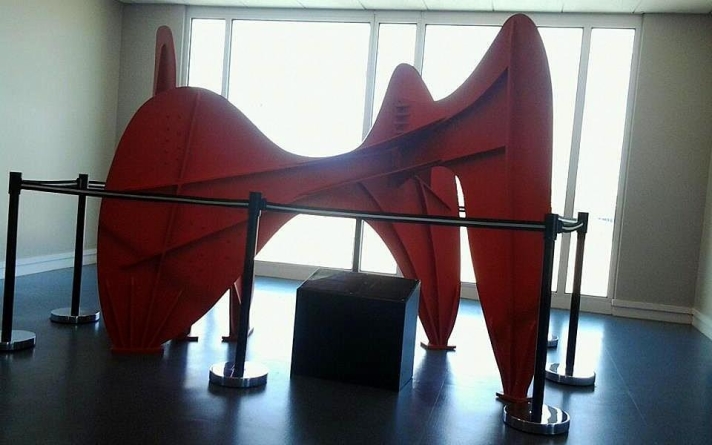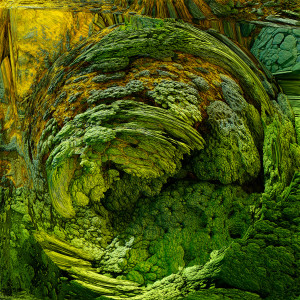 It's not unusual for a gallery to show renderings, models or other materials related to public artworks. When a gallery exhibits the public art itself, that's a sign that not only is the art in question relatively small and portable, but that this "public art" may not be very publicly accessible once it officially goes "public."
Yes, I'm talking about the public art you only get to see when you've dropped a few hundred or more dollars on a plane ticket and almost certainly aren't in the mood to look at art. Houston Arts Alliance is mounting another exhibition at its Alliance Gallery of art by Texas artists bound for Bush Intercontinental Airport. On view March 13-April 24, Another Layover: New Art Acquisitions at IAH will feature Houston Airport System-purchased work by Richard Armendariz, K.C. Collins, Marshall Harris, Mira Hnatyshyn, Sharon Kopriva, Lee Littlefield, Liza Littlefield, Paul Kittelson, Cindee Klement, David Medina, Susannah Mira, Steve Murphy, Charles Wiese, Ben Woitena and Rachel Zeigler.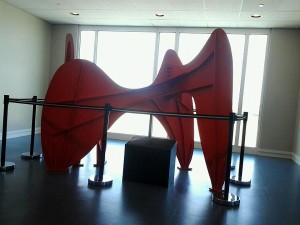 As some readers will recall, I'm skeptical of the notion that airports make ideal sites for public art. This photo documents my most memorable encounter with airport art: seeing a model of Alexander Calder's La Grande Vitesse (1969), a landmark of downtown Grand Rapids, Mich., pathetically roped off by stanchions in a deserted corner of Gerald R. Ford International Airport. That is, it was memorable only because it made such a tragicomically depressing sight. I don't know if there was any other art there. As I wrote last fall, "Whatever my second most memorable encounter with art in an airport was, it's such a distant second as to be irretrievable," yet I invariably associate Minneapolis with Claes Oldenburg and Coojse van Bruggen's Spoonbridge and Cherry, Philadelphia with Robert Indiana's LOVE sculpture in JFK Plaza, and Grand Rapids with La Grande Vitesse–the original, not the model in the airport:
What these iconic sculptures all have in common is their siting in places where people gather, not where they go when they're trying to get the hell out of Dodge (if they're leaving town) or the hell out of the airport (if they're just arriving). But airports do a lot of building, and Houston's percent-for-art ordinance, which sets aside 1.75 percent of capital improvement projects' appropriations for civic art, requires that "funds from the Airport System enterprise fund … may only be appropriated for Eligible Projects within the same enterprise fund," which is why Houston Airport System boasts one of Texas's largest public art collections. … Meanwhile, the Hermann Park Conservancy, which in 2014 will mark the 100th anniversary of one of Houston's most visited parks with a yearlong series of contemporary art installations, has had to raise the $1 million to finance the project.
Given those circumstances, I love that HAA has gotten creative by building a "portable" collection for the airport that gives it flexibility to move works around. And I'm happy for these Houston-, San Antonio- and Fort Worth-based artists whose work is now part of a public collection, and that HAA is giving the public a way to see these artworks for free before they wind up on the other side of an airport security line. But I'd rather see what HAA could do if the percent-for-art ordinance allowed publicly funded art to be sited according to where it can make the most impact, not according to which construction projects generated the funding.
In the meantime, if you really want to give these newly acquired artworks a serious look, don't wait to run into them at Bush.