Terry Martin in All My Sons.
Photos by Karen Almond.
---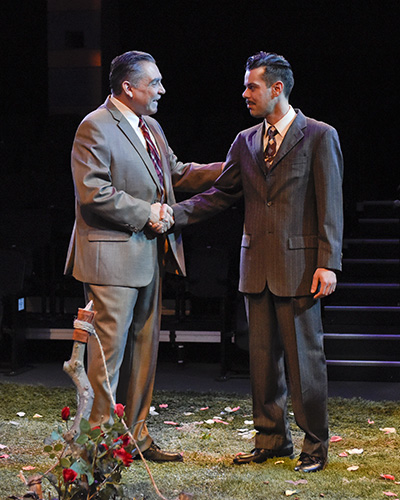 Arthur Miller's All My Sons at WaterTower Theatre
Arthur Miller's All My Sons  is a nasty play. Turn of the century American playwrights loved nothing more than orchestrating a set of circumstances designed, over the course of two hours, to test a human's emotional limits, and Miller was one of the best. His penchant for cultivating ugliness and hysteria in his characters may be nowhere more apparent than in All My Sons.
WaterTower Theatre, Director David Denson and Artistic Director Terry Martin (who also stars) thought they were up to the challenge of Miller's bruiser and audiences can take in their skillful, albeit brutal interpretation of Miller's work through May 10.
Nothing is ever as serene as it seems in post World War II America, at least not in Miller's dark worldview. All My Sons opens as matriarch Kate Keller, played skillfully here by Diana Sheehan, watches a lightning bolt symbolically strike down a tree planted in memory of Larry, the son Kate lost in the war, before quickly jumping to a peaceful morning coffee shared between patriarch Joe Keller (Martin) and neighbor Dr. Jim Bayliss (Chris Hury).
Miller offers playwrights and audience members a master class in the slow-build in All My Sons, taking almost the entire first act to establish the Keller's as the model American family in the model American small town, all the while foreshadowing the darkness you know is lurking underneath. One aspect of that is presaged by an early reveal as Chris (Christopher Cassarino), the Keller's other son, and Joe debate the merits of continuing to allow Kate to believe Larry will return, more than three years after his war-time disappearance. That's a long time, and Sheehan's perpetually resurfacing hysteria is an apt indicator of a mind that is slightly off.
The impending arrival of Larry's widow Ann (Tabitha Ray) prompts the Chris and Joe's chat because, wouldn't you know it, Chris and Ann are in love and Chris plans to ask Ann to marry him.
The rest of the family's subterfuge works for a time, they've naturally gotten good at it, and the tension keeps building as they manage to keep it together for the first act, it's in the second act, post-intermission, that Miller refuses to let up.
I won't say any more than this: there are skeletons in the Keller's closet, not least of which is Ann's father, who has been in prison since the war for shipping faulty plane engine parts, while his business partner Joe lives a free man. While Ann seems resigned to the accepted truth, her brother, George (a broodingly good Joey Folsom) is anything but.
Like I said, it's a slow-burn in which Miller does everything he can to challenge the viability of the American Dream in an industrialized, war-torn world.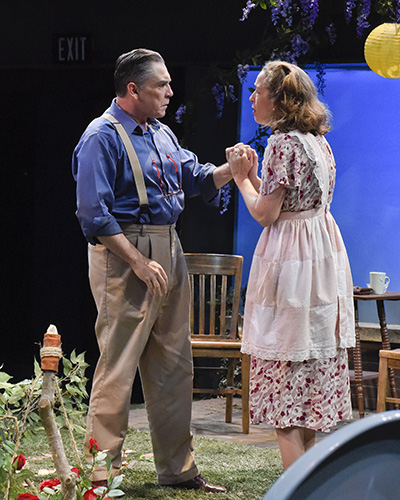 It's a tough play both to watch and I'm sure to act, something perhaps attested to by the hesitance of theater companies to produce it. Miller's realistic settings and dialogue don't allow actors to fall into the trap of gratuitous dramatics, something Ray's Ann is a bit guilty of, but I wonder, if Cassarino wasn't such a damn good actor, if Ray's tendency to posture and Martin's numerous stumbles the night I caught the performance, would have been so obvious.
Cassarino's turn as Chris is absolutely heartbreaking. He's the archetypal innocent in Miller's dark American dream; the loyal son who wants nothing more than to keep the peace and find happiness. Doesn't he know old-fashioned morals and idealism will always be destroyed? Cassarino's cheeky grin screams naivete, making his devastating performance at the dramatic climax as his idealism is shattered in the face of a harsh reality, all the more intense.
All My Sons is American theater at its finest and WaterTower's production, under the expert direction of Denson, successfully translates Miller's brooding, brutal work for a 21st century audience seemingly far removed from the difficult choices we  were forced to make during wartime. Surprisingly, or unsurprisingly depending on who you are, there are some things that never change. The emotional one-two punch of the play's ending doesn't let up and I guarantee you'll walk out of the theater silenced.
—JENNIFER SMART