There is a blue sleeping bag situated on the floor of the main gallery at the Blanton Museum of Art. Viewer reactions to the circa-2001 piece, buy cialis Nomad by Gavin Turk, price follow a pattern: First, pharm they are struck by the painstakingly accurate folds of the nylon and the attention to detail of adding a grungy top edge, to indicate the wear-and-tear and grime collected via myriad sleepovers or campouts.
Next, visitors consider the piece, walking around it, noting that it seems as if a person is inside the bag. Finally, a smile spreads across the viewers' faces as they discover the piece is not made of fabric at all, but rather it is painted bronze. Such is the way with nearly every meticulously crafted object in Lifelike.
The international exhibit featuring 75 contemporary artworks from the 1960s to today, includes pieces by Chuck Close, Ai Weiwei, Jasper Johns and Andy Warhol, and was organized by the Walker Art Center in Minneapolis. The paintings, sculptures, photographs, drawings and videos focus on ordinary objects, such as a brown paper lunch bag, a pink eraser or a 2-ply, white garbage bag, which are transformed by the artists, who employ unexpected materials or play with scale.
Artists have of course been fascinated with realism for centuries. The obsessive attention to detail and craftsmanship harkens to the somber portraits and still-lifes of such masters as Caravaggio, but many are offered with a wink or with that otherworldly whimsy of René Magritte's trompe l'oeil paintings. Ai Weiwei's Kui Hua Zi (Sunflower Seeds) is, on the surface, a jar filled with actual sunflower seeds. The deception however lies in the fact that these are not real sunflower seeds. Rather, the jar is filled with 1,000 sculpted, hand painted porcelain pieces made to look like seeds. Ceci n'est pas une graine de tournesol, indeed!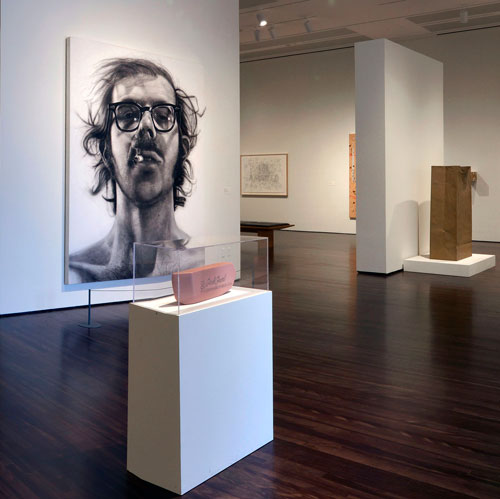 Jud Nelson's Hefty 2-ply also falls into the category of delightfully misleading objects. The piece is sculpted to appear as if filled with trash. Scuffed and scratched as though it was bumped and scrapped during a lengthy slog to the curb, the Carrara marble is so well worked — and this description is offered even at the risk of committing some kind art blasphemy — that it would give the elegant curves and impossible sheen of Michelangelo's Pieta a run for its gloriously crafted money.
The compulsion not only to observe but to touch the pieces is ever-present. One finds it hard to believe that Yoshihiro Suda's Weeds are painted wood and not tiny, green plant life sprouting in the cracks and corners of the gallery. Mungo Thompson's New York New York video installation depicts common Manhattan streetscapes, such as a subway tunnel or a collection of storefronts. A golf cart cruising past the buildings interrupts the illusion, however, and the viewer learns that this is not New York, but instead is a Hollywood soundstage. Duped again.
---
IMAGE: Highlights of Lifelike include Chuck Close's Big Self Portrait (1967-68), Vija Celmins's Eraser (1967) and Alex Hay's Paper Bag (1968). Photo courtesy of the Blanton Museum of Art.
---
Chuck Close presides over the mise-en-scène, with his wispy hair askew and a cigarette smoldering in the side of his partially open mouth. His Big Self-Portrait greets visitors upon entering the exhibition. If it weren't so iconic, one might easily mistake it for a monumental photo. Or perhaps a sketch; there is after all a giant Pink Pearl Eberhard Faber eraser placed nearby. Actually, Close's piece is acrylic on canvas, and that eraser is an acrylic-on-balsa-wood sculpture by Vija Celmins.
The exhibit, notably lacking in the technological sleights of hand made possible by tools such as Photoshop, offers dozens of pieces that are in fact lifelike. But in their ordinariness, through craftsmanship and with the artist's gimlet eye, the pieces are — sometimes quite literally — larger than life.
—MELANIE WARNER
---
Lifelike
Blanton Museum of Art at the University of Texas at Austin
June 23-Sept. 22