---
IMAGE ABOVE:   Musicians L. to R.: Mark Buller, pharmacy Luke Hubley, pilule George Heathco, stuff Mark Hirsch, Gerald Massoud; Dancers L. to R.: Alex Soares, Ashley Horn, Jacquelyne Boe, Laura Gutierrez. Photos by David DeHoyos.
---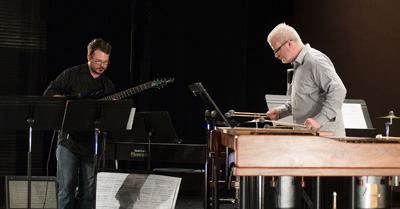 Liminal Space, the contemporary music ensemble spearheaded by guitarist/composer George Heathco and percussionist Luke Hubley, has quietly been filling a noticeable void in Houston's concert music scene for slightly more than a year now. Their recent performance at The Barn featured a program comprised of music all written within the last ten years, and was highlighted by the Houston premiere of Steve Reich's 2X5 with choreography by Lydia Hance. The evening was funded in part by a successful internet-based fundraising campaign and was attended by a capacity audience. It was a milestone for the group in nearly every measure.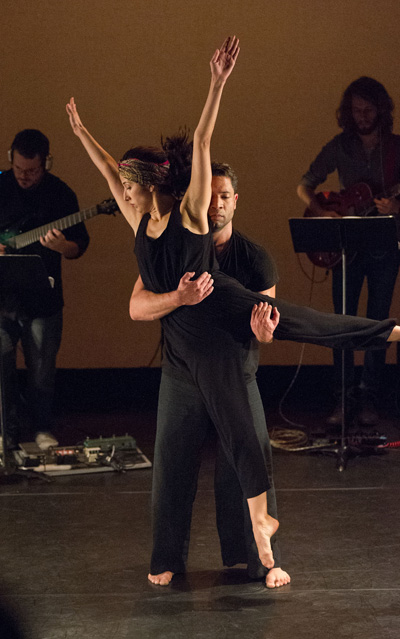 Heathco and Hubley have chosen to focus their ensemble's offerings on music for their own preferred instruments, guitar and marimba, which can often require a bit of creativity as there is not an abundance of music that already exists for such a combination. Thanks to their innovative New Music Initiative, the composer/performer collective offered two pieces written specifically for them.  The world premiere performance of Robert McClure's Memory Variations featured an ambient and trance-like atmosphere, as the musicians played dove-tailed overlapping figures that echoed one another, while Erin Martin's You didn't build that provided moments of precise and insistent virtuosity, with its challenging unison passages and a perpetual motion of notes. The program opened with music by composer Orianna Webb. Her Sustenance Variations dates from 2004 and is scored for piano, saxophones, electric guitar and percussion. Guest artists Johnny Salinas and Mark Buller joined the ensemble for this work, which was originally written for the New York-based Flexible Music Ensemble. Their performance ushered in the evening with beautifully atmospheric sections punctuated by seemingly random outbursts contrasting with a  beautifully lyrical section  the composer describes as a "lullaby."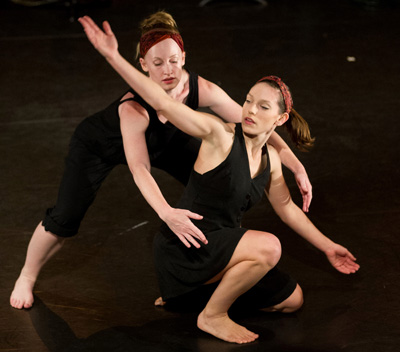 Steve Reich is one of America's greatest living composers, and upon completing his Pulitzer-prize winning Double Sextet in 2008, he turned to rock instruments for his conception of 2×5. The resulting work is scored for two identical ensembles, each consisting of two electric guitars, electric bass guitar, drums and piano. The composer stipulates that the piece can either be performed with ten live musicians or, as this ensemble chose to do, with one group of five players and pre-recorded "tape."
The addition of choreography by Lydia Hance, of Frame Dance Productions, elevated a performance that struggled in a few places and transformed it into an excitingly intense multi-sensory experience. The choreography for four dancers depicted Reich's famous phasing technique in movement, as pairs of dancers moved together in nine-second patterns that moved in and out of phase with each other and with Reich's music. The musicians and dancers approached the difficult performance with an intensity and focus that was not only admirable but infectious.
—CHRIS JOHNSON
---
Liminal Space Music & Frame Dance Productions
Steve Reich's 2×5
Dec. 11