Ma Qiusha, Rainbow, 2013, Single channel video, Courtesy of Beijing Commune.
---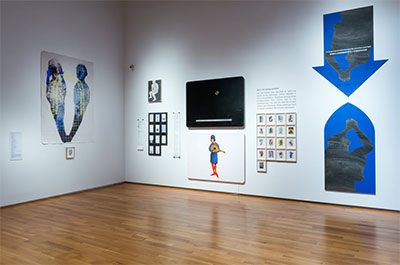 A long excerpt of a diary is pinned to the wall in the Asia Society Texas Center's current exhibition,We Chat: A Dialogue in Contemporary Chinese Art, on view through July 3. The diary, by an artist named Jia Siwen, travels through meditations on art and literature, the creative process, conversations between artists. "Do not believe in storytellers, instead, believe in stories," the diary warns.
Jia Siwen's diary is part of an installation by Guo Xi titled There never should have been an artist named Jia Siwen (2012-2014). Actually, Jia Siwen never existed. Instead, Guo's imagined collaboration with the fictional artist documents a kind of collaboration between China and the U.S. in which Jia Siwen's works are lost in transit. Guo then fabricates and reimagines these lost works, email exchanges, and diary excerpts. It's a clear-eyed response to what it means to be a Chinese artist and what that might mean now, as part of the first generation of artists born after the end of China's Cultural Revolution. What Guo suggests is that the construction of an artist's identity is layered with fiction and imagining, collaboration and myth-making.
Featuring a selection of artists born between 1977 and 1988, We Chat takes a Chinese mobile messaging app for its title, alluding to the new modes of global communication that have obliterated our understanding of the local. Perhaps what the exhibition examines more precisely, though, is the way in which this young group of artists is making new kinds of messages, telling new kinds of stories, and exploring their emotional experiences. How does it feel, they seem to wonder, to be part of a new version of cultural revolution?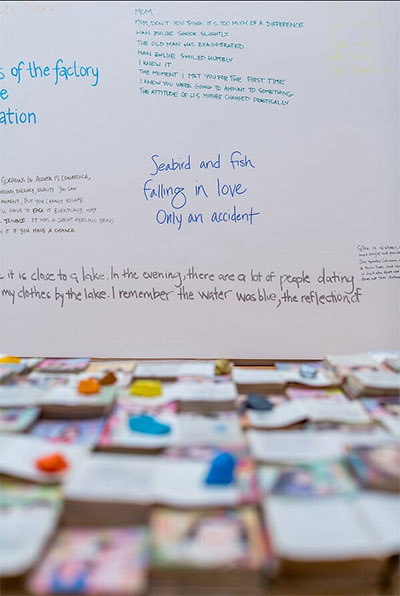 Liu Chang's installation of romance novels (Love Story 1, 2006-2014), pinned open with colorful stones to show readers' notes and marks on their pages, takes the sharing of emotional experiences as its subject. The books, sold and re-sold at kiosks and malls, are filled with the notes and scribblings of their many readers. Liu's arrangement of the books makes them into a colorful platform, with their covers suggesting their clichéd narrative arcs. But the notes inside them bring the pages to life, showing the histories of their use alongside the printed words of the text.
Ma Qiusha's 2013 video, Rainbow, builds in a slow crescendo. Bathed in white light, female figures seem to be spinning in slow-motion, the video cropped tightly around their faces. Their movements are so smooth that, when one realizes that they are ice-skaters, it makes perfect sense. Gradually the video pans to their skates, which they use to crush tomatoes. The pulpy redness of the mush they make is devastating.
At the farthest room of the exhibition, Jin Shan's Tyvek on acrylic structure, stretching 25 feet long, is an homage to his father and a subtle conversation between past and future visual traditions in his country. The abstract structure suggests certain utopian architectures, alongside a mountainous landscape. Overlaid on the white installation, Jin projects shadows from a spinning mobile. The shadows, of images from his father's paintings (including a crane, a sunrise, and a chrysanthemum), float over the sculpture, fragmenting and spinning. These shadowy images are overlaid on the work, but they are enigmatic, impossible to pin down.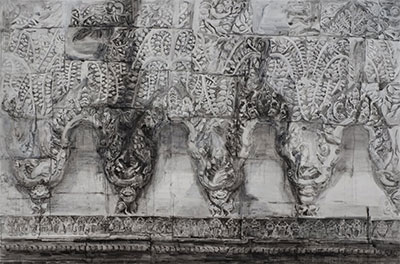 Shi Zhiying's oil on canvas painting Dong Ujimqin Qi Stone Iron Mesosiderite (2013) depicts a 195-pound meteorite that landed in China in 1995. It is one of the quieter pieces of the exhibition, but the black, white, and grayscale painting is a treasure, its washy and complex surface filled with interior worlds.
The works on view in We Chat suggest the intimate narratives that come from conversation. When we chat, we share small stories and we connect by mining the personal for its shared lessons. What We Chat does is touch lightly upon some of these conversations, looking for moments of dialogue across diverse practices. There is no organizing plotline that unites these artists. Instead, the exhibition allows each artist to send out his or her messages–small beeps into the world, looking for connection.
We Chat: A Dialogue in Contemporary Chinese Art is organized by the Ezra and Cecile Zilkha Gallery, Center for the Arts, Wesleyan University in Middletown, Connecticut and is guest curated by Barbara Pollack.
—LAURA A. L. WELLEN