IMAGE ABOVE: Margaret Meehan, Decoration Day (installation view), Artpace San Antonio. Originally commissioned and produced by Artpace San Antonio. Photo by Mark Menjivar.
---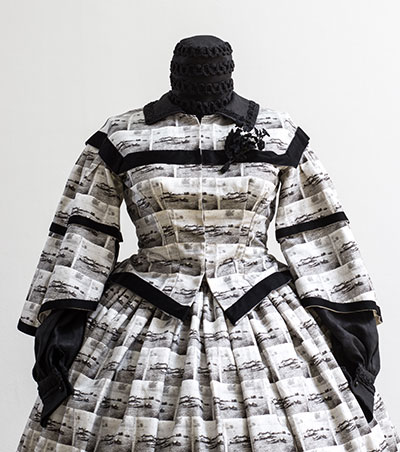 Women on the front lines of combat is a contentious issue for the United States Marine Corps and Army, with more than 200,000 jobs for military occupational specialties still closed to women in those two sectors of the armed services. However, the Pentagon has declared both services must fully integrate females into their forces by January, 2016.  Dallas artist Margaret Meehan shows that women have never lacked the courage to put their lives on the line in Decoration Day by comparing the women serving today in the war zones of Iraq and Afghanistan with the estimated 400 to 1,000 women who served in the Civil War, albeit disguised as men.
"Current headlines of rape and sexual harassment in the military show that discrimination based on gender and sexuality are both rampant and unresolved," Meehan says in her artist's statement. "I wonder how our current military can evolve to include forms of gender and sexuality in an institution historically predicated on stereotypical ideas of masculinity such as bravery, strength and aggression."
A climbing wall provides an apt symbol for the primary barrier women face in the military—physical readiness. But as part of a pilot program last fall, four women passed what is considered the most strenuous aspect of the Marines' infantry training: a 12-mile march carrying 80 pounds of gear. More important, according to Army Captain William Denn in a recent column for the Washington Post, is what all-male units can gain by adding women, such as their creativity, insight and empathy.
During the Civil War, physical standards were much lower. Bonnie Tsui, author of She Went to the Field: Women Soldiers in the Civil War, says "If you had teeth in your head and could hold a musket, you were fine." The women who fought during the Civil War often came from the same hardscrabble farming backgrounds as the typical male volunteers and usually joined for the same reasons, such as patriotism, adventure, or the need to earn money or to escape harsh family situations.
Stacked around Meehan's installation are more than 100 sandbags embroidered with the initials of each female soldier who has died for the U.S. since 2001. Meehan assembled a team of more than 30 artists to do the embroidery. The climbing wall and a Victorian-era dress are covered with grim patterns formed by miniature reproductions of Timothy O'Sullivan's famous 1863 black-and-white photograph, A Harvest of Death, showing the corpse-strewn landscape after the Battle of Gettysburg. A large-scale crinoline cage evokes a Civil War-era tent, while a posed photograph of a Victorian woman holding an image of a modern-day soldier in uniform links the female fighters across time.
But the most haunting aspect of Decoration Day is the melancholic sound design by Justin Boyd featuring the ghostly voice of Karinne Keithley reading letters written by a female soldier during the Civil War intermingled with ukulele renditions of the songs Soldier Boy and Bang Bang. Responding to her mother's question about when the war will end, she answers, "The war (maybe all wars) won't be over until there isn't a man left."
—DAN R. GODDARD
---
Margaret Meehan: Decoration Day
Artpace
Through Sept. 14