Justin Lemieux (Mark Dolson) and Jakie Cabe (Father Tim Farley) in Mass Appeal  by Bill C. Davis.
Photos by Tim Long.
---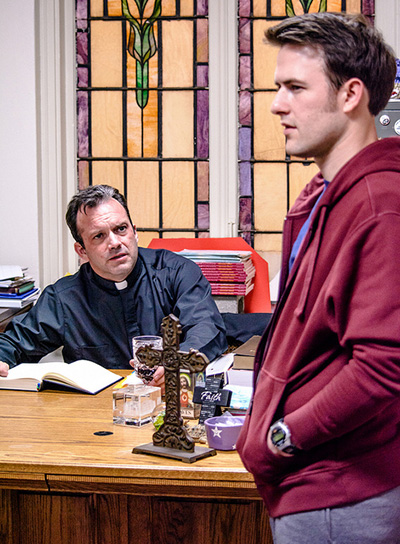 Mass Appeal is a small, two-character play that has a lot to say. Now playing at Circle Theatre in Fort Worth through July 18, the dramedy follows the spiritual journey of a well-established and much-admired Catholic priest, and a firebrand young seminarian who's naïve in his understanding of organized religion— a business model that rewards efficiency and popularity more than the moral and ethical understandings of humankind.
Playwright Bill C Davis first penned the smart script in the early 1980s. It had a successful Off-Broadway run before transferring to Broadway for a short 6-month stay. A film starring Jack Lemmon as Father Tim Farley was a modest success in 1984. But in a world where the gulf between traditionalists and reformers is growing wider, Mass Appeal touches on issues of religion, and specifically the Church, that are as hotly debated today as they were 35 years ago.
At its core, this play is about a growing friendship between two individuals separated by age, energy and focus. The plot opens with Father Farley, a popular parish priest in a well-to-do neighborhood, opening up a question-and-answer session with his congregation from the pulpit. The only problem is, the dear Father doesn't really engage in any conversation beyond safe, pat answers. He is soon challenged by a twenty-something Mark Dolson who wants the Father to go on public record his feelings about women in the priesthood.
As the story progresses, the hotheaded, idealistic seminarian forces the pragmatic priest to face the fact that his faith has for years been poured from bottles of sparkling Burgundy which he keeps in his office bar. In turn, the staid priest demands his student question those secrets of the heart that brought him into the seminary and enraged his passions.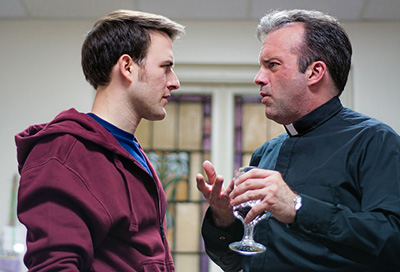 Under the solid direction of Alan Shorter, Jakie Cabe gives us a Father Farley that reeks of double standards. He seems in full control of his parishioners and Church leaders, but he shows a quite distain for following one's principles and beliefs. He's constantly at odds with his secretary when she refuses to speak white lies to let him off the hook for phone chats and meetings, and he really feels his mission is just to appease church members with niceties and small talk.
Cabe's performance sparkles with wit and despair, showing us a man strong as steel on the outside, but who is lost and confused as his layers slowly are exposed. It's an assured performance that unfortunately shows off the limitation of his co-star Justin Lemieux, who has a difficult time shaking off his one-note performance when the script calls for him to be vulnerable and scared. I believed Cabe as a priest, but Lemieux was an actor from beginning to end.
Ultimately the wonder of Mass Appeal still lies in its deft script, and ability to make us think about the need and value of organized religion. But it doesn't preach when Davis knows his main task is entertaining. Come to think of it, religion and theater share at least one common goal—getting butts in the door. In this case, choose the theater. God will forgive you for missing church.
— SCOT C. HART