Mark Schenfisch and Teddy Warren (L-R) star in Murder for Two.
Photos by Buddy Myers.
---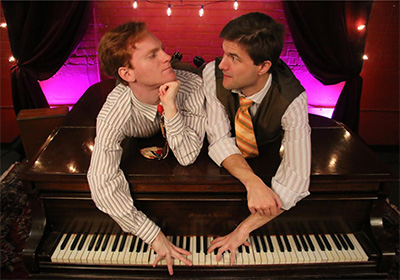 Murder for Two, a not-so-usual murder mystery musical comedy at Stage West Theatre in Fort Worth through Dec. 18 asks a lot of its actors. Just two actors play all 13 roles and piano, too, which requires a lot of stamina. With book and lyrics by Kellen Blair, music by Joe Kinosian, and directed with full confidence by local director/choreographer Lindy Heath Davis, the madcap Murder has the potential to soar on stage, or crumble under its own weight. Luckily, Davis has two young talents that take the material and stretch it for all it's worth.
Visiting actors Mark Schenfisch, the detective, and Teddy Warren, playing all the suspects, talk with Arts+Culture Dallas theater writer Scot Hart about creating the production.
 Is this the most complex role you've played?
Mark Schenfisch: Definitely. Though I love it because of that.  Playing piano while singing is one thing, but when you add connecting to your scene partner and objectives/intentions, it's a whole 'nother ball game.  I don't even have to do all the crazy character switching that Teddy does!  His track goes even further in terms of complexity.
Teddy Warren: In terms of quantity, I'd say this is certainly the most involved role I've ever had. But throughout the rehearsal process we continued to try to make each character more specific, which helped me organize all the characters.
With so many moving parts, and being on stage the entire time, was the work intimidating?
MS: On the whole, I would say no. I focused on small chunks when learning the material, and usually succeeded in keeping it manageable in terms of morale.  I have a similar approach to performances as well.  I focus on each moment as it comes, chunking the entire performance into scenes and bits and gags that taken individually, aren't as intimidating as it might be if I stopped to focus on the whole.
TW: In short, yes. But we approached the work early on with a sense of wanting a high quality product in the end. Mark and I came in a couple hours before rehearsal every weekday to practice the music and what we'd done the night before. We're still practicing every day to make sure the music stays clean.
Walk us through the rehearsal process. How did you put together the songs, the characters, the physical comedy?
MS: I focused first on the songs.  In the numbers where I sing and play, I memorized the lyrics and melodies, and the piano separately, and then slowly put them together in a sort of third "re-memorization" process. Once we were in the rehearsal room, we started exploring the physical comedy, as well as the character arcs through scenes and the whole show.
The show is written as a one-act, but the Stage West production allows an intermission. Does this interruption throw-off your frenetic pacing?
TW: Like you said, the show is meant to be done all the way through without stopping, and we planned on doing that right up until the last preview. Then we were asked to try adding in an intermission, we practiced it before our last preview, and gave it a shot. What we found was that a fifteen minute intermission didn't negatively impact our individual momentums too much (not to say it helped them either); but the big boost we got from an intermission is that it gave the audience a little time to digest what they'd seen. It gave everyone the chance to process the story up until that point, which is great for such a fast-paced show like this one.
There is a fair amount of piano playing involved. Did you already know piano before being cast?
MS: There are a few shows where you could come in with no training and be able to fulfill the piano (or other instrumental) requirements of the show by the end of rehearsals. This is definitively not one of them. The incredibly score by Joe Kinosian utilizes the entire keyboard without hesitation or apology.  Add the need through most of the show to be playing the piano and connecting with your scene partner at the same time, and a real healthy familiarity with the keyboard becomes an imperative. As far as the comedic bits during the four-hand piano sections, we learned it and practiced it as choreography. Adding that on was just a slight additional multilayer.
What do you like best about this production?
SM: The incredibly witty lyrics and book. The  rhymes extend past the ends of phrases and sentences, and are really satisfying.
TW: I grew up in Milwaukee, which was a major city on the vaudeville track. I used to love hearing stories about famous acts traveling across the country, and I feel like this show really embodies that tradition.
-Scot C Hart