Houston Ballet Leaps into the New Year
---
IMAGE ABOVE: Houston Ballet Principals Joseph Walsh and Karina Gonzalez in David Bintley's Aladdin, Feb. 20 – March 2 at Wortham Center. Photo by Amitava Sarkar.
---
Houston Ballet has been on a roll for some time now, but considering recent events, it seems the company has stepped up the momentum. A convergence of milestones might have something to do with it. Consider the American premiere of David Bintley's blockbuster ballet Aladdin, Stanton Welch's 10th anniversary season—featuring a world premiere by Welch— plus trips to New York, Paris, Chicago and Montreal. Then there's the recent world premiere of the documentary Houston Ballet: Breaking Boundaries, a hit at the 2013 Houston Cinema Arts Festival, and the announcement of the company's bold 2014/2015 season, which includes three ballets based on Shakespeare. As ballet fans head into two solid months of dance, now seems like a perfect time to take a look at the swirl of action going down at the nation's fourth largest ballet company.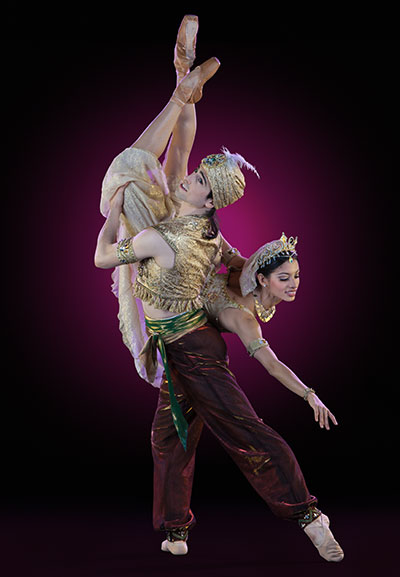 Aladdin flies into town
Ballet companies all hope those little girls in their party dresses who show up year after year to The Nutcracker turn into dance-loving adult fans of contemporary ballet. But some might need a little transition ballet to make the leap. Enter Aladdin, Feb. 20-March 2 at the Wortham Center, a co-production with the Royal Birmingham Ballet, which features enough bejeweled bling to chase away the February blues and entice new audience members. "This is a perfect ballet for families," says Welch, who scoffs at the idea that story ballets are making a comeback. "They never went away. They remain widely popular in Europe, in America, and of course, right here in Houston. Plus, David is a smart storyteller, and Aladdin is an unusual story."
Aladdin's long, much-cherished story is getting its due on the ballet stage more than a decade after the still-popular 1992 Disney movie appeared. "I have been a fan of the Disney version of Aladdin for a long time. It was just such a fun story that I always wanted to be a part of," says Joseph Walsh, who will be dancing the role of Aladdin. "Everything about this story has that rags-to-riches feeling that we all want to experience, paired with a great love story."
Like the Disney film, Bintley's ballet is loosely based on the folk-tale collection One Thousand and One Nights. Karina Gonzalez, who will be dancing the role of the princess, is well aware of Aladdin's roots. "Although I grew up watching every Disney movie and Aladdin has been always one of my favorites, I'm aware that the story existed long before Disney made it into an animated film," quips Gonzalez. "This ballet has all the magic, the beauty and the love involved in Aladdin's ancient story."
A Welch Wonderland
What better way to celebrate Welch's 10 years at the helm of Houston Ballet than a whole evening of his work? Running March 6-16, the program includes Welch's Of Blessed Memory; a tribute to his mother, the legendary Australian dancer Marilyn Jones, and features the return of the elegant former principal Barbara Bears. "I consider Of Blessed Memory my first professional work," adds Welch.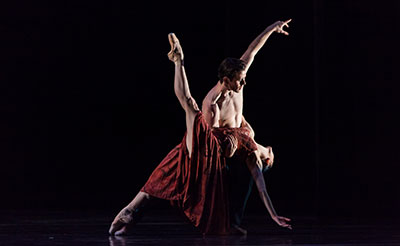 The centerpiece of the evening is the world premiere of A Young Person's Guide to the Orchestra, set to Benjamin Britten's music. "It's a celebratory piece, and a time for both the whole company and the orchestra to shine," he says. For Welch, that decade anniversary is still settling in: "I will feel it when I am sitting in the audience that night, watching all three works," he muses. "That will be emotional." Maninyas (1996), set to Ross Edwards' Maninyas Concerto for Violin and Orchestra and the first work Welch made in America, rounds out the program.
There's more Welch wonderment in the works: On March 21, Society for the Performing Arts presents The Joffrey Ballet, and the program includes Welch's super sexy Son of Chamber Symphony, set to John Adams' work of the same name.
Road Company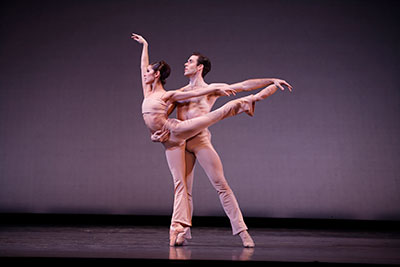 Last autumn, the company traveled to The Joyce in New York City, and then on to Paris' Théâtre des Champs-Élysées to perform Welch's Sons de L'âme (Sounds of the Soul), a new work set to piano pieces by Frédéric Chopin, performed by Lang Lang. (The company showed off excerpts of the piece at its Jubilee of Dance last December, highlighting the troupe's most accomplished dancers.) Paris turned out to be a life-changing experience for many of the dancers, including Walsh and Gonzalez. "I danced a solo that opened the second act that actually turned out to be more of a duet as soon as I met Lang Lang and realized how intuitive his accompaniment would be," recalls Walsh. "Working with an artist of Lang Lang's caliber is something most dancers can only dream of, and yet somehow I found myself on stage with him, and enjoying it more than I could ever have imagined." Gonzalez agrees, "Every performance with the amazing Lang Lang was a moment that I will never forget in my career. Every note that he played touched my soul and felt like the music and my dancing were one."
In March, the company travels to Chicago to make its company debut at the Auditorium Theater performing Aladdin at the Chicago Dancing Festival. Welch's exploration of the life of Marie Antoinette, Marie, travels to Montreal in April.
A Dance Doc
After watching the Joffrey documentary, Welch was inspired to create one of his own. Houston Ballet: Breaking Boundaries, which screens again on Feb. 10 at Houston Ballet's Center for Dance, was directed by John Carrithers and produced by Delicia Harvey. The documentary proved one of the most popular offerings of the 2013 Houston Cinema Arts Festival. It features interviews with the four living artistic directors of Houston Ballet, including the company's second director, Nina Popova. Carrithers and Harvey also unearthed some precious historical gems such as rare footage of Ben Stevenson in China. "It was truly surreal to be able to see our film at the Museum of Fine Arts on such a large screen and for such an enthusiastic dance audience," says Carrithers. "We feel extremely fortunate to have been given the trust to do this project."
Gen Next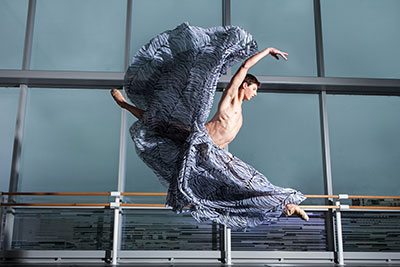 As with most ballet companies, the roster is continually in motion. Tomorrow's principals may be found in the tiny dancers scurrying about in the party scene during the last season's Nutcracker. Tyler Donatelli and Michael Ryan are two Houston Ballet Academy students to keep your eye on. Both competed in the prestigious Prix de Lausanne, with Ryan making the finals.  Houston Ballet's Prix veterans include Emily Bowen, Joel Woellner (Finalist), Charles-Louis Yoshiyama, Xiang Liao, Aaron Sharratt, Nozomi Iijima, and Harper Watters, winner of the Contemporary Dance Prize at the 2011 Prix. "The Prix is an important part of our recruiting process as we look for talented young students to be a part of Houston Ballet II," says Shelly Power, Houston Ballet's Academy director. "When our students attend as contestants, their lives are changed forever. They meet students from around the world, which expands their awareness as well as enriches them artistically."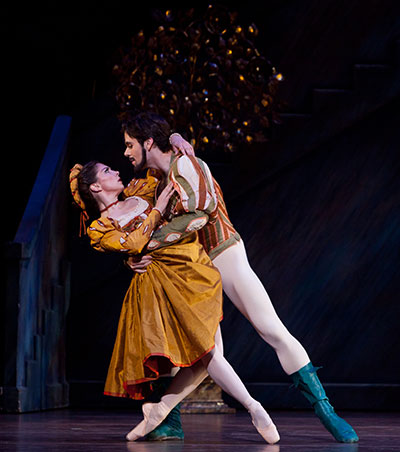 A bundle of Bard ballets
The 2014/2015 season will be anchored by three works inspired by the works of William Shakespeare in celebration of the Bard's 450th birthday.  John Neumeier's A Midsummer Night's Dream opens the season, with Welch's brand new version of Romeo and Juliet getting us through the winter months, while the season ends with John Cranko's comic master-work, The Taming of the Shrew. Edward Liang's Murmuration, a crowd favorite and Jorma Elo's fantastical ONE/end/ONE make a comeback. World premieres by Mark Morris and Welch are two more reasons to get behind one of the nation's leading ballet companies.
—NANCY WOZNY