Alejandro Diaz, I'M WIRED, 2013.   Edition of 5 + 2AP, red neon, 7 x 40 ".
---
Text-based art at Ruiz-Healy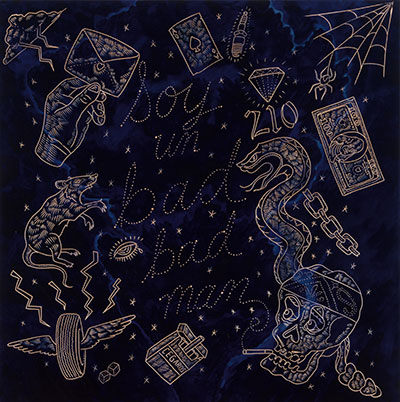 Text-based art tends to conflate and disrupt two different, enjoyable activities—looking and reading. From Rene Magritte's image of a pipe, Ceci n'est pas une pipe, to Jenny Holzer's cryptic digital displays, text in art can be used to question the validity of art, trigger an emotion, conjure a memory, make social commentary, give instruction, or function as graphic design. However, text bears the burden of centuries of language and literature, often weighing down our passive consumption of visual delights with its insistent references to religion, history, philosophy, and psychology.
Nine artists from San Antonio and Latin America rely on text in both English and Spanish to add an extra, metaphysical dimension to their work in More Than Words: Text-Based Artworks on view through April 25 at Ruiz-Healy Art in San Antonio's Olmos Park.
Jesse Amado solves the visual distraction problem of text in art by making the words unreadable. Using brilliant blue polychrome LeCorbusier on paper, he created a set of large blue letters that spell out Will Work for Free and Forever, inspired by a street beggar's sign. But the letters are stacked sideways on a white shelf, tucked away like a forgotten thought in the memory palace of the mind. For his Welcome Mat (Mija What Does That Mean), Amado frames the partially- completed word "Welcome," written on cardboard with the rubber border of a real welcome mat—but his "Welcome" is under glass and the greeting seems tentative at best.
Making the words expressive and poignant is the strategy of Spanish-born Andrés Ferrandis, who emphasizes text over images in his prints and mixed-media works. I think of you in colors that don't exist is rendered in melancholy gray and white. In his largest work, he uses the cosmos as a background with red, blue and yellow orbs floating in space behind words in Spanish, "de cuando en cuando las nubes acuerdan una pausa para los que contemplan la luna," which translate as, "from time to time the clouds agree to pause for those who contemplate the moon."
Song lyrics and sayings in "Spanglish" float through the stormy skies of Ricky Armendariz's oil paintings on carved plywood and woodblock, prints that often combine Southwestern imagery with classical and pop cultural references. Symbols of a life lived on the edge such as a cigarette-smoking skull wearing a bandana, playing cards, a rat, a rattlesnake, a spider and dice are arrayed against a star-dotted blue background in Soy un bad bad man. On a cluster of Candy Hearts are written words of unrequited love— "Cry, cry, cry" and "Mostly you're mine."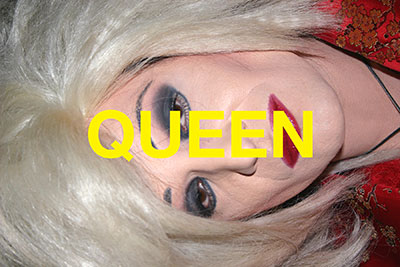 Ruiz-Healy is the executor of the estate of the San Antonio artist Chuck Ramirez, who died in a tragic bicycle accident a few years ago near the duplex he shared with the gallery Sala Diaz in Southtown. He's represented by a series of large-scale color photographs with yellow words overlaid, such as Queen over a masculine face in feminine makeup and Mexican wrestler figurines labeled Libre. Alejandro Diaz, the namesake of Sala Diaz who now lives in Brooklyn, works with neon in the alternately blinking Fiesta/Siesta.  His I'm Wired is a neon sign with dangerous-looking dangling cords.
Much more subtle are the delicate, pressed paper sculptural forms of Marifer Barrero, who earned her MFA at University College London and now lives in Monterrey, Mexico. With a background of barely- legible words embedded in the paper, her small, three-dimensional works My Light Within You and Life and Fauna feature tiny insects, birds and other organisms jutting out from the paper as if trying to escape. Barrero charts the intersection of poetics and ecology. Julie Speed uses the title page of an old book, American Zoology, with a 19th-century typeface, to create a collage that looks as if it belongs in a cabinet of curiosities.
Ethel Shipton plays with words by arranging them in crossword puzzles with themes such as Beauty —"attractiveness," "style," and "elegance"— and Still— "tranquil," "quiet," and "stable." Nate Cassie reconfigures the last words to a movie in Thend, probably a warm-up for his work in "Regarding Ruscha" on view at the McNay Art Museum.
Text can be "More Than Words" and this exhibit shows why Ruiz-Healy Art is emerging as the city's leading contemporary art gallery. After years of appointment-only shows in the living room of her home in this upscale San Antonio suburb, director Patricia Ruiz-Healy has created a first-class, 1,500-square-foot showplace for modern and contemporary works in the former Bistro Bakery. Located in the 1920s-vintage Spanish Mediterranean-style strip center on the northeast curve of the Olmos Circle, Ruiz-Healy Art has high pressed-tin ceilings painted gray and large picture windows, which allow in ample natural light. Upcoming exhibits include a solo show by Jesse Amado April 30-June 6 followed by a two-person show featuring Leigh Anne Lester and Abelardo López.
—DAN GODDARD
---
More Than Words: Text-Based Artworks
Ruiz-Healy Art
Through April 25