Bruce Wood Dance Project dancers Joy Bollinger and Harry Feril in Bruce Wood's Liturgy.
Photo by Brian Guilliaux.
---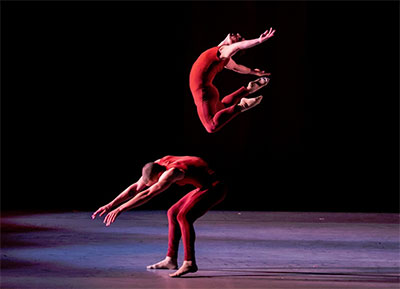 In the midst of its fifth season, Dallas' Bruce Wood Dance Project is about to premiere two new works and revive a decade-old piece by its namesake choreographer. But neither of the debuts is by Wood, who died in May 2014 at 53.
The company's board of directors made the difficult decision to go on without their artistic director and chief choreographer. One of their main conundrums was how to stay relevant without new dances from the prolific Wood. He wouldn't have wanted the troupe to simply become a museum for his past triumphs.
The Dance Project's answer has been to tap company members mentored by Wood to create new pieces. The first, Whispers, choreographed by Southern Methodist University graduate Albert Drake, premiered at the group's season-opening shows in June. Now, longtime Wood muse Kimi Nikaidoh, who has replaced him as artistic director, is making a new work for the Dance Project's Nov. 13-14 run at Dallas City Performance Hall.
"I never dreamed of being a director, and I certainly would prefer if Bruce were here and I was getting to be a dancer working under his direction. I miss him terribly," Nikaidoh says in an interview at the Bruce Wood Dance Gallery in the Dallas Design District. "Thankfully, though, I'm growing to love the project of figuring out how to keep his work alive, and I'm getting excited about some of the things that turn out to be the answer, like creating and commissioning new work and taking this company as soon as we can on tour."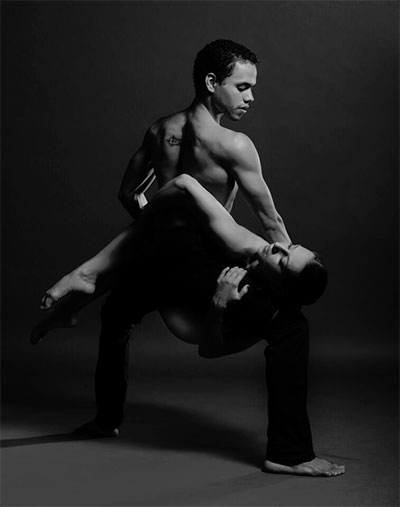 Nikaidoh's Find Me, set to four Van Morrison songs, will close the November shows. "Bruce used to say that he saw a dance performance like a trip to Luby's," she recalls. "You have to finish with pie. So that's what I chose to do for this program – make sure there was some pie at the end."
The company also has commissioned a piece from emerging choreographer Bryan Arias, the first time it has gone outside for new work. Arias, a member of Crystal Pite's Canadian troupe Kidd Pivot, has created My Heart Remembers, a series of four overlapping duets about love.
In addition, the Dance Project is on an aggressive campaign to spread the word about Wood's oeuvre, which is largely unknown outside North Texas. In fact, many Wood works he choreographed for his first group, the Fort Worth-based Bruce Wood Dance Company, have never been seen in Dallas. The November shows will include one of those, 2005's Liturgy, set to Bach's Mass in B Minor for chorus and orchestra.
The company also is booking festivals and gearing up to pitch presenters so it can hit the road. Nikaidoh says that between rehearsing and performing, the dancers will work for 40 weeks next year. "We're moving toward being a viable, full-time professional dance company."
In December, the Dance Project will revive Mistletoe Magic, a cabaret-style show that premiered in 2013. It is also licensing Wood's Red to Dallas Black Dance Theatre, to be taught to DBDT by Drake, company member Emily Perry and former Wood dancer Joy Atkins Bollinger. Then next year, it will participate in the AIDS benefit The Gathering at Winspear Opera House, the Dance!Texas festival in Arlington, the Chamberlain Ballet Gala and a Turtle Creek Chorale show honoring Wood and others as local heroes. A company member will make a new piece for the Heroes show.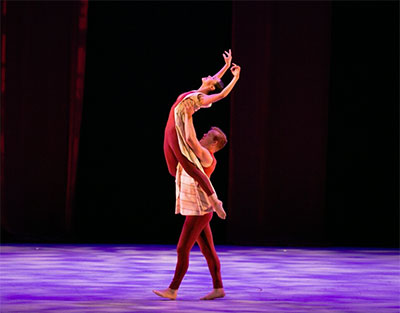 To seek national and international bookings, Nikaidoh plans to attend the Association of Performing Arts Presenters conference in New York in January. It usually takes a year or two for such efforts to come to fruition, which means the Bruce Wood Dance Project intends to be around for at least another five years.
"The fact that Bruce came back to the stage after the Bruce Wood Dance Company closed, that people were hungry enough to see his work again and got behind him and supported him has meant that all of us get to continue dancing and seeing his work," Nikaidoh says. "We also get to continue creating and commissioning the kind of work that prioritizes the same things that he did, that hopefully touches people, that is food for their souls and not just a feast for their eyes."
—MANUEL MENDOZA