Installation view: Janine Antoni and Stephen Petronio, incubator, testsite, Austin, TX, May 3-June 26, 2015.
Photo courtesy of testsite and The Contemporary Austin. All artworks © Janine Antoni and Stephen Petronio.
---
Stephen Petronio and Janine Antoni's Incubator  at Testsite
When I can understand something, I move on." So says choreographer Stephen Petronio at the opening of incubator, an exhibit of collaborative and individual works from Petronio and renowned visual artist Janine Antoni, on display at Austin's testsite through July 26th.
Petronio explains to the gathered crowd, "I make dances that, when they're finished, I hope not to understand them. Because in the process of creating that which is beyond reach, there's a certain humanity and aspiration that I feel is very important to the artistic experience for me."
Both Petronio and Antoni find themselves drawn to that which they don't understand, which, in part, is how they became collaborators in the first place. And because testsite's mission is to foster experimentation between artists from different fields, Antoni and Petronio seemed like an excellent fit for an exhibit. Co-organized by The Contemporary Austin, incubator is the first time an array of the artists' works have been exhibited together.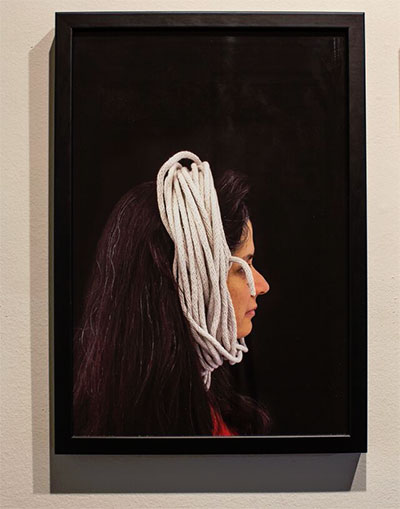 Unlike the sterility one might encounter in a gallery setting, testsite offers a unique brand of intimacy, displaying tremendous works of art in the context of a private home. The setting seems particularly appropriate, given both the warm, familial relationship the artists have cultivated over the years and the profoundly intimate nature of the exhibit's centerpiece, Honey Baby.
In the video installation, a nude male figure, backlit by a warm amber glow, moves slowly around the circular confines of his environment. Propelled at times by the viscous fluid surrounding him, his dance exudes a sense of weightlessness and vulnerability.
Evoking a return to the womb, Honey Baby evolved out of Petronio and Antoni's first collaboration, Like Lazarus Did. Petronio's dance piece began with his own death and ended with a solo for Nick Sciscione, the youngest dancer in his company (all while Antoni hung suspended above the audience).
The show explored both artists' interest in renewal and continual regeneration. Antoni explains, "We're at that moment when we've established a language, and we met each other just at the point when we wanted to question what that is. As a collaborative team, we're a young artist."
Looking around the room, she asks those in attendance, "Do you remember when you first discovered art, and the learning curve was so intense and every day was a revelation? I never thought I would get that again."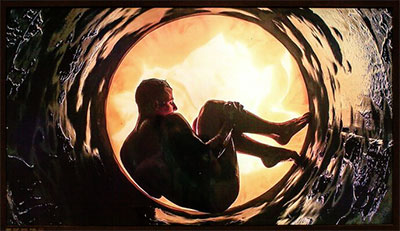 Honey Baby presented both artists with the kind of newness they thought they'd lost. The installation is a visual product that came out of Sciscione's solo in Like Lazarus Did, built out of movements modeled on sonogram images of Petronio's cousin in utero. Antoni imagined the performance done in honey, because it seemed so much like amniotic fluid. Together, they assembled a creative team, crafted a vessel, poured in two hundred pounds of honey and brought the project to (new) life.
They wanted to ensure Honey Baby was not just documentation of a dance, that the effect could only be achieved through the lens. Petronio says creating something for film precipitated a very unexplored area for him, allowing his choreography to focus on microscopic movements he could never get to onstage.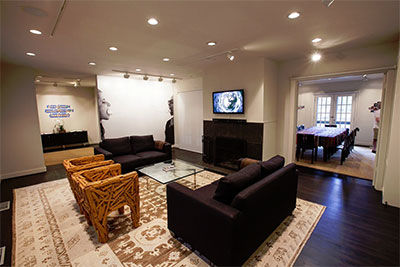 And that's certainly the case. As the shots move closer and closer to Sciscione's body, the smallest movements captivate our attention.
While they were initially extremely tight-lipped about the creative process for Honey Baby, Petronio and Antoni are more willing to share about their work together now. An exciting feature of the exhibit is a photographic tour of the duo's creative process on various works over the years.
After Like Lazarus Did, Petronio invited Antoni to make a costume intervention in a dance that would "strip him down to his essential choreographic DNA," which was part of a series of character studies of masculine forms (all involving a suit). So, for Stripped, Antoni sewed two hundred ties end to end and wrapped them around Petronio's head.
She says she was thinking about his doing dances that are portraits of a man and her own fascination with trying to make a portrait, but somehow removing the face. Lull, one of the pieces on display at testsite, captures her intervention on film.
The exhibit is uniquely masculine and tender, intimate and impersonal. It's a lovely fusion of movement and stillness, bringing together two typically distinct forms and two thoroughly talented artists.
—CATE BLOUKE