Edward Burtynsky
Nickel Tailings # 30, Sudbury, Ontario, Canada, 1996
From the series Tailings
© Edward Burtynsky, courtesy Nicholas Metivier Gallery, Toronto / Von Lintel Gallery, Los Angeles.
---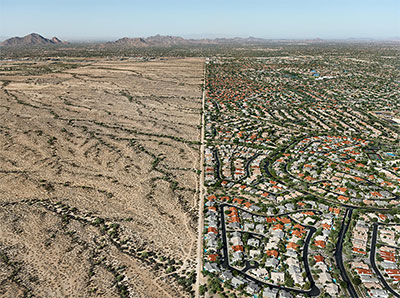 Edward Burtynsky's photographs reveal the epic scope of man's relationship with nature. The desert expanse on one photo's left side confronts the packed Arizona suburb on the right. In another image, a placid little lake occupies the bottom of an open-pit mine.
Composer Marcus Maroney saw an impetus for his own creativity in Edward Burtynsky's dramatic photographs. "They're stunning and beautiful, but they're also a little disturbing," Maroney says. "They show what man has done to the earth — reshaped and sometimes outright destroyed it. I liked that duality — the light and the dark."
Maroney aims to mirror that duality in his new Earth Music, co-commissioned by FotoFest — whose "Changing Circumstances" exhibition includes a broad span of Burtynsky photos — and Musiqa. The new-music group premieres Earth Music on April 7 amid Burtynsky's photos in The Silos at Sawyer Yards; April 9, Maroney's work will share a Musiqa program in Zilkha Hall with works including another new piece, Rob Smith's Angenieta.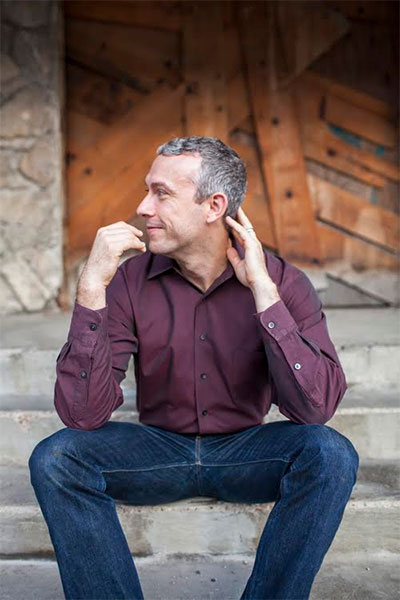 Sidestepping conventional instrumental groupings, Maroney has cast his work for clarinet, double bass, piano and percussion. "It's a very dark piece, and I wanted the richest colors I could get," he says. And even though Earth Music is a quartet, it unfolds on a symphonic scale, with a big opening movement leading to a slow movement, then a scherzo.
The first movement includes a tip of the hat to Maurice Ravel, who composed a piano work called Une barque sur l'ocean, or "A barque on the ocean." Maroney, who crafted his quartet's opening with images of the Gulf of Mexico in mind, calls it Une barque sur l'huile — floating the boat on oil. Harmonies borrowed from Ravel's piece help tie together the entire quartet, Maroney says, and the work encompasses not only starkness, but beauty.
In a twist on the symphonic formula, the work ends with a lullaby. "I wanted something that was maybe a little nostalgic," Maroney says. "It's a questioning ending — sort of asking, 'Is everything going to be OK? Can we rest with all the stuff that's going on?'"
Composer Smith — who, like Maroney, teaches in the University of Houston's Moores School of Music — also drew on extra-musical inspiration. Angenieta pays tribute to a Musiqa backer's late mother, Maria Angenieta van Lohuizen-Meijer. "Manners and etiquette were everything to her," Smith says. "When you first talked to her, she was very reserved. You had to draw her out. But if you were able to do that, she was this vivacious, energetic person who was very engaging."
To translate that blossoming spirit into music, Smith draws on Bist du bei Mir, by J.S. Bach, Lohuizen-Meijer's favorite composer. Taking the song's melody as its foundation, the eight-minute quintet — for string quartet plus double bass — hews closely to Bach's graceful theme at the outset, Smith says. But as Angenieta develops, it grows freer and livelier, like its namesake.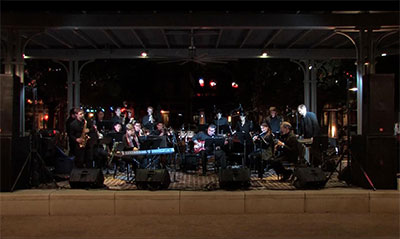 The April 9 concert will also include works by non-Houstonians Timo Andres, Hannah Lash and Kevin Puts, plus a short film curated by Houston Cinema Arts Society. Maroney singles out Puts' And Legions Will Rise — for violin, clarinet and marimba — as a work that makes an impression. "It's an uplifting, energetic piece," Maroney says. "Out of that trio he gets wonderful, powerful sounds."
The work dates back to 2001, when Puts taught composition at the University of Texas at Austin. "And Legions Will Rise is about the power in all of us to transcend during times of tragedy and personal crisis," his program note says. "While I was writing it, I kept imagining one of those war scenes in blockbuster films, with masses of troops made ready before a great battle. I think we have forces like this inside of us, ready to do battle when we are at our lowest moments."
Musiqa will marshal a platoon of six percussionists for its season finale June 3 at Market Square Park. The group will perform Timber, by New Yorker Michael Gordon, whose work harks back to the simantra — a long wooden bar used for centuries in Eastern Orthodox churches as a chime. In the hourlong Timber, the musicians play six wooden 2-by-4s roughly 3 feet to 6 feet long. Depending on how they're struck, the wood pieces create sounds that range from murmuring to ringing.
"It's a real tour de force," says Craig Hauschildt, one of the six percussionists who will perform. "It's essentially nonstop playing for about 65 minutes." Within that span, composer Gordon creates an ever-shifting play of colors and rhythms.
"I think it has a hypnotic effect — a trance-like effect," Hauschildt says. "It depends on what a person brings to it. … If you come to it and you're in the moment, I'm sure it could be very trance-like — very zen like. One could lose oneself in it."
—STEVEN BROWN