IMAGES: Hui He as Madame Butterfly at The Dallas Opera.
Photos by Karen Almond/Dallas Opera.
---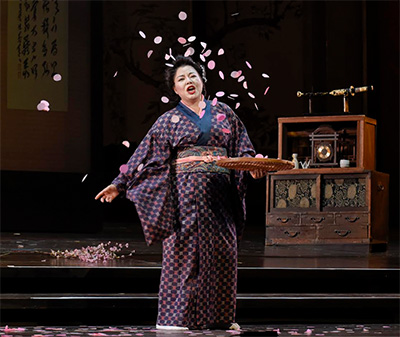 The Dallas Opera's 2017 centerpiece production of the Puccini classic Madame Butterfly opened Friday night and featured several highly anticipated Dallas debuts including that of Chinese soprano, Hui He. These fresh voices, particularly He's, filled the opera house with a new energy, giving wings to this oft-performed opera (this is the Dallas Opera's 11th production of Butterfly in its 60 year history). He, who has performed the title role to critical acclaim in opera houses around the world, is everything a Butterfly should be.
In the first act, He's voice spans a range of emotions.  Initially light and crisp as the innocent young,  Cio-Cio-San (Butterfly), He's voice becomes stronger and more powerful throughout her performance growing heavier and darker as she attempts to stave off disillusionment while waiting years for the return of her American husband who is the father of her child.  In Act II, He's rendition of Madame Butterfly's signature aria 'Un bel dì vedremo' felt heartbreakingly intimate while also conveying the state of Butterfly's increasingly delusional mind.  He's portrayal of Butterfly's sadness is palpable when she implores her son, Sorrow, to remember her face before creepily draping him in the American flag and blindfolding him.  The suicide scene chills as He's voice resembles a chant while holding her father's knife.   He's skillful acting paired with her remarkable voice earned her a standing ovation and cheers of 'Brava!' following Friday's performance.
In his Dallas debut, Italian tenor Gianluca Terranova gave a stellar performance as the callous American heartbreaker, Pinkerton.  Terranova's light voice is as clear as his motives when he boasts that he will have his way with Butterfly 'even if I crushed her wings'.  Terranova balances Pinkerton's selfishness with displays of tenderness.  Terranova's and Ms. He's voices are well matched in the epic love duet 'Bimba, Bimba, non piangere' and their chemistry is adequate.  At the end of Act II, Terranova 's lyric tenor deepens and he is convincingly remorseful regarding his destruction of Butterfly.
Baritone Lucas Meachem makes his Dallas debut as the American consul Sharpless.  Meachem has a powerful and authoritative voice.  Sharpless acts as the conscience of Pinkerton showing sympathy for Butterfly, and later brings the bad news that Pinkerton has returned not to renew his relationship with Butterfly but to claim his son; this serves as one of the disturbing reminders of the imperialistic nature of the American relationship with the Japanese at this time in history.
Mezzo-soprano Manuela Custer stars as Suzuki, Butterfly's loyal servant and friend. Custer beautifully harmonized with He as they spread flowers on the ground in anticipation of Pinkerton's return. In Friday's performance, Terranova and Meachem momentarily overwhelmed Custer's voice in their trio.  But when Suzuki defended Butterfly from lies about Sorrow, Custer's voice was fierce.
Reginald Smith, Jr made his first appearance in Dallas as Butterfly's Uncle, the Bonze.  Smith's voice boomed and his presence dominated the stage when he rejects Butterfly for her impending marriage. Tenor David Cangelosi provided a few moments of comic relief as Goro, the sleazy marriage broker.  Angela Turner Wilson ably sang the brief role of the American wife, Kate and  Asher Baltensperger as Sorrow managed to tuck his legs up allowing Butterfly and Suzuki to carry him on and off stage.
Donato Renzetti expertly conducted the Dallas Opera Orchestra as they flawlessly sculpted the music to suit the heart wrenching storyline and emotion-filled melodies. The Dallas Opera Chorus performed a dreamy rendition of the  'Humming Chorus' providing the perfect respite from the intensity and passion of this opera.  Director John Copley managed each scene to maximum impact.  Lighting designer Duane Schuler set the mood well throughout and in particular his illumination of Butterfly as she puts on her wedding robe wordlessly reinforced her innocence. Michael Yeargan designed the traditional set of Japanese screens and the beautiful period costumes.