The Orchestra of New Spain specializes in reviving long-lost music. Founder Grover Wilkins and his ensemble have freed a string of neglected Spanish-baroque works from the prison of the library shelves, and on Feb. 21 and 22, the group will give a belated U.S. premiere to a 300-year-old tale of passion among gods and mortals.
Love Conquers Impossible Love brings Wilkins and company back to composer Sebastián Durón, whose Cupid's New Weapons of Love received its modern-day premiere from them in 2013. Both works are zarzuelas–examples of a Spanish theatrical genre that flowered during the baroque period, when both royals and ordinary people savored its combination of musical numbers, spoken dialogue and comedy-drama plots.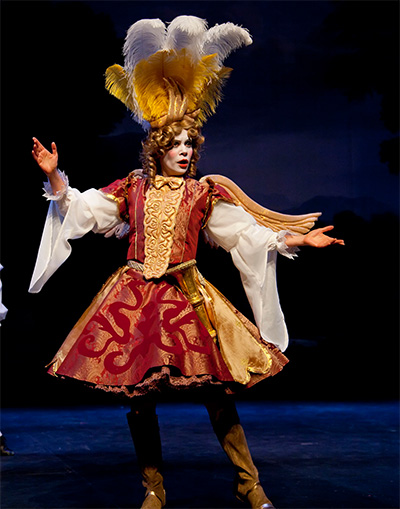 Durón, born in 1660, launched his career in Spanish cathedrals, but after a post in Madrid's royal court helped him branch out, he grew into one of the most acclaimed theatrical composers of his day. He injected Love Conquers Impossible Love with the vigor and vocal fireworks that flavor so much baroque music, Wilkins says, along with buoyant, shifting rhythms that are quintessentially Spanish.
"It's very listenable music," Wilkins adds, "and it won't seem strange to anyone." Generous use of guitar and bass guitar spices up the orchestra.
The story takes off when Jupiter, supreme among the mythological gods, falls in love with the mortal princess Danaë. Complications arise quickly as Jupiter's wife, Juno, and Danaë's two earthly admirers learn about the couple's passion. When Juno orders Danaë imprisoned in a tower, Jupiter's desires appear to be thwarted; thus arises the impossible love of the zarzuela's title, Wilkins notes. But Cupid steps in, and–thanks in part to a magical shower of gold from the heavens–the story ends with Jupiter and Danaë reunited.
"There are three big duets between Jupiter and other characters. I think those are the high points of the show," Wilkins says. With music ranging from pyrotechnics to mellifluous lyricism, "each (duet) has its own character. There's a bit of anger. There's a good amount of joy."
As an extra dash of sophistication, Durón helped the story flow by weaving dialogue into musical numbers, Wilkins says, rather than keeping them separate. The back-and-forth keeps performers on their toes, he adds, but theatrically, "the interplay between the music and the spoken dialogue … is complex in a way that's very satisfying."
Drawing on design talent from previous Orchestra of New Spain productions, Wilkins says, Love Conquers Impossible Love will feature stylized versions of baroque-period costumes. In place of three-dimensional sets, projections will create the atmosphere. Following baroque tradition, dancers will help the principals enact the story.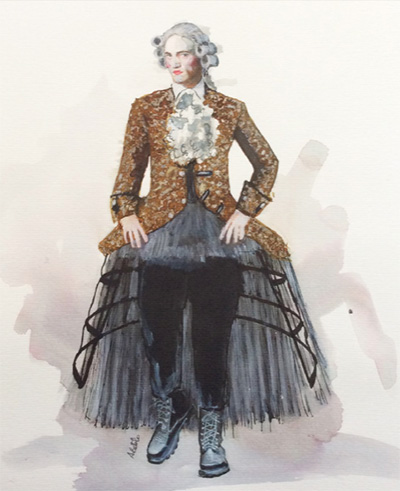 To help today's viewers grasp the mythology-based tale, Wilkins is translating the dialogue into English. He also is condensing the score and dialogue.
"Being only 90 minutes long should have a certain appeal for our impatient public," Wilkins quips. "I anticipate a visual, sonic production that's as appealing as anything we've done before, if not more so."
Love Conquers Impossible Love–in Spanish, El imposible mayor en amor, le vence amor–had its modern-day premiere in Madrid in 2016, and Wilkins is drawing on the edition of Durón's score prepared for those performances. But Orchestra of New Spain sometimes beats the Spanish to rediscoveries of their artistic heritage–as it did with its 2018 revival of Francisco Courcelle's Achilles in Skyros. Imagine Wilkins' reaction when a Spanish company announced later that it was preparing the Courcelle work's modern premiere.
"I wrote to the artistic director of the opera (company) and told him I was really glad they were going to do that, but we had already done the modern premiere," Wilkins recalls. "That caused something of a kerfuffle–between him and me and between Madrid and Dallas." But a face-to-face meeting between Wilkins and his Spanish counterpart had a harmonious outcome.
"He realized that we're doing something (in Dallas) interesting enough that he'd like to do some kind of co-production between Orchestra of New Spain and one of the theaters in Madrid," Wilkins says. Wilkins is choosing a few potential works–including Durón's Cupid's New Weapons of Love--as groups aim for 2022 or 2023.
But first, Orchestra of New Spain has plenty in store for this spring. An April 4 concert ties in with a Meadows Museum show spotlighting the 16th-century sculptor Alonso Berruguete. Wilkins and his group accompany Ballet Dallas on May 2 and 3.
Taking the group outside its usual musical turf, a June 23 program will include a pair of offbeat and high-spirited 20th-century works. Darius Milhaud's Machines Agricoles salutes, yes, farming equipment. Bohuslav Martinů's Revue de Cuisine comes from a ballet about cooking utensils. Both works feature tinges of jazz, Wilkins says, and "they're rip-roaring fun."
-STEVEN BROWN