Paula Luttringer, Entrevero IV-III (Detail), 2015, Piezography, image 20×30 inches; paper 28×40 inches.
Image courtesy the artist.
---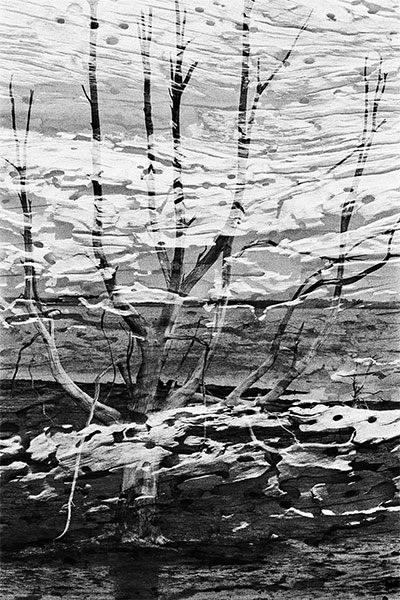 Both Paula Luttringer and Gissette Padilla lived and emigrated from South American countries during eras of social and political upheaval.   Luttringer left Argentina after being kidnapped and imprisoned by authorities for five months during the "Dirty War" in the 1970s and 1980s, while Padilla's family fled Venezuela and the dictatorship of Hugo Chávez when she was in eighth grade. Both artists use their work to examine the situation in their homelands, as well as personally deal with residual psychological effects. The two artists have works on view in Origins, Rations, Extractions at Blue Star Contemporary through Jan. 7, 2018.
Luttringer's black-and-white photographs represent two series. Lingnum Mortuum, Latin for dead wood, and Entrevero, which means confusion or disorder. The former are photographs from Villa Epecuen, a resort built in the 1920s on the shore of Lake Epecuén, one of the saltiest lakes on earth. It was a popular destination for bathing in the salt water for its healing qualities but due to governmental neglect, a dam failed in 1985 and submerged the town in 32 feet of saline water. Villa Epecuén remained underwater for 20 years, at which time the waters receded. Luttringer was fascinated by the uncovered tree trunks in the area, describing them as "baked like bones in a desert and glistening with salt crystals." They struck her as a metaphor for her reaction to her kidnapping ordeal—still suffering from the effects but moving forward.
The Lingnum Mortuum series focuses on these tree trunks, which are bleached from being submerged. Crevices and knots form black lines and circles in stark contrast to the white surfaces. Lingnum Mortuum I is a fallen tree that resembles a human trunk with its legs cut off above the knee. For Lingnum Mortuum III, Luttringer moved closer for a confrontive view of the anthropomorphic tree.
While shooting at Lake Epecuen, Luttringer also made some double exposures, which became the series Entrevero. Entrevero II-III combines an image of intertwined tree branches with a photograph of the lake and forest beyond. Like a pentimento, the glittering surface of the water hovers below the ghostly images of twisted branches, creating a dreamlike space not unlike memories, which can rise to consciousness at any moment. Luttringer has written about her memories and how they come to her in a flash, shocking her with their intensity.
Luttringer was 21 and pregnant when she was kidnapped and gave birth in captivity. During that period, as many as 30,000 people were routinely tortured and murdered. After being was released, she left the country for France, but returned in 1995 and began photographically documenting the detention centers. Having control over her photographic images has helped her to cope with the memories lurking in her subconscious.
Gissette Padilla also works in the arena of memory, creating layered, low-relief wall assemblages that incorporate personal photographs, found images, prints, painting, and drawing. Padilla's work is more colorful than Luttringer's and exhibits an underlying tone of chaos. She was born in Venezuela in 1986, and her family immigrated to the U.S. around 2000, leaving behind extended family and friends. Venezuela was dominated by the Chávez regime until he died of cancer in 2013. The corruption, however, continues to this day, and the country's food shortages, crime, and political unrest are reflected in Padilla's work.
The use of the word "rations" in the show's title refers to Padilla's Extinto, a cast sculpture of a crumpled white paper bag that represents the care packages that her family regularly sends to Venezuela. The bags hold flour or corn meal that must be removed from their packaging to thwart the theft and reselling of them before they arrive. This sculpture is joined by a translucent acrylic cast of the space inside the bag.
The wall piece Leopoldo is composed of four segments fitted together to form a whole. The bottom section is a surreal landscape with black rocklike formations on a glowing bed of coals, the right a black-and-white drawing with random forms floating on a black ground. Above are tree trunks glimpsed below a dark wash of color, and on top the head of a male figure with a shadowy visage, perhaps a victim of torture. The larger Hasta que se quiebre (literally "until it breaks") is a patterned octagon with a red target surrounded by nine concentric rings. Areas of red are omnipresent throughout her work, suggesting violence and bloodshed. And like Padilla's memories of Venezuela, the piece has missing parts and overlapping images.
Both Padilla and Luttringer examine their past to make sense of the present, using memories and experiences to create work that focuses attention on the injustices they and others like them have suffered. Both take an approach that is more suggestive than illustrative, and although they are stylistically dissimilar, they complement one another in context.
—DONNA TENNANT