Cecil Washington Jr. and Jill Blackwood in ZACH Theatre's production of Sunday in the Park with George.
Photos by Kirk Tuck.
---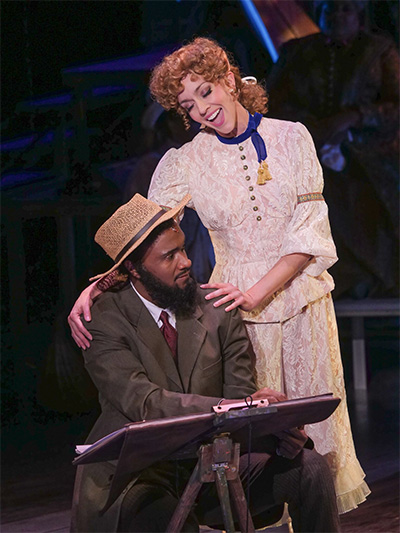 "Order, design, tension, balance, harmony." So begins the classic musical Sunday in the Park with George. As famed painter Georges Seurat struggles to push his art forward and expand the boundaries of painting, he repeats these words, ultimately finding a calming presence from which to create. With music and lyrics by Stephen Sondheim and book by James Lapine, the Pulitzer Prize winning musical Sunday in the Park with George speaks to the challenges and unimaginable possibilities while creating an enduring work of art. In this case, the musical's first act, taking place in 1884, dramatizes Georges Seurat's journey in painting the iconic A Sunday Afternoon on the Island of La Grande Jatte. The figures in the painting fill Seurat's world, both on the canvas and in his life. At the center is Dot, his muse.
Act two jumps to 1984 when Seurat's great grandson, also George, questions the role of the artist as he struggles to create something new: Chromolume No. 7. While Sunday isn't heavy on plot, it's certainly heavy on mood as it centers on the art of making art. As the cast sings in Act Two, "art isn't easy" and in Sunday we see the joys and struggles, the highs and lows, the ebbs and flows, that go into making a masterpiece. Adding a touch of theatricality, the entire cast plays two roles: one in Act One and another in Act Two.
As the first fully produced Sondheim musical at ZACH Theatre, Sunday speaks to the new heights the company is reaching now 7 years after their campus expansion. Under the direction of Producing Artistic Director Dave Steakley with musical direction by Allen Robertson, Sunday plays ZACH's Topfer Stage through June 24, 2018. Although the production only has one more week of performances, this isn't one you want to miss.
While Sunday is undoubtedly a landmark moment in the canon of musical theater, notably, it didn't win the Tony Award for Best Musical in 1985. When Gerry Herman accepted the award for the also great La Cage aux Folles, he remarked that the hummable Broadway musical was alive and well. Whether intentional or not, many Sondheim followers interpreted this as a jab toward the sophisticated harmonies and lyrics of the Sondheim canon. Sunday is no exception. After I first saw Sunday in 2010 at the Arden Theatre in Philadelphia, I was moved to tears. For years I had only known the musical through the cast recording and the filmed version with Bernadette Peters and Mandy Patinkin. But even so, I remembered leaving the Arden that day—I'm pretty sure it was another Sunday—with the idea that this wasn't a show I could recommend to my friends. As much as I loved it, it was too intellectual. Too smart. Too Sondheim. Now, eight years later, I realize how immature my feelings were. Yes, Sunday is smart and as Sondheim as it gets, but that is precisely why it should be seen. This is a sophisticated piece of musical theatre that is unabashedly for adults.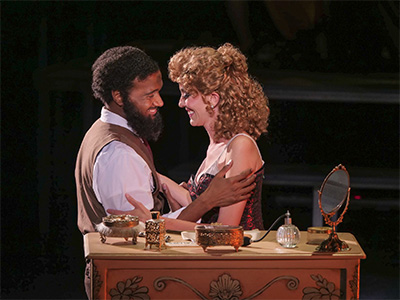 "White. A blank page or canvas." We all can relate to the pressure to create something new from nothing. As I began writing this on a blank Word doc, the feeling of "what am I going to say?" rushed over me. Even after years of writing—and writing every day—this feeling remains a constant. And this is precisely how Steakley's production begins: on a blank canvas. While Tony Straiges' original design has become iconic and Timothy Bird and The Knifedge Creative Network's projection design from the Menier Chocolate Factory's 2005 production pushed the musical in places no one expected it to go, Steakley reimagines the playing space as a bare stage from which to tell the story in a metatheatrical way that sees this group of theatre artists enter the creative process. The Topfer stage is a completely exposed playing space from which the artists create each design element before our eyes. Adding to this, the orchestra is placed on stage so that Sondheim's score is not only sonically present, but also visually a part of the world of this production.
Cecil Washington, Jr., as Georges, weaves between the violins and cellos, flutes and a harp, painting amid the orchestra not unlike the way a conductor creates with his baton. With each flick of Georges' brush, a section of musicians is cued and Sunday's score flourishes. While Washington delivers a well-executed turn in Act One, as George in Act Two, he soars, finding the emotional weight of the piece. Even so, despite the musical focusing on Georges/George, Jill Blackwood's performance as Dot/Marie all but steals the show, providing an unsuspected punch to the gut in Act Two. When Blackwood as George's 98-year old grandmother began singing "Children and Art," tears started to fill my eyes. The tears became a little more regular during the crescendo of "Move On." By the time she was "painting" George during the "Sunday" Reprise, I was ugly crying (along with the rest of my row). The last 30 minutes of this production is as good as I've ever seen on a Texas stage. The remaining cast members form a tight ensemble, with Janis Stinson as Old Lady/Blair Daniels and Matthew Treviño as Boatman/Charles Redmond giving particularly standout performances.
By any measure, ZACH's production of Sunday in the Park with George is as much as masterpiece as Seurat's painting. Steakley's direction takes advantage of the Topfer's blank canvas to create a remarkable piece of art that, in the end, shows us just how beautiful art can be.
-TREVOR BOFFONE