The Season for Seasons
---
IMAGE ABOVE: Society for the Performing Arts presents Three Acts, Two Dancers, One Radio Host with Monica Bill Barnes, Ira Glass and Anna Bass on Sept. 20. Photo by David Bazemore.
---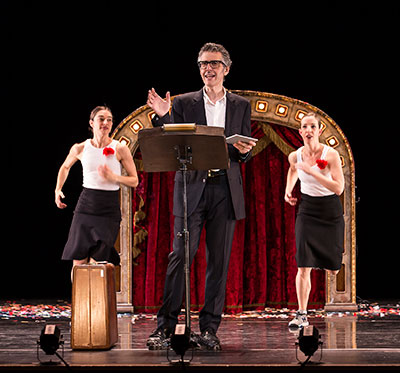 It feels a tiny bit like Christmas when I see those shiny words, "2014/2015 season" in the subject of an email. New seasons are trickling in from all over the state. What gems will await me? What will we be writing about?  Usually the news is met with a host of emotions, from absolute jubilation to complete disappointment (not that old thing again). Of course, there's a fair amount of wading through the overly packaged commercial dreck. And then there's the "Huh? What's this?" response, often leading to the most satisfying experiences. Picking through upcoming seasons is my summer hobby. I got a head start below.
If ever a dancer could be in the same sentence as Ira Glass of This American Life, it would have to be the witty choreographer Monica Bill Barnes; and well, it is, when Society for the Performing Arts (Houston) presents Three Acts, Two Dancers, One Radio Host on Sept. 20. Barnes' trusted co-pilot Anna Bass is in the mix too. I can't help wondering if Glass will be donning sparkles or feathers.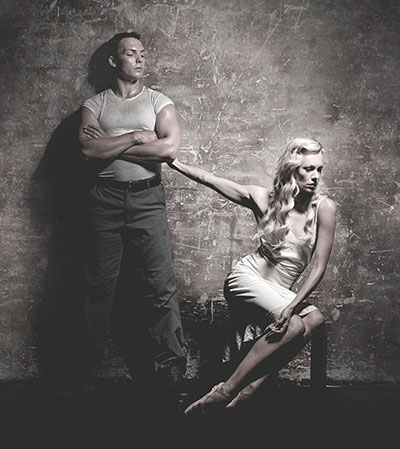 I've always wondered what happened to the half of Simon and Garfunkel with the haunting tenor voice.  Art Garfunkel is making an appearance at the more intimate theater at The Tobin Center for the Performing Arts on Oct. 9, and yes, he still has that weird hair, though perhaps a bit less of it.
There's a run on Blanche and the gang as A Streetcar Named Desire, choreographed by the amazing Annabelle Lopez Ochoa, comes to San Antonio on May 12 (through The Tobin Center and ARTS SA) and Houston (through Society for the Performing Arts) on May 15. SPA's executive director, June Christensen, attended a preview of Streetcar at the Edinburgh Festival and the U.S. Premiere in New Orleans. "It was one of the most powerful performances I have seen in many years," says Christensen. "The narrative through movement was astounding; you completely forgot that not one word was spoken, yet you could almost hear a dialogue among the dancers."
Meanwhile, The University of Texas Dept. of Theatre and Dance presents the Tennessee Williams play, Oct. 10-19, and Rude Mechs explore a different Stella—the theater guru Stella Burden—in The Method Gun, Sept. 10-14, also at UT. This is the first time The Method Gun will be seen in its full glory on Texas shores.   And AT&T's new Off Broadway on Flora Series offers Rude Mechs' Stop Hitting Yourself May 28-30. This is the first time The Method Gun and Stop Hitting Yourself  will be seen in their full glory on Texas shores.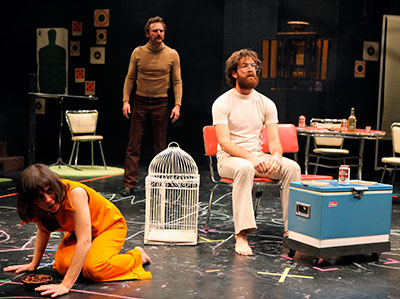 The entire TITAS season in Dallas is a dance lover's paradise; so much so, we have a separate story on it in the June issue. But I must say, Brian Brooks Moving Company, Nov. 21-22, is an inspired choice; Brooks' extreme, body-based physicality is simply extraordinary.
Anna Deavere Smith is always interesting. The Pulitzer Prize-winning actress and playwright pops into the ZACH for On Grace, June 3-21, a collaboration with cellist Joshua Roman and directed by Leonard Foglia.
I'm curious about the Dallas Theater Center production of Stagger Lee, Jan. 21-Feb. 15, a musical that takes its title from the century-old folk song that became a Number One R&B hit for Lloyd Price in 1959, which was partially developed in workshops in collaboration with the Meadows School of the Arts, Southern Methodist University in Dallas, Texas as a part of Will Powers' Meadows Prize residency.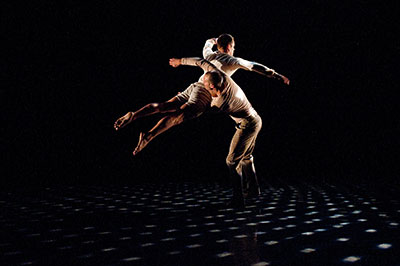 I know Ballet Austin fans (and I am one of them) are jazzed about Stephen Mills' 3M commission Belle REDUX / A Tale of Beauty & The Beast, with music by Austin legend Graham Reynolds, Feb. 13-15. Mills, a terrific  storyteller, sources the original 1746 fairy tale of Beauty and the Beast in his new ballet.
My weakness for musicals will be appeased by Kinky Boots, Feb. 10-22, at Theatre Under the Stars, while Once makes its way to Austin via Lexus Broadway in Austin, Feb. 24-March 1, and to Houston, March 10-15, through Gexa Energy Broadway at the Hobby.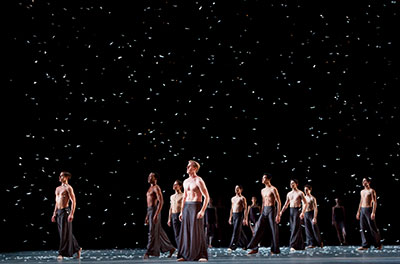 Sometimes, I actually want to see something again. There's a joyous comeback in Houston Ballet's choice to remount Edwaard Liang's Murmuration, as part of From Houston to the World, Sept. 18-28. It's a sweeping ballet of breathtaking beauty and finesse. As soon as the curtain closed, I wanted to see it all over again. Judging from the leap to their feet that the audience performed, I would say I'm not alone in that idea. (And no, they were not their way to their cars; it was the second piece.) The program also includes Jorma Elo's ONE/End/ONE, a fantastical ballet that catapulted principal Karina Gonzalez to national attention and the cover of Dance Magazine. There's more ballet nirvana to be had at the McNay in San Antonio for All the Rage in Paris: Diaghilev's Ballets Russes, 1909-1929, Feb. 18-June 21.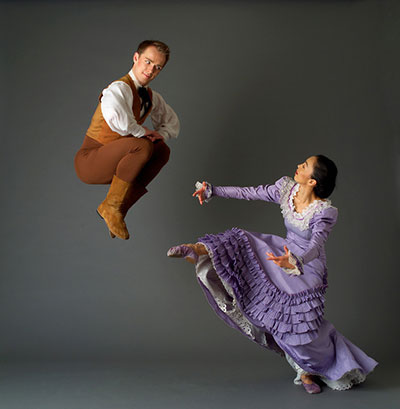 When the Stages Repertory Theatre email came in my inbox, I had to email Kenn McLaughlin to ask, "What is all this stuff?" Although he had me at Stupid Fucking Bird, Aaron Posner's contemporary riff on Chekhov's The Seagull, McLaughlin reminded me that putting together a season is a beast unto itself, and this one came together later than usual. McLaughlin called Posner's play his "anchor" play, and built the season around it. "It took my heart, my mind, my soul and nailed everything I think about American theater these days," he explained. "Once that came into play, then other projects made sense around that, some softer in tone, some a bit more theatrical." Some of those other projects include collaborating with Black Lab Theatre for Joshua Harmon's Bad Jews, and with University of Houston for David Adjmi's Marie Antoinette.
My conversation with McLaughlin proved a window into the arduous process of curating a season that includes the desires of the artistic director with the need to stay in business. As usual, McLaughlin left me with a "gotta see that" feeling about the entire season. He's like that. I also felt more open to work I know nothing about. We could all use a touch of that!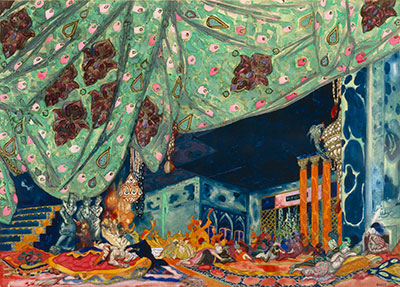 Wait wait, there's more. Undermain Theatre in Dallas offers Annie Baker's 2014 Pulitzer-prize winning The Flick, Nathan Gunn returns to Houston Grand Opera for Sweeney Todd, Dallas Opera premieres La Wally by Alfredo Catalani, set high in the Austrian Alps, no less, and Asia Society Texas Center will collaborate with Houston Ballet soloist Nao Kusuzaki on a new Kabuki dance work. New season binging is so much fun.
When the fall season opens, you will find me in my backyard theater, also known as Miller Outdoor Theatre, on Sept. 12 watching Andrés Orozco-Estrada lift the baton for the very first time as music director of the Houston Symphony in a weekend of welcomes called Bienvenido, Andrés! By then, due to mild case of OCD when it comes to calendars, I will have the entire year mapped out. For now, I am enjoying the big promise of next season on Texas stages.
—NANCY WOZNY