ROCO fans, staff and board members touring the MATCH. ROCO brings several of their shows to the MATCH including their Unchambered Series.
Photo by Joel Luks.
---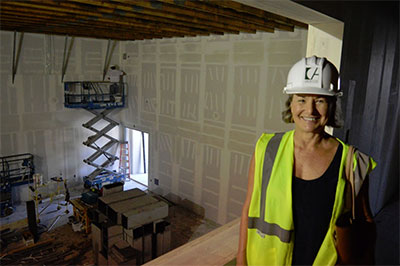 "Oh good, you remembered to wear closed-toe shoes," Chuck Still remarked, as I was putting on my hard hat for my first tour of the MATCH, Houston's new multi-theater space. "This isn't my first rodeo," I told MATCH's executive director. In fact, some might say hard hat tours are my new hobby.  As an Italian-American with a grandfather who worked in the cement business, I'm completely at home in a construction site. I never miss a hard hat tour.  I enjoy seeing a building come together, much the way I love seeing a dance take shape in rehearsal. Plus, I can't help myself: I wear hard hats, goggles and bright orange vests well.
We've been waiting a decade for the first curtain to rise at the MATCH, and it does so on Oct. 2 with Uptown Dance Company, followed by Apollo Chamber Players on Oct. 4.  MATCH's big celebration will happen January 15-16, 2016.  Several of Houston's music groups have upcoming concerts in the new space. "MATCH is also thoughtfully priced, particularly for small to mid-size organizations," says Matt Detrick, Apollo's artistic director. "The project's planners did a good job of identifying and addressing this need, and it's cool that it was a public/private collaborative effort supported by so many people." ROCO has also embraced the MATCH.  ROCO founder and artistic director Alecia Lawyer enthuses, "We will be exploring three of the four available performance spaces to really try and make a match (had to say it) with our future acoustic and audience needs." More new notes at the MATCH follow with Musiqa's world premiere of Carl Schimmel's Roadshow for Thora on Oct. 10. The list of groups utilizing the space continues to grow, as does the usual amount of curiosity about how it's all going to work out.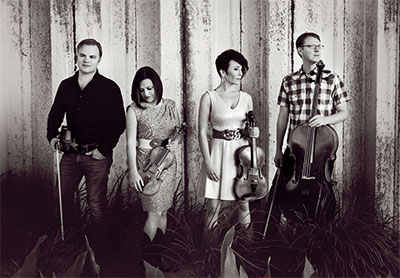 It was nearly two years ago that Main Street Theater's artistic director Rebecca Greene Udden gave me a tour of the old space on Times Blvd. in Rice Village as part of the launch for their capital campaign. It was the backstage spaces that hit me hard. I thought of all the incredible acting talent at MST sitting in those cramped quarters. Of course, they needed a building redo, and now they have one, starting in November as they begin their 40th season with the Texas premiere of Lauren Gunderson's Silent Sky, Nov. 7-29. Actor turned project manager Joe Kirkendall knows how to build drama into his tours, making sure a lot has happened in between.  Sure, I go to see what's happened, but I totally enjoy how Kirkendall builds the suspense. MST is also moving their kids' program into the large theater at the MATCH, so it's all new fancy spaces for this treasured Houston theater organization.
The first curtain goes up on One Man, Two Guvnors on Oct. 2 at the swanky new Alley, where I risked frostbite for my first tour last winter. I even showed up for a Houston Center for Photography Photo Crawl, without a camera, just to get another glimpse of that place coming together. Ulrich Franzen's Brutalist building has new contours, and that will be something to get used to. But inside, the Alley's fine designers can finally move scenery on and off stage. There's a fully automated fly loft! The Alley no longer has to be stuck in 1968, when minimalism was all the rage. And there will be more showers for the actors. You have no idea just how important all the things that happen off stage are for actors.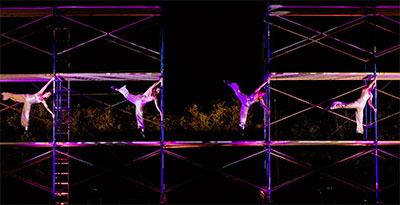 I did so many hard hat tours of The Tobin Center in San Antonio, I probably could have given the tour. But sitting down for my first event there to see AtticRep's polished performance of Sam Shepherd's True West, I couldn't help feeling more attached to the walls around me. I had to restrain myself from telling the woman next to me that I had been underneath her seat. Mostly, I was just so happy to see this small-but-accomplished theater company having the opportunity to present their work in a state-of-the-art facility.  AtticRep launches its 10th season with Teatro del Drago's  Pinocchio, part of the International Festival of Performance San Antonio Performances, Nov. 11-22 at the Tobin Center. For many of the Tobin's resident groups, the Tobin Center has meant increased visibility and a way nicer place to bring their audiences.
Congratulations are in order for Austin's most famous aerial dance troupe, Blue Lapis Light, on their new 3,000 square foot space. Although I never got to see Annie Arnoult's new Heights-based Hunter Dance Center in construction, she did send me some fabulous photos of her dancing in a construction zone. The studio is off and running, with a full schedule and an upcoming performance of Whirl! by Open Dance Project, the resident dance company. With several buildings recently completed and in the works, such as Queensbury Theatre, The Silos at Sawyer Yards, The Menil Drawing Institute, Rice University Moody Center for the Arts, and AD Players' new theater complex, there's no sign of  an arts building slowdown.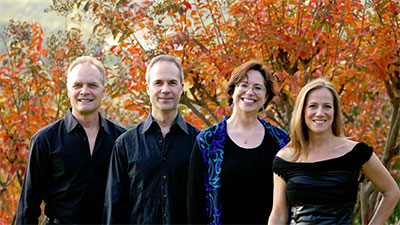 Whenever people go all nutty about the money spent on new buildings, I tell them about the years I performed in places without doors in the bathrooms. We can tell a lot about how a culture treats its artists by the buildings they occupy. For me, performing in crappy spaces sucked at 25 as much as it did at 45. It's never romantic. Ever.
I tell them about the tears that ran down my face when they cut the ribbon the METdance's spacious new Midtown studios. After working in a crumbling building, this now 20-year old dance company has studios worthy of its talent.
I tell them how proud I am that my signature is inscribed on the final steel beam in Houston Ballet's Center for Dance, the largest ballet building of its kind in the nation. When those 663 summer intensive students showed up from 10 different countries and 39 different states, they must have thought that ballet is big in Texas. And it is. Just like the building. I also tell them the AtticRep story, that singular feeling of pure joy for this small troupe to realize their dreams in a gorgeous space. All artists deserve that.
—NANCY WOZNY