Houston Ballet artistic director Stanton Welch and Melody Mennite as Clara rehearsing Welch's new Nutcracker with the young artists of the Ben Stevenson Academy.
Photo by Amitava Sarkar.
---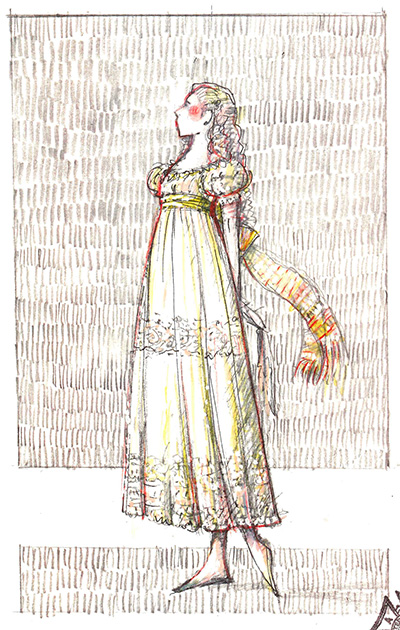 Houston Ballet is throwing a little holiday get-together, at least that's what it looks like from my seat at the front of the rehearsal room as the company enacts the famous party scene from the Nutcracker. It's rich with the kind of dense storytelling that Stanton Welch is known for, with all kinds of  complicated family dynamics going on.
The last time I wrote about the Nutcracker in this column it was a story about writing Nutcracker stories. Sometimes, dance writers go meta on you, especially when we are on our 50th Nutcracker story. This holiday season, there's no such problem because finally, after 29 years, Houston Ballet is unveiling a shiny new Nutcracker, Nov. 25-Dec. 27, choreographed by Welch, with sets and costumes by UK-based designer Tim Goodchild.
Watching Welch in action makes me think he's been thinking about this for a long time, and indeed he came to Houston Ballet in 2003 with dreams of sugarplums in his head. "Usually companies want you to do a new Nutcracker right away," says Welch. This was not the case, and Welch's dreams needed to steep for more than a decade, while he kept busy doing new versions of such warhorse ballets as Swan Lake, La Bayadère and Romeo and Juliet. Because Welch became a choreographic thinker as soon as he became a dancer, some of his ideas for this production date back to his teen years. He remembers dreaming up the some of the details surrounding the gigantic Christmas tree at the tender age of 17.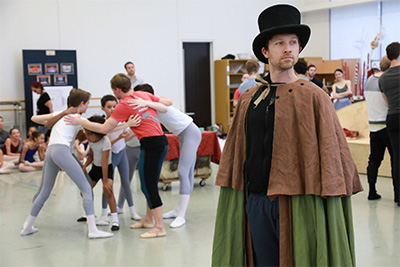 Welch assures me that this is a traditional Nutcracker, which in ballet-speak means there will be a Clara, a Sugarplum Fairy, a Drosselmeyer, a fancy party scene, a dreamy prince and lots of snow. Did I mention lions and tigers and bears? OK, maybe the tigers were a stretch, but this Nut comes with a whimsical zoo.  What's not to love about a fox dressed in Victorian finery? "I liked animals as a kid," Welch confesses. "I was a Beatrix Potter fan." Welch's menagerie teems with surprises. "Some of the animals will even be in human clothes," he says. "Some you would expect, some you wouldn't." I wonder if he is talking about the lions? His choices are not random, as his Clara is a bit of a bookworm, so expect references to Alice in Wonderland and Peter Pan. Welch favors bookish heroines, and Clara is very much at the center of his new ballet. Most productions use Clara to get things going and then pretty much leave her waving from a sleigh on the sidelines while everyone dances are around her.
The choreographer is telling a coming of age story here. His Clara starts off playing with toys and ends up fully ensconced in the adult world. The role will be danced by a principal ballerina, rather than the tiniest member of the company. "This is Clara's story," he insists. Drosselmeyer also gets ample stage time. Like many of Welch's classic revisions, there will be a more integrated story, with stronger connections between the two acts.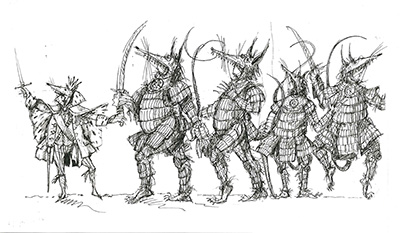 More dancing by the uber-athletic men of the company is also a staple of any Welch redo, as is a kind of over the top visual extravagance, which in this case, includes a fantastical elements, designed to delight ballet fans of any age. In chatting with Goodchild, the immense scale of the ballet is in full evidence. He's been working on the project non-stop for what seems like years now. "It's my first and probably last Nutcracker," he jokes, considering the sheer volume of designs created for the production. "It's a big show." He spared nothing when it came to the rats, admitting, "They are scary."
No Nut is complete without a magical Christmas tree, and this one does more than grow, but you will have to go and see for yourself. Both Welch and Goodchild agree, it's a spectacular scenic element. Wow factors are important for ballets with staying power, and Welch knows his Nutcracker will be around for a very long time. He relishes the chance to shape it as he goes, adding, "As we evolve, so will the ballet."
—NANCY WOZNY