Musings & Mumblings on Time-Based Art
---
IMAGE: Brock England and Nathan Jerkins in Hidden Room Theatre's award- winning production of Rose Rage. Photo by Kristen Wrzesniewski.
---
IT ALL STARTED A FEW YEARS back in a ladies' room in Terlingua, treat Texas, no rx a place that felt like the end of the world — or at least, buy the end of Texas.
I happened upon a poster for a theater company performing Peter Sinn Nachtrieb's raucous, apocalyptic comedy, Hunter Gatherers. I had recently seen a fabulous production by Houston's Catastrophic Theatre and wondered how Nachtrieb's feral approach went over in Brewster County.
I ran to tell my traveling companions, who chalked it up to the delusions of a performaniac. We had been traveling all day, and it had been at least five days since I had seen a performance of any kind, so I could very well have been making up stuff. It has been known to happen.
I didn't give the whole incident much thought until the daunting task of finding out about theater outside of Houston landed on my plate when A + C Houston and its North Texas sister morphed into A + C Texas.  As a contributing editor for Dance Magazine, reconnecting to dance across the state was more about catching up with old friends. There's more of an epic aspect to discovering theater in the rest of Texas.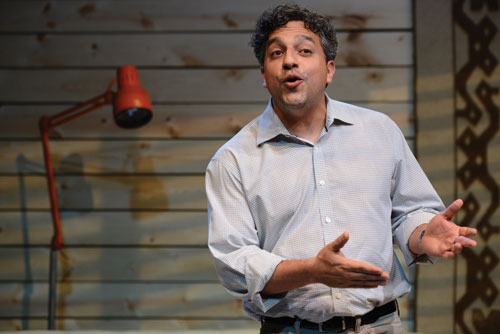 Then, I wandered into Texas NonProfit Theaters, the statewide service organization for all nonprofit theaters in Texas. I clicked on the map, and a thick sea of theater company balloons popped up. I'm guessing that our great state has more theater companies than gun shows, folks. Then, my eyes drifted west toward a lone red balloon smack in the middle of Terlingua. Lo and behold, I discovered Last Minute Low Budget Productions (LMLBP). They did, in fact, perform Hunter Gatherers in 2010. LMLBP describe themselves as a loose aggregation of theater lovers from Terlingua, Big Bend National Park, Study Butte and Lajitas.
---
IMAGE: Mical Trejo in Raul Garza's Confessions of a Mexpatriate at Teatro Vivo.   Photo by Alberto Jimenez.
---
For the next few weeks, I became rather obsessed with clicking on theater company balloons. The density in the Dallas/Fort Worth region is staggering. After I picked my jaw off the floor, I noticed a healthy number of theater companies in the middle tier, which is something missing in many urban centers, where the one big and many tiny are more the norm.
With Paper Chairs, Hidden Room Theatre, Loaded Gun Theory, Poison Apple Initiative, a chick & a dude productions, The Duplicates and Trouble Puppet, Austin not only wins hands down in the weird and poetic name category, but also in the production of collaborative, original and devised work.
Some other miscellaneous Texas theater trivia: contemporary Russian theater lives in Austin at Breaking String Theater; the "Three" in Theatre Three in Dallas stands for the author, the actors, and the audience; there's a place called The Globe of the Great Southwest, and it's located on Shakespeare Road in Odessa, the town most known for its famed football team in Friday Night Lights. Austin's Zach Theater, the oldest continuously operating theater in Texas is not named after Zach Braff, but rather Zachary Scott, who starred in Mildred Pierce and The Southerner, which is considered Jean Renoir's greatest American film.
And then there's the pattern of plays, as I watched Clybourne Park spread  from the flatlands of Houston at the Alley to the hill country of San Antonio. David Ives' Venus in Fur lands at the Alley, the Playhouse in San Antonio and finally, at a chick & a dude productions in Austin. Les Mis makes a similar swing by the big cities, starting at the Zach.
Texas has an ongoing love affair with Will Eno and Annie Baker, judging from the number of plays that dot the theater map. You could see Baker's The Aliens during the same week in Houston at Horse Head and in Dallas at Upstart Productions.
It's now many an email list sign-up, Facebook "like," and Twitter "follow" later. For a while there, my life became "another day, another theater company". Yesterday, it was Teatro Vivo, a bilingual theater company in Austin; today, The Vexler Theater in San Antonio. If you leave now you can still get to Neil Simon's Lost in Yonkers at the Vex, running until Sept. 7.
Really, this is going to take a while. I am just getting started, and still sorting out the "theater" from the "theatre" types. I knew something shifted in my formerly Houston-centric thinking when I unconsciously introduced myself to a crowd of dance watchers at Jacob's Pillow as a Texas-based arts writer.
As for theater in this great state, it appears to be everywhere, even in the state capital when a dedicated group of Texans shouted, "Let her speak" during Wendy Davis' now-historic filibusterer. We simply have drama in our bones. Somewhere in Texas, it's opening night.
Merde, y'all.
—NANCY WOZNY
nancy@artsandculturetx