Maria Chavez.
Photo by Jamie O' Bradovich.
---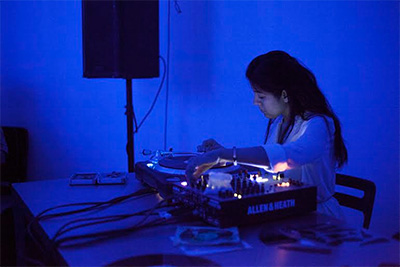 Marfa Myths is the devil-may-care response to the revelry of SXSW. Curated by Ballroom Marfa and Brooklyn-based record label Mexican Summer, the festival returns March 10-13, 2016, with a cultural program that fuses music, art, and film. Sound artist, abstract turntablist and former Houstonian Maria Chavez will perform in Marfa, Texas at 5 p.m. on March 12 at Donald Judd's the Block (416 West El Paso Avenue). She will also give a lecture and perform at the Contemporary Art Museum Houston at 6:30 p.m. on March 17. A+C writer Veronica Salinas visited with Chavez about her work.
Can you tell us about your introduction to sound art?
It's all thanks to David Dove. He pretty much gave me a crash course in improvisational sound history, which I wasn't really aware of because I was an art history student at the University of Houston. So I was more involved in visual art. I dropped out my junior year, but then as time went on I was DJ'ing a lot more professionally. I had a radio show at KTRU at Rice. I was just become so dedicated to music and sound in general, but then with the DJ'ing stuff I got really frustrated. During that time I needed an internship and I was going to go to some recording studios, but I decided instead to work for the Pauline Oliveros Foundation.
The fact that Dave teaches to children, especially children in at-risk situations, is so brilliant because improvisation is a form of developing a clear relationship with your own instincts. I feel like when children start to develop and cultivate that relationship with their instinct then they are more attune to achieving what they want to achieve instead of doing what is expected of them. So when I started working with him that's what I realized. Okay, this is where my life is going now, so I need to focus and take it seriously.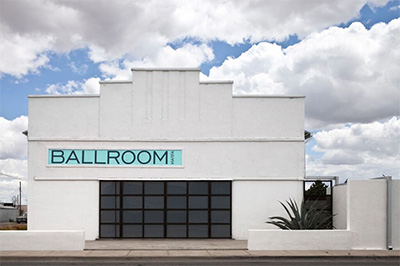 Sound appears to a formidable element in your life–from your earliest experiences as a child (Chavez was born with water in her ears) to creating a career as a sound artist. Are there any sounds that continue to linger or haunt you?
My clearest example would be in 2012. I was touring in Berlin and I was sitting at a bench and there were all of these birds in a park. I was doing a Pauline-ish (Oliveros) meditation where I just listened to what's around me for a few minutes. So I was really more trying to listen to the space, the cars, the people, but the birds really struck me. It really felt for the first time I was hearing a real conversation of many, many people but it was this language I couldn't understand. And that took me into a space for the next two years where all I was doing was trying to find field recordings of birds, or if not birds, then recordings of sounds that I could manipulate to sound like birds. So that was that phase. And the next phase happened where I was really into things falling apart and breaking. So it really depends on that phase at that time what I'm inspired by or what moves me.
So what phase are you in right now?
Something I'm really paying attention to right now is wind because of the Marfa Myths. I'm really trying to think about different minimal shapes that are triggered by wind that will potentially make sound. It's pretty complicated because you can't guarantee the wind is going to be strong enough or that the materials will react properly. So I think the timing is perfect, because now I have a space here in Brooklyn near the East River, so I'm waiting for it to get really cold and windy so I can go out to the dock to try out the different shapes with the different materials to see what can work so that once I get to Texas I can actually perform the piece properly. So, it's not really me thinking about a sound, it's more me thinking about wind.
In one of your interviews with the Organized Noise podcast you mention your current position as a research fellow in the Sound Practice Research department at Goldsmith's College in London. Apparently you're known there as the "Rejection or Failure Artist." Can you tell us about your workshop?
I have students think about failure and bring in their rejected proposals and we all sit and discuss it. We go over their application, their history, what their experience was during the application process and then from there really start to dig into what was wrong with the application, or maybe the topic that they tried to apply for wasn't strong enough for its own reasons, which is normally the case. Ideas can be too big, so the application of the piece doesn't seem doable. It's more like teaching the students how to communicate their ideas clearly with other people.
Can you tell us a bit about the elements of the site-specific work you'll be composing in Marfa?
Ideally, I want to create minimal shapes that will be triggered by the wind at the Block, which is the outdoor area of Donald Judd's studio. I don't think anyone has performed the Block before. People have played in the Block, but who has performed the Block? That's the angle I wanted to come from.
—VERONICA ANNE SALINAS