The Drama Club's production of Jeffrey Schmidt's Faust.
Photo by Jeffrey Schimdt.
---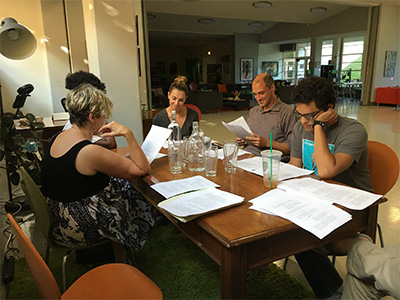 What is theater that doesn't reflect contemporary realities? What kind of life can theatrical storytelling have if it doesn't exist within the world it's born into? Certainly art as escapism will be a theme that emerges in the next four years, but the nobler goal of art has always been to reflect and disrupt a cultural moment. Theater is no exception.
Breaking news tumbled in at the end of 2016 for theaters across Dallas. In a tumultuous year for the city's arts with DIY spaces threatened and artists leaving town, the final months closed with non-stop good news for the theater scene including new artistic directors (Theatre Three and WaterTower Theatre), acquisition of new space (Kitchen Dog Theater), and significant growth (Second Thought Theatre). All of this signals a healthy—if not thriving—mid-size theater landscape.
Unifying nearly every company in town is an appetite for new work. This is clear in the appointment of Joanie Schultz as the successor of Terry Martin at WaterTower Theatre. Previously based in Chicago, Schultz's work as a director of opera and theater focuses on new work or new approaches to classic work.
At Theatre Three, the appointment of Dallas-based Jeffrey Schmidt as artistic director pushes the company in a more progressive direction. Schmidt's most recent work with The Drama Club has been entirely focused on the development and creation of avant-garde work. In 2015, he co-wrote and directed a contemporary version of Faust, which one critic proclaimed was what "the future of theater in Dallas should be."
Schultz and Schmidt join a roster of local artistic directors like Katherine Owens at Undermain Theatre, Tina Parker and Christopher Carlos at Kitchen Dog Theater, and Kevin Moriarty at Dallas Theater Center, who focus a large portion of their company's seasons on world or regional premieres. These companies are augmented by the efforts of up-and-comers House Party Theatre, who produce the work of local 20-something playwrights on a nearly monthly basis; the Dead White Zombies troupe, which continues to challenge traditional definitions of playmaking; and Ochre House Theater, the eccentric theater storefront that produces all-new work. Without much fuss, North Texas is positioned to become a hub for new plays and theatrical experimentation.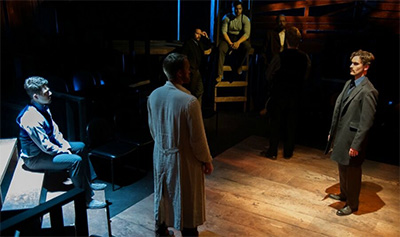 For 13 years, Second Thought Theatre, one of the city's smaller companies, remained invested in new, challenging work. But the theater's latest announcement demonstrates the recognition that new plays require new voices. In addition to upping its status with the Actor's Equity Association to "Small Professional Theatre" (SPT), which means the company will offer better wages and insurance, Second Thought also announced a new play development initiative. DTC's Director of New Play Development, Lee Trull, will helm a group of playwrights in the development of a play based on the 1963 western, McLintock!, starring John Wayne and Maureen O'Hara. The other writers working on the project are Janielle Kastner, Hannah Weir, and Jonathan Norton (who also has an upcoming commission from DTC). Second Thought has committed to workshop this play.
Second Thought is no stranger to new work. In 2014 the company premiered Booth by Steven Walters and Erik Archilla, after a series of staged readings; later this season, the company presents Dallas actor and director Black Hackler's The Necessities.
"It's not easy to develop new work, but I think it's what we have to be doing," says Trull, who first transitioned from actor to director at Second Thought Theatre in 2011 with a production of Christopher Shinn's Dying City. "The hardest thing in Dallas is just to keep people writing, because everyone's writing by themselves and it takes a lot to get a production."
In 2013, Howlround began to keep track of the patterns in new play creation and production. A play's journey would start where it was first written and either workshopped or produced, with Howlround tracking it as it traveled throughout the country. Thanks to initiatives like the National New Play Network, with local member theaters including Kitchen Dog Theater and Amphibian Stage Productions in Fort Worth, North Texas was a frequent destination on the map. Less often, a play by a local playwright would launch from this region. But there's an effort to change that like with collaborations like that at Second Thought, the workshop sessions at the Dallas Playwrights Workshop at DTC, and The Aviary, a reading and workshopping group led by playwright Lauren Ferebee.
"My desire to take a role in The Aviary's growth as a space came from my hunger for new Southern narratives to exist, both in Dallas and in the national conversation," says Ferebee. "Dallas is great because it's starting to wrestle with the invisible stories and histories in our community, and ask how do we not only tell these stories, but come together to tell them?"
Local writers and companies have outlined the next chapter for Dallas theater. The plot?  The city becomes a national hub for playwriting.
—LAUREN SMART