As Hermann Park Turns 100, Conservancy Passes the Hat for Art
---
IMAGE ABOVE: Artist rendering of Trenton Doyle Hancock's multimedia installation for the Hermann Park train tunnel. © Trenton Doyle Hancock. Courtesy James Cohan Gallery, New York and Shanghai.
---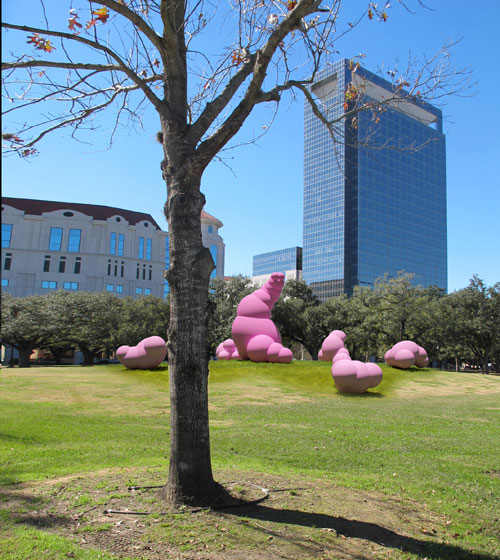 What's the most memorable encounter you've had with an artwork in an airport? For the purposes of this discussion, if you know the artist who made it well enough to be happy that she got the commission, it doesn't count.
Mine has to be the time I saw the Gerald R. Ford International Airport's model of Alexander Calder's La Grande Vitesse (1969), a landmark of downtown Grand Rapids, Mich. It was next to a window at a deserted end of the terminal, and it was so tightly enclosed by stanchions you would have thought it was being raised in a factory farm. I battled depression by snapping a photo and uploading it to Facebook with a snarky comment that got a lot of likes.
Whatever my second most memorable encounter with art in an airport was, it's such a distant second as to be irretrievable. By contrast, when I think of Minneapolis, I think of Claes Oldenburg and Coojse van Bruggen's Spoonbridge and Cherry; when I think of Philadelphia, Robert Indiana's LOVE sculpture in JFK Plaza (a.k.a. Love Park) inevitably comes to mind. Meanwhile, Calder's La Grande Vitesse—the original, not the model—is such an emblem of Grand Rapids that its likeness appears on city letterhead, vehicles and street signs, and a 10-block arts festival marks the sculpture's birthday every year, drawing half a million people, according to arts.gov.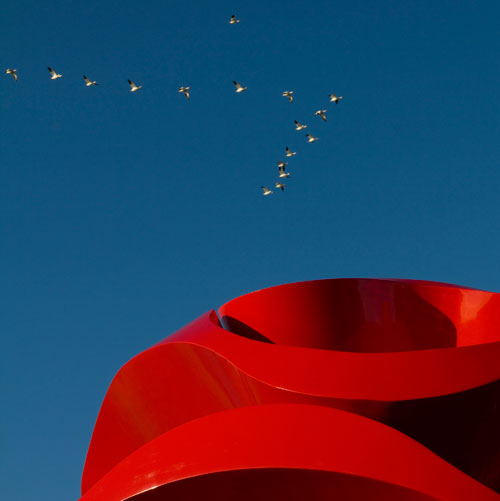 What these iconic sculptures all have in common is their siting in places where people gather, not where they go when they're trying to get the hell out of Dodge (if they're leaving town) or the hell out of the airport (if they're just arriving). But airports do a lot of building, and Houston's percent-for-art ordinance, which sets aside 1.75 percent of capital improvement projects' appropriations for civic art, requires that "funds from the Airport System enterprise fund … may only be appropriated for Eligible Projects within the same enterprise fund," which is why Houston Airport System boasts one of Texas's largest public art collections, including 100 works ranging from pendant size to 6 feet tall in a new "portable art collection" unveiled in October.
Meanwhile, the Hermann Park Conservancy, which in 2014 will mark the 100th anniversary of one of Houston's most visited parks with a yearlong series of contemporary art installations, has had to raise the $1 million to finance the project. (So far, all but two of the nine installations have been funded.) Similarly, Houston Arts Alliance and the Texan-French Alliance for the Arts raised the lion's share of the funds for Hermann Park's recent Ai Weiwei and Bernar Venet exhibitions, respectively.
This state of affairs—in which sites attract the city's public-art dollars based on how much construction they're doing, not whether they're places where Houstonians are most likely to enjoy the art—seems askew.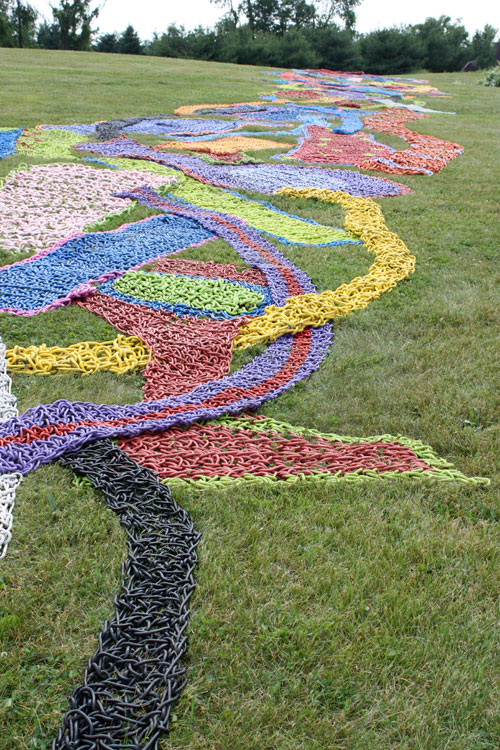 That's not how art-in-airports boosters see it, of course. In a joint HAS-HAA release celebrating HAS's new portable collection, aviation director Mario Diaz says there's no "better place to see the breadth and depth of creative talent" than a bustling international airport. Ditto Mayor Annise Parker, who sponsored the percent-for-art ordinance when she was on City Council: "The new pieces highlight our commitment to actively supporting the arts and giving passengers a reason to stop and experience something unexpected and very special."
But wouldn't it be better to actively support the arts and give Houstonians (and, for that matter, visitors) a reason to stop and experience something unexpected and very special—say, in actual public spaces in the city whose image the airport art is trying to bolster?
Pace Diaz, there are few worse places to expect a meaningful encounter with art than airports, where the only unexpected and very special thing people are in a state of mind to deal with is an on-time departure or arrival. There's something counterintuitive about the idea that people who think there's no better place for art than an airport shouldn't have to test that proposition in the fundraising marketplace while people who think there's no better place than a park should.
Having got that off my chest, here's what the Hermann Park Conservancy has come up with for Art in the Park: five commissions, including Trenton Doyle Hancock's mixed-media installation for the park's train tunnel; and four loans, most notably Louise Bourgeois's monumental bronze Spider (1996), which will spend the summer seeming to float menacingly above the Mary Gibbs & Jesse H. Jones Reflecting Pool.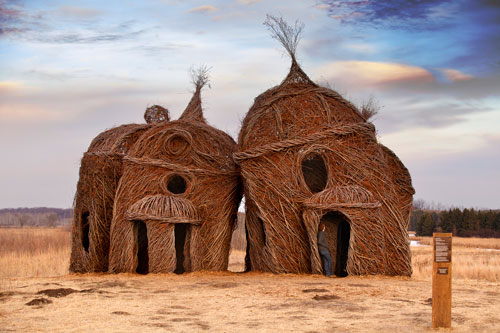 Doyle's colorful installation, consisting of both vinyl that adheres to the tunnel walls and three-dimensional build-outs of the creatures populating his fantastical landscape, is permanent. Other commissions will last from as short as two weeks—in the case of Kurt Perschke's RedBall Project, in which his large inflatable ball squeezes itself into a different architectural setting each day—or as long as several years, in the case of Patrick Dougherty's site-specific installation made from locally harvested saplings.
Sharon Engelstein's trademark bubbly sculptural forms—made from foam, with polymer concrete shells—are tentatively scheduled to populate a small hill between the playground and sculpture of George Hermann for three years starting in March. (At press time, the conservancy was still raising the funds for Engelstein's project and Swiss artist Ugo Rondinone's Pagan Void, a carpet of phosphorescent stones.)
The remaining projects, all loans, include Yvonne Domengue's red painted steel sculpture Wind Waves (2009), which starting in January will spend a year on a park island east of the Sam Houston sculpture; Orly Genger's football-field-length painted rope sculpture Boys Cry Too (2009), which will lay directly on the grass at Brays Bayou Shore for a year starting in March; and MicroPavilion: ReFRAME x FRAME, which is billed as "a motion-triggered sound installation based on environmental data" by the University of Houston Graduate Design/BUILD Studio.
Here's hoping Art in the Park draws enough support—eventually, one dares dream, from the city—to evolve into an ongoing project. In the percent-for-art ordinance's early years, it might have made sense for the city and HAA, its nonprofit civic-art agency, to stay out of prioritizing which spaces get public art dollars by keeping the art close to the capital improvement projects that triggered its funding. But as the city's civic art program matures, now seems like a good time to rethink how that money gets distributed.
—DEVON BRITT-DARBY
---
Art in the Park
Hermann Park, various sites
2014, various dates