Randy Twaddle
Away With Words  (Detail), 2016
gouache, coffee, and ink on paper
16″ x 12 1/4″
Courtesy of the artist and Moody Gallery, Houston, Texas.
---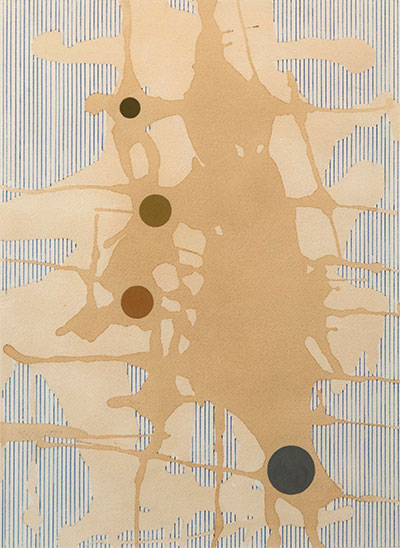 Randy Twaddle's work has long managed to tightrope that yawning maw between conceptually acerbic and commercially viable. His secret weapon is the pared- down beauty of the graphic medium. He presents line in its most elegant iterations, playfully inserting text or imagery (electrical power lines have been a favorite) that bats back at all the gorgeous formalism he obviously relishes. His latest works, now on view at Moody Gallery (through July 2 ) under the (self-deprecating?) title Sham-a-Ling-Dong-Ding, reveal an artist that is grappling for new formulas, pushing text off of the picture plane and back into the title box. One amoeba-like coffee stain surrounded with tiny blue ballpoint lines is titled, There's A Little Reward for Each Word You Don't Say, but these drawings are actually less rewarding for their lack of text, which heretofore provided such a sharp counterpoint to the pretty control of Twaddle's lines.
At a viewing distance of one foot give or take, these drawings are subjectively really beautiful, but the grab-you-by-the-throat graphic pull of previous works is lost. They're a sophisticated mixture of accident (tossed coffee) and precision (ink line) that blurs the demarcation between figure and ground, and in that way are quite painterly. But Twaddle's compositional anchor-points, chalky gouache dots in varying hues, seem much more pained. The colors lack the confidence and energy of his more familiar elements.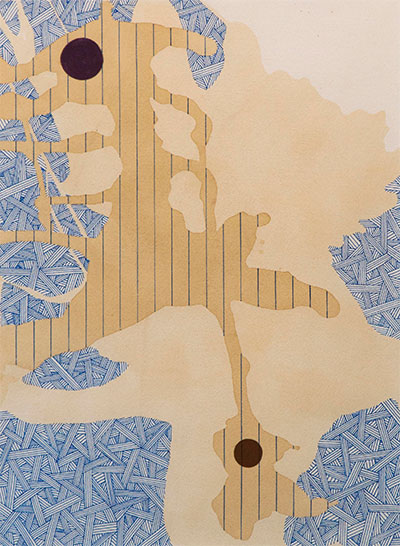 The grandest and most nuanced piece in Sham-a-Ling-Dong-Ding is a sculptural installation entitled, Inheritance. It's a china cabinet constructed of Topo Chico boxes, stacked with paper plates incised with the artist's familiar linear style. Twaddle has used doodly repetition and the familiar tinny blue of a mass-produced pen to evoke Willow pattern china, so that Inheritance has all the permanence and solidity of a ghost. There's a bit of Warhol's Brillo Boxes in this piece, presented with a South Texas accent. It's a Tex-Mex of associations from high and low: bar-b-q paperware and fine china, aggressively carbonated mineral water and heirloom furniture. But what's unclear is whether Twaddle sees this as his inheritance, received from the annals of art history- a thing to be revered or squandered at will, or if it's his endowment to us- a way of acknowledging the frailty of his legacy.
Twaddle's ambivalence is most evident in the titles he has applied to his drawings, When All is Said and Dumb, The Universe Hears You Better When You Whisper, There are No Words, and "It is What it Is," Never Means "That's Fucking Awesome!" V2. One could read these titles as an anarchist's desire to eviscerate the baby and the bathwater, but Twaddle seems instinctively to know that he can't pull that plug, (probably because Mark Flood already made that show). It's almost impossible for an artist possessed of a baroque love of decoration and a trenchant wit to not dig himself into a self-made hole of contradictory allegiances sometimes, but Inheritance seems to be the only piece in Sham-a-Ling-Dong-Ding that nakedly refers to this. This is too bad, because I'm not the only Randy Twaddle fan who would love to see how he doodles his way out of this one.
—CASEY GREGORY