Dallas's Avant Chamber Ballet is taking the plunge: The seven-year-old company unveils its first staging of The Nutcracker, complete with a live orchestra, on Dec. 20.
"For any ballet company, it's a milestone," founder and artistic director Katie Puder said. "It gives the dancers … a lot of time onstage and some really great dancing. And financially, it's a great boost for any company to have a successful Nutcracker." Then she switched to a more personal viewpoint–that of a former dancer who grew up performing the holiday icon, beginning as a mouse when she was 7 years old.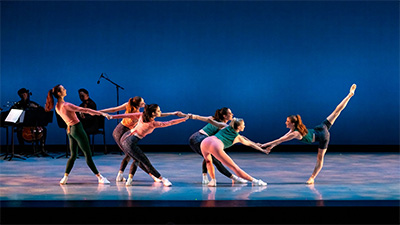 "It's just a part of your life as a dancer," Puder said, adding that "I don't think there's a female role I haven't done." She acknowledged that dancers "get grumpy about having to do the party scene and these (non-dancing) sections. But there's nothing like it. There's a reason it's so popular."
Avant worked its way into the Tchaikovsky classic with several years' holiday performances of Puder's Nutcracker: Short and Suite, basically consisting of Act 2. Now the company takes up the whole shebang as choreographed by Paul Mejia, the longtime Dallas-Fort Worth dance maven Puder called "my teacher and mentor."
Mejia's Nutcracker not only boasts clear, gimmick-free storytelling, she added, but it's "just so beautifully musical. For dancers, when you're in the corps— in "Waltz of the Flowers" or snow—you can feel (in some productions) like you're just decoration. But in Paul's choreography, kind of like George Balanchine's, every dancer is able to really dance and have great steps. You don't feel like you're an afterthought."
To bring Nutcracker's dream world of mice, soldiers, flowers and snowflakes to the stage, Puder will flesh out her professional company with trainees and with student dancers drawn by audition from Metroplex dance schools. But the real key may be offstage: Since the start of the season, the company has been settling into its first home of its own, a studio in a former warehouse near the Dallas Arts District.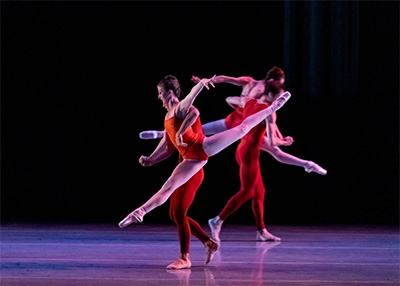 No longer do Puder and her dancers have to borrow space from dance schools–crisscrossing the region, fitting rehearsals into the schools' off hours, and contending with sometimes-dicey dance floors. "I just knew that, going into a production as big as this one, I had to have my own studio," Puder said.  "You need to have a lot of guaranteed rehearsal time to pull it off. It helps to have props and set pieces and the sled in the studio." In the new quarters, "the ceiling is nice and high for lifts. And it's a huge help for injury prevention that the dancers have a really good dance floor."
As she spoke, the company had just finished a week of rehearsals for Balanchine's Raymonda Variations, slated for Feb. 14 and 15. The pink-tutu bonbon is a delight, Puder says, "but it's tricky. You think, 'Great! That looks like fun'–until you try it. It's a lot of jumping, a lot of technique, a lot of footwork and leg work. … Every time we get a work like this from the (Balanchine) Trust, the company grows and matures–and technically gets a lot stronger."
Puder will complement Balanchine's classical vocabulary with the neoclassical style of a new work of her own, paying tribute to the U.S. Constitution's 19th Amendment–the one that gave women the vote. The company will round out the February program with Mejia's Romeo and Juliet, which condenses the legendary love story into about 20 minutes.
Built on Tchaikovsky's eponymous overture, Mejia's ballet is "amazing and modern and minimalist," Puder said, and it zeros in on the two lovers. It starts with Juliet awakening in the tomb at the saga's climax; a black-garbed corps then helps her relive the ill-fated romance. "It's so ingenious," Puder added, "and it has a really remarkable ending–which I don't want to spoil!"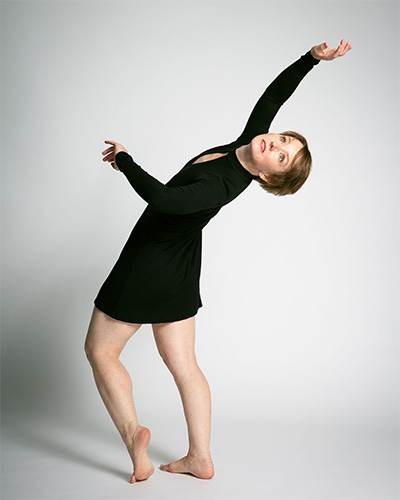 Christopher Wheeldon's Morphoses opened Avant's season in September, and the company will return to the Briton for the finale on April 17 and 18. This time, Puder's dancers will perform his Five Movements, Three Repeats, source of the oft-excerpted pas de deux "This Bitter Earth."
The lyrical duo "is fantastic on its own," Puder says, "but when you see it in the context in which it was created, it's part of a whole world, instead of just a vignette." Crafted for a quartet comprising three dancers from the New York City Ballet and one from the Martha Graham Dance Company, Puder noted, the work features "a classical couple and a more modern couple"–one woman on pointe, the other barefoot.
"You can see and feel how Chris' work comes out of Balanchine," Puder said. "He is also well-known for his partnering. It's a different level of challenge for our male dancers and our female dancers."
"I love his work," she continued, "because he has found innovation within the vocabulary of classical ballet. Some people think you have to go to a different technique to find innovation. But Chris has proven that within our classical way of moving, there still are endless possibilities."
The April program also will extend the company's Women's Choreography Project, introducing new works by Texas dance veterans Kimi Nikaidoh and Jennifer Mabus. Nokaidoh's last work for Avant harkened back to her time in the Bruce Wood Dance Company, Puder said, but this time she wants to create "something more balletic."
Mabus will lead workshops with Dallas-area children, Puder said, exploring how the youngsters can express themselves through movement. The sessions will yield nuggets of choreography that will go into Mabus' new work.
"That's different from anything we've done before," Puder continued. "Jen always has another project going on. I love her work, because it's all exploring this path of storytelling through dance. When you think about it, that's what all of us choreographers are trying to do–whether it's the story of the music itself, or you have a specific emotion you want to express."
"The work she will create will probably be more modern than anything else the dancers will get from the choreographers this season," Puder added. "I want the dancers to have a variety of voices–a variety of experience. Sometimes, when I bring in choreographers, they bring out something in the dancers that I didn't see. It's a really great growth opportunity for everyone."
—STEVEN BROWN