---
IMAGE ABOVE: Robert Faires, Robert S. Fisher and E. Jason Liebrecht in Rude Mechs' Fixing King John. Photo by Bret Brookshire.
---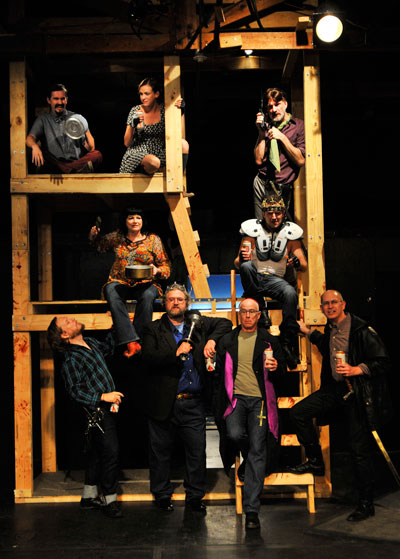 AUSTIN—Before they head to Lincoln Center in New York in January, the Rude Mechs delivered the drunken punch to the face that is Fixing King John, at the Off Center. Only Austin's finest could give me a metaphorical bloody nose and leave me asking for more. Directed by Madge Darlington and written by Kirk Lynn, Fixing King John is a revamping of Shakespeare's oft-forgotten King John in modern vernacular, complete with box wine, a keg, and a warning that reads: an abundance of foul language. Fixing King John would please the Bard, who wrote just as much for the commoners on the ground as for the aristocrats up high.
The appeal to the low was evident in the lack of formal separations of cast and audience before the show. The Dauphin (Robert S. Fisher) was marching about throughout the crowd with his feathery earrings and sword interrogating audience members as to their national allegiance, England or France. Aside from the throne—two gold spray-painted lawn chairs—the stage was empty. However, the audience seating arrangement was a sight to behold. Thomas Graves and Madge Darlington arranged the seating in allusion to Jerry Rojo's design for Dionysus in 69. Flats topped with shag carpet of varying heights invited audience members to see to work from above and below. Some were multilevel and would be reminiscent of children's backyard forts if it were not for the blood splatter reminding us that we came to witness a tragedy. Furthermore, the cast utilized the flats and made casual conversation with the occupying audience members.
There are a myriad of different modern vernaculars into which Shakespearean English can be adapted. In service of the low, they spoke in the variation of American English spoken by those too drunk to drive home at the tail end of a debauched bender. For instance, Shakespeare's ornate musings on the possibility of birthing a king through pre-marital intercourse are digested into "Let's just fuck and make a jester."  Phrases of affirmation became "Ch'Boo-yeah!" or the Dauphin's (here pronounced dolphin) catch phrase "WOOP-WOOP!" I was astounded by Fisher's ability to express the full spectrum of human emotion through his WOOP-WOOPs. The vulgarity of the language did not in anyway inhibit moments of utter beauty. I was deeply moved by the war scene in which King John is marching around with his fly open screaming "I'm going to fuck you," Constance is spraying holy water at the audience "blessing us all to hell," the Bishop is drinking from his holy-water flask, and everyone else is doing something utterly terrible. The pulsating mass of profanity invoked the Dionysian principle that united all onstage and all observing into a web of horror.  That communicated the experience of war in a way that choreographed sword fights will never achieve. The generally caustic tone empowered the equally moving moments of soft reflection speckled throughout. Whenever a character died, they would calmly recount their ideal death. These hypothetical deaths tie the work to the present moment. The Bastard would have rather died on his porch in south Austin listening to jazz and smooching his wife. Arfur would have traded a hot tub and beer for his "arbitrary folly." Who would have thought that anachronism could be so humanizing?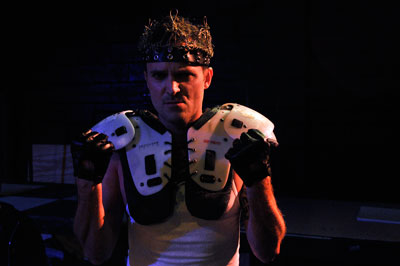 Knowing the characters' ideal deaths saves them from the trap of caricature. Indeed, I feel I've known them all before. E. Jason Liebrecht's King John is the guy you knew in high school, who was very popular at the time but never moved out of his parent's basement, lost his good looks, and is rapidly realizing the utter futility of his existence. He's got a drinking problem, anger management issues, and his mother runs his life. Lowell Bartholomee's King Philip initially appears to be the archetypal cool dad, an aging frat-boy; yet, with time it is clear that King Philip is struggling with post-traumatic stress disorder, and is well aware of the bloodshed he's capable of inducing if he loses control. In contrast to the Kings, who remain humorous despite their tragic flaws, Barbara Chisholm's portrayal of Constance, the French queen rapidly descending into madness, was utterly chilling. I felt genuine terror in her presence. Look at her hands in one of her final scenes; they are full of hair—her own hair that she's tearing out in the depths of insanity.
It's clear that King John wasn't fixed so much as MacGyvered with a rusty nail and a broken 40 oz. of Mickey's. Fixing King John will run until Nov. 24 every Thursday, Friday, Saturday, and Sunday. It may be wise to wear a helmet.
—PHILLIP JOHN
---