What's new, and what's next, for HGOco
---
IMAGE ABOVE: Lei Xu in Bound, a Chamber opera written by Huang Ruo and Bao-Long Chu. Photo by Lynn Lane.
---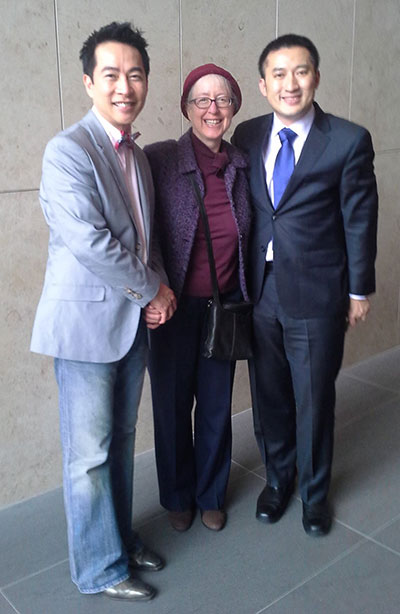 HGOco turns seven years old this year. A scrappy, energetic initiative dedicated to making an opera company relevant to the city it serves, it has taken opera out of the Big House downtown and planted it in unexpected places all over the city: In schools, community centers, parks, and other non-traditional spaces from the Rodeo to the Asia Society. It has made a practice of commissioning and producing fresh, new musical-theatrical work that comes from within those communities, telling the stories of the people who live here and now.
One remarkable multi-year project in HGOco's "Song of Houston" initiative has explored Houston as a place where Eastern and Western cultures come together. Through Song of Houston: East + West, HGOco has created chamber operas on stories that came out of Houston's Chinese, Azerbaijani, Cambodian, Korean, Japanese, and Vietnamese communities. Its eighth and final commission, River of Light, is situated in Houston's Indian community, and has a libretto by Chitra Divakaruni and music by Jack Perla. It opens March 23 at the Sri Meenakshi Temple Auditorium in Pearland, with further performances at the Ripley House Neighborhood Center and the Asia Society Texas Center.
Arts + Culture Texas' Elizabeth Baisley spoke with HGOco Director Sandra Bernhard, a veteran opera director and producer of creative programming onstage and off, to find out what was learned through the experiment of East + West, and what's next for HGOco, as well as to learn why River of Light is an opera you should see.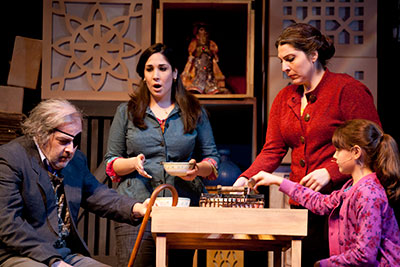 Arts + Culture TX: HGOco's newest production, River of Light, is the final opera in a series of eight, all grounded in Houston communities. If I live in Houston, how does this piece speak to me?
Sandra Bernhard: Early on in the Song of Houston project, a woman approached me who had just seen a performance at Talento Bilingüe of our Mariachi opera, Cruzar la Cara de la Luna. She said, "That's my story. Only I'm from India, not Mexico." In Houston, where one person in four is from someplace else, there's a common experience of having to choose what we preserve of our original culture in a new environment. It's how we create home and community and how we become who we are in that new community.
That's the ground of River of Light, too: Real, lived experiences of that intersection of Indian and American culture in Houston…stories told in words and music.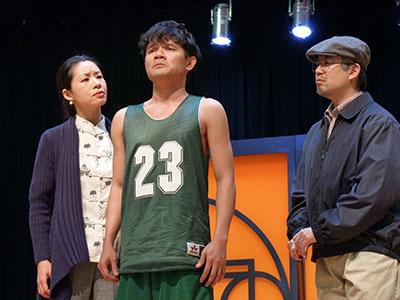 A + C: The creative team for River of Light is emblematic of the kinds of forces the company might put in place for a mainstage opera.  Just for starters, the librettist, Chitra Divakaruni, is an award-winning novelist; Jack Perla is an American composer, San Francisco-based, with a long list of prizes to his credit.
SB: In all our Song of Houston projects, we've tried to create and develop teams that bring strong creative capacity to bear on the particular piece. Chitra's own body of work revolves around questions about the shifting meanings of culture, and Jack's compositional approach—grounded in jazz and improvisatory techniques, integrating colors and gestures from different world musics—made him our top choice for this project.
But beyond their professional skills, each of them has lived an "East + West" experience. Chitra is an immigrant to Houston from India. She has lived the questions her libretto asks. Jack is married to an Indian woman and they are raising their daughter amid those same questions about shift and blend, history and legacy and identity.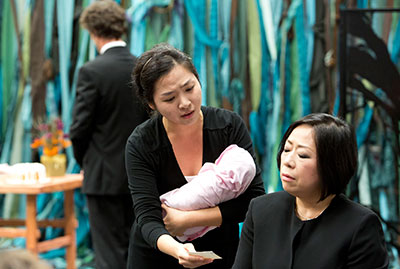 I'd add that our director, Loren Meeker, is just fearless. She brought the idea of integrating Indian dance into the production, and the dancers contribute to the dramatic integrity of the piece in a seamless and really beautiful way. David Hanlon, who has music directed a number of Song of Houston projects—as well as composing several—is developing a real specialty of bringing new musical work to the stage. The score of River of Light includes sitar and tabla, as well as traditional Western instruments; developing a strategy that allows those very different instrumental voices to work together is part of David's magic. And our cast, led by the Indian-American soprano Maya Kherani and baritone Michael Sumuel—are part of the new/next generation of opera stars.
A + C: The East + West project is coming to a close with this production; the program book includes a note that "there are still more stories to be told." What's next for Song of Houston and  HGOco?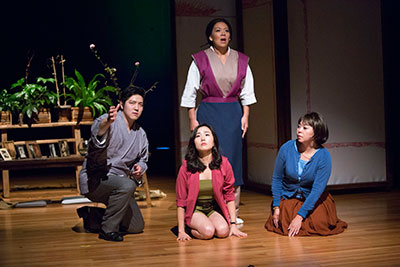 SB: We're continuing our mission to partner with the community in the creation and experience of art with a brand new project called "Our City."
"Our City" is conceived in three tiers. Tier One includes composer-led projects on topics that resonate with a 21st century city. We'll be bringing three new works to the stage of the Cullen Theater: one work will be commissioned each year between 2015-2017, and the selected composers will workshop their piece at different points throughout the creative process to see how it resonates with the city of Houston. 
In Tier Two, we'll be incubating compositional storytelling projects on a different scale—songs and song-cycles. A third tier of the project will be focused on youth in the community. All three tiers will include a workshop component, in which HGOco's role is to bring together the resources we have in the opera company and in the community to listen and learn—to connect with and experiment and hone the craft of telling stories through words and music. We want to be grounded in Houston stories, and our collaborators and co-experimenters will come from within the community as well as from within Houston Grand Opera.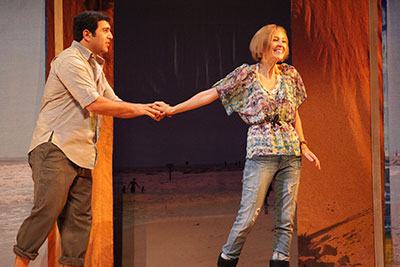 A + C: Listening, learning, experimenting. Not words people associate with large cultural institutions, for better or worse.
SB: This is what we've learned through Song of Houston and East + West: Both creative and audience development for cultural institutions require re-visioning our roles in the context of the communities we are meant to serve. As an opera company, if we're going to be relevant and have an audience for what we do, we have to learn to be an audience for our community, for our time, for our culture. The art we create has to be rooted there. Being a creative resource for the community begins with listening.