Leticia Bajuyo, Event Horizon, 2018.
Photo by Lizette Belen Soto.
---
In 1979, critic Rosalind Krauss, writing in the brainiest of brainy art publications, October, wrote:
Over the last ten years rather surprising things have come to be called sculpture: narrow corridors with TV monitors at the ends; large photographs documenting country hikes; mirrors placed at strange angles in ordinary rooms; temporary lines cut into the floor of the desert. Nothing, it would seem, could possibly give to such a motley of effort the right to lay claim to whatever one might mean by the category of sculpture. Unless, that is, the category can be made to become almost infinitely malleable. (Sculpture in the Expanded Field, October, Vol. 8., Spring, 1979)
This malleability is on view in Houston for the second iteration (of the expanded format) of Sculpture Month Houston, a biennial celebration of three-dimensional art. In 46 venues, sculpture at its most expansive will be on view through Dec. 1. The events have been organized by Antarctica Black, Volker Eisele and Tommy Gregory. In addition to the many commercial and nonprofit galleries participating, there are three dedicated venues for Sculpture Month—one at the Silos, one at the 1940 Air Terminal Museum at Hobby Airport, and one at the original air traffic control tower at Bush Intercontinental Airport.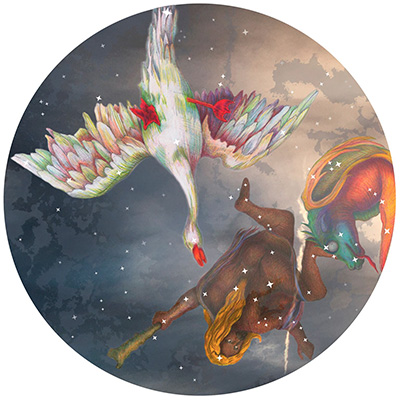 These last two venues are admittedly off the beaten path for art in Houston, but Sculpture Month has access to them because of organizer Tommy Gregory's day job as Public Art Program Director and Curator for the Houston Airport System. (Gregory has recently accepted a job as Public Art Director, Port of Seattle, Sea-Tac Airport.) Both the 1940 Air Terminal Museum and Bush Intercontinental's original air traffic control tower are endangered buildings—the space they occupy is coveted by the City of Houston. Gregory is proud to find a new use for them. "Using two old air traffic towers as venues for sculptural installations (according to my research) has not been done in this country. I hope it will bring positive attention to both of these so that people keep them," Gregory explained.
The original air traffic control tower at Bush Intercontinental is almost 50 years old. The crisp, modernist structure was designed by I.M. Pei in 1969. Houston artist Jo Ann Fleischhauer has created a temporary installation in the control cab (the outside of the building couldn't be altered because it has State of Texas Protected Landmark status—which won't save it from being demolished if the powers that be have their way). Fleischhauer's artwork has largely been site specific, responding to the venue where the work is to reside. In this case, she did research with the FAA in order to pay homage to the air traffic controllers who once worked there.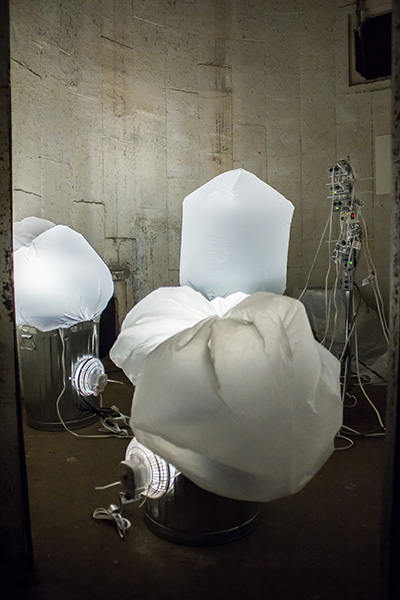 The show at the 1940 Air Terminal Museum is a group show consisting of artists from Houston, Galveston and Mexico City, including Houston's Pablo Gimenez Zapiola, whose work involves projecting images and words onto three dimensional surfaces. Gregory explained (echoing Rosalind Krauss) that "once you project something onto a structure, there is an installation quality to it. So I feel it fits for Sculpture Month."
Meanwhile, Eisele curated the exhibit at the Silos called Peak Shift. The Silos (which are in fact repurposed rice silos) are some of the trickiest spaces imaginable to work with—small concrete cylinders with conical metal ceilings that project down into the space. Sometimes the artists use physical characteristics of the space, as Jeff Williams did with his piece Cone Bottom Peel in which he coated the bottom of a cone-shaped ceiling with pink latex and peeled it partly away. Williams is one of the 14 artists in Peak Shift, which includes perhaps the best-known artist participating in Sculpture Month, Jessica Stockholder. Stockholder is a master of what Karen Archer in Art F City succinctly called "combining crap with crap"—specifically the "practice of pairing brightly colored consumer products with painted interventions". This is a good description of Sam Ran Over Sand or Sand Ran over Sam, the installation she produced for the late, lamented Rice Gallery in 2004. Stockholder has had an ongoing relationship with Houston—in 2016, she painted the intersection of Main St. and McKinney St. downtown and two of the adjacent buildings in large geometric shapes of vibrant color. Her piece for Peak Shift, Strings Attached Too, consists of brightly colored plastic containers—yellow, orange and red boxes at the top, then orange, purple, blue and white objects hanging below by chains. The piece is tall—too tall to fit in any of the silos, so it hangs just outside of them.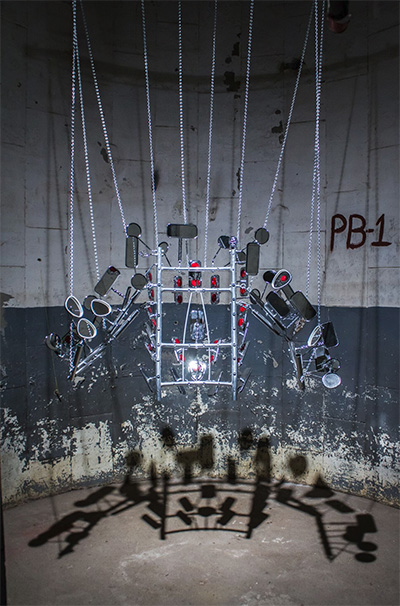 Commercial galleries in Houston at any time may be showing sculptural work. Some just happened to be showing sculpture at the same time as Sculpture Month—Guerrero-projects already had a show by Mexican sculptor Carlos Garcia Noriega Bueno scheduled for October. Some made specific shows for Sculpture Month, like Cindy Lisica Gallery's three-person show of wall-reliefs by Jae Ko, Atticus Adams, and Rachel Fischer. And, in the case of Devin Borden Gallery, he knew that long-time gallery artist Darryl Lauster had been working on a body of elegiac inscribed marble fragments, so he moved it up to coincide with Sculpture Month.
Non-profit spaces stepped up as well—Diverse Works has a remarkable exhibit, Berm by Lily Cox-Richard, which examines, in a sense, the ground beneath our feet. The Galveston Art Center has two sculpture shows: Leisurely by Buster Graybill, which features assemblages made of bits of objects of leisure (for example, fishing bobbers, Frisbees and lawn chairs); and Cultivate by Jasmyne Graybill, with her extremely realistic and somewhat disturbing sculptures of mold and fungus cultures on everyday objects. And the Art League is honoring one of Houston's best-loved sculptors, George Smith, with a lifetime achievement award and exhibit.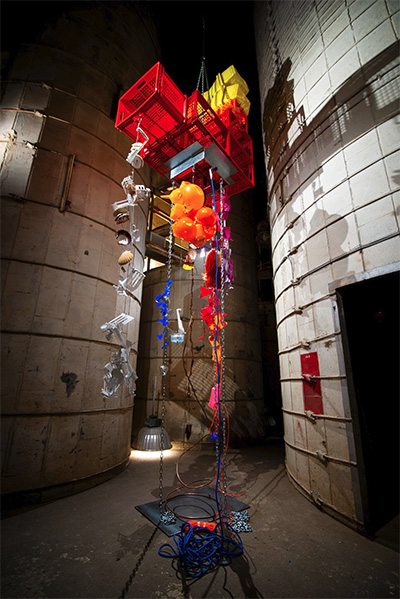 With Gregory taking his new job in Seattle the future of Sculpture Month in 2020 is an open question. Unlike Fotofest, Houston's best-known biennial art festival, Sculpture Month doesn't have a deep bench of staff to draw from. But Eisele and Black are enthusiastic, and with Gregory promising to help from Seattle, it's likely that the celebration of sculpture shall continue.
—ROBERT BOYD