Ed Ruscha
Not Never, 2018
diameter 31 5/8 inches
Photo: Paul Ruscha, courtesy of the artist and Gagosian
---
Hollywood. Angel. Zoo. Just a few of the word-image artworks created by American artist Ed Ruscha, a master of using language as form, symbol, and material—and bringing words to the forefront. For those who are familiar with Ruscha, these word-works are iconic, and the artist continues to surprise. For those who are new to his work—OOF—the process of looking can be an illuminating discovery.
"I think you have to love language to really understand his work," says Veronica Roberts, Blanton Museum of Art Curator of Modern and Contemporary Art. Arguably, no other artist has been as committed to or mined more words than Ruscha.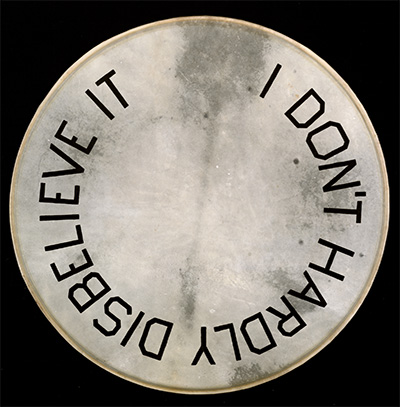 Through July 12 at the Blanton Museum of Art, curious folks and devoted fans alike can see new and recent artworks by the artist in the exhibition Ed Ruscha: Drum Skins. Installed as part of Blanton's Contemporary Project, a rotating program for innovative work, Drum Skins is comprised of 13 circular paintings Ruscha made between 2017 and 2019 on the skins of drums he has found and collected for more than 40 years.
Roberts first met Ruscha in Austin. She had recently taken up her post at the museum and he was visiting the city because the Harry Ransom Center, on the campus of The University of Texas at Austin, was in the process of acquiring his archive. Roberts tells me that Ruscha is the most established artist the Blanton has worked with, and the museum offers visitors a special experience with his work. The intimacy of the exhibition is optimal, ideal, and unique, and serves as a complement to the shows presented at his representative gallery, Gagosian (read: Gagosian is gigantic.) Additionally, the museum is planning a talk with Ruscha on May 7.
Described by Roberts as an "insatiable art looker," Ruscha is known for his love of art, and his long friendships with and deep appreciation for writers and poets, especially Beat poets. He started his creative path painting signs and working for advertising agencies (which corresponds with his affinity for handmade signs), and he learned how to set type while working for a printer in art school. As a result, and perhaps as a special talent, he developed an eye for a poetry of sorts comprised of isolated words, and awkward, magical pairings. He began to literally "see" language.
As Ruscha recounts in a video interview on Gagosian's website, he made the "epic choice" to move from Oklahoma City to Los Angeles in 1956, where he attended the famed Chouinard Art Institute and was heavily influenced by the readymade elements used by fellow artist Jasper Johns. Getting there, he says, was "maybe more than half the fun."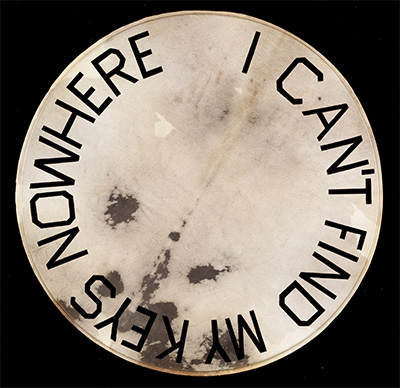 The readymade also called to him from the built environment he saw unfolding along the highway—prefab architecture, lettering in commercial signs, words in phrases, phrases in common. The components of language, its creation and breakdown, took hold in his imagination and took over his art. He felt like a reporter of sorts, gathering information and compiling a series of facts and, in the process, cultivated a good deal of respect for the snapshot, recognizing its value. Photographers such as Robert Frank, with his book of photographs The Americans, and Walker Evans had a great affect on him, documenting America as they saw it.
When I ask Roberts how she contextualizes Ruscha's work for the general public, she replies: "I've always thought of his words as landscape paintings and quintessentially American."
His choice to use a rectangular format (modest or extreme; painting, print, or book) was linked to indicating and depicting landscape and the experience, or mere habit, of our eyes moving across the page, across the horizon, in a linear fashion. But with Drum Skins, as Roberts points out, he has seized a compositional opportunity.
And the phrases. Oh, the phrases: "I can't find my keys nowhere"; "He up and went downtown"; "I don't hardly disbelieve it" are just a few examples of the typographical imagery in the exhibition.
For Drum Skins, Ruscha culled American vernacular, primarily from his experiences growing up in Oklahoma with the regional characteristics of what he calls "Southwestern speech." Comprised of double and triple negatives—grammatical constructions that contain two or three forms of negation in the same sentence—the circular compositions resist a linear narrative or singular thought. Instead, they surrender to mental somersaulting over phrases that are at once affirmative, negative, contradictory and just plain curious. Roberts says, "He gives humor and warmth to language. These words are not didactic and not closed-circuited."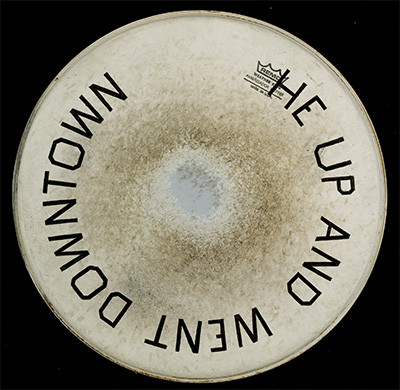 The surfaces of the drum skins take on the appearance of parchment paper, and some look mottled with age and use while others resemble lunar-like textured landscapes. Several drumhead surfaces show the pores of the animal skins and on a few Ruscha has incorporated imagery such as a mountain range.
Although Ruscha doesn't specify any direct references or influences, the histories and uses of drums are importantly multilayered and multicultural, especially in our current socio-political moment.
"Geography and language are constantly evolving," Roberts says, but Ruscha is "still mining ways to approach and activate language and text. I consider many of his works to be portraits of a moment in history."
Not for nothing: that moment is not isolated or stagnant. The open-ended phrases of Drum Skins depict an ongoing process of reasoning and reckoning, the getting-there of communication.
—NANCY ZASTUDIL