Ai Weiwei, Forever Bicycles. The monumental sculpture is on a prominent piece of parkland along the Lady Bird Lake trail in downtown Austin.
Photo by Jeanne Claire van Ryzin.
---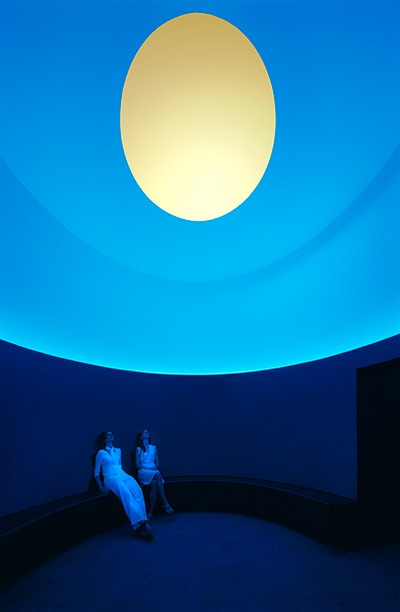 Ai Weiwei's Forever Bicycles lit up Austin social media feeds days before the dizzying sculpture had its official June 3rd opening.
And no wonder.
Made of 1,200 mass-produced stainless steel bicycle frames, the nearly 32-feet tall sculpture forms an arch that people can walk under. It's sited to grab attention, right at a choice spot along the busy trail that hugs Lady Bird Lake in downtown Austin.
Forever Bicycles comes to Texas's capital city on long-term loan courtesy of a relatively new partnership between the Contemporary Austin and the Waller Creek Conservancy, the private nonprofit spearheading a design-driven transformation of the 1.5 mile stretch of Waller Creek through Austin's urban core.
Last year, the Dallas-based Edward and Betty Marcus Foundation donated $1.1 million to kickstart the partnership which has the Contemporary leveraging its curatorial expertise and art world connections to bring major artworks to the soon-to-be-upgraded Waller Creek parkland.
That Austin netted a sculpture by the renowned Chinese artist and activist is an achievement for the city, the latest development to forward the caliber and the kind of art in Austin's public realm.
Of an entirely different scale and type than a prominent installation by a blue-chip marquee art star, the city's Art in Public Places Program this year launched its first artist-in-residence program. In May, artist Rehab El Sadek began a nine-month residency embedded with the Watershed Protection Department.
The charge is open-ended: El Sadek, whose practice involves various mediums, can pursue a project entirely of her own making. The budget is relatively tiny: The residency pays $8,750, plus up to $5,000 for expenses. But city art officials are hopeful that the artist-in-residency program as well as other recent initiatives—including several recent and upcoming large projects—will put Austin in the spotlight.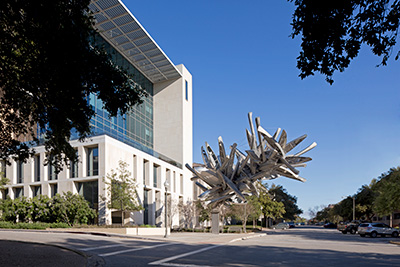 A sprawling 300-foot sculptural installation of hundreds of elements inspired by local geological formations and minerals, Uplifted Ground by Michael Singer Studio, was installed in the Austin-Bergstrom International Airport's new consolidated rental car facility in 2015. The $1.6 million piece netted an award from Americans for the Arts.
Soon, noted artist Janet Echelman will create one of her signature aerial net sculptures for the entrance drive to the airport, a $2 million commission. And art world favorite Rachel Feinstein has been awarded a $1 million project.
"We'd like to be where the city's public art can begin to generate culture tourism," said Susan Lambe, the city's public art administrator said.
Austin may have Texas' oldest municipal percent-for-art program in the Lone Star State (the city's Art in Public Places started in 1985). But until Austin's recent growth spurt, the 2 percent of eligible capital improvement project budgets has often meant that in their scope and impact, city-funded public art projects remained modest.
Yet some have brought creative intelligence to Austin's public realm.
In front of an East Austin police station, Elevated Prairie is a labyrinth of undulating mounds and metal-clad planters that spiral in a shape that suggests both a fingerprint and a Zen meditation garden. Filled with plants native to the prairie of East Austin, the labyrinth changes with the seasons. The project's budget was just $140,000.
Part homage to the Land Art of the 1970s, part park for an area of the city in need of beautified green space, Elevated Prairie is a 2007 piece by Legge Lewis Legge, an Austin-based collaborative led by architect Murray Legge. The collaborative recently completed public art projects in Dallas and in San Antonio and has a project slated to be soon part of the Waller Creek Conservancy's efforts.

"Public art is not easy," says Legge. "A really great artwork is difficult to create no matter what the circumstances are. And then you factor in the constraints that come from a municipal project, and add the community scrutiny public art receives, and it can feel daunting."
Public art suffers from taxonomic troubles, too. The term "public art" is used inconsistently. It could refer to government-funded memorials or municipal percent-for-art projects. Or public can mean any myriad private private-public projects that exist in the public realm.
And yet the difference between a municipally-funded and committee-curated art selection process versus a privately-funded effort directed by a curator can be profound. So can the size of the budget.
The University of Texas finally got serious about its public art only in 2008 when it launched its Landmarks program, earmarking 1 to 2 percent of any new construction or major building renovation for art. Landmarks director Andree Bober—who works with an advisory committee of UT curators and art professors—has built UT's public art collection impressively. After all, it has the financial capacity do to so. UT builds big-dollar facilities at a breathtaking rate.
Landmarks made its debut with a flourish when it received a long-term loan of 28 modern sculptures from the Metropolitan Museum of Art. The sculptures—including a monumental piece by Mark di Suvero—now dot the UT campus in locations outside and in, including 11 that are exhibited at the Bass Concert Hall.
Since that auspicious beginning, Landmarks has added, among other works, a James Turrell "skyspace," a commissioned sculpture by Nancy Rubins, a Sol LeWitt wall drawing, and a multi-pronged project by Ann Hamilton.
True to its festival culture, Austin has embraced the trend of temporary art in the public realm, too. In 2013, the city launched TEMPO, a now annual initiative with 10 or so temporary projects, a program that's as much about sending pop-up art around town as it is about giving emerging artists the opportunity to learn the bureaucratic ropes of restriction-heavy municipal art projects.
The same year saw long-time independent organization Women & Their Work sponsor Thirst, a ghostly tree painted white that for a few months seemingly hovered in the middle of Lady Bird Lake, an homage to the 300 million trees lost in the 2011-2012 drought, a collaboration between art Beili Liu with architects Emily Little, Norma Yancey, and Cassie Bergstrom. And in 2014, the Waller Creek Conservancy launched Creek Show three years ago, a now wildly popular showing of illuminated installations along a three-block stretch of the creek.
Under the direction of Louis Grachos, the Contemporary Austin has contributed much to the deepening of art in the public realm. Within months of Grachos taking the helm in 2013, the museum received a $9 million gift from the Dallas-based Betty and Edward Marcus Foundation for the creation of the Marcus Sculpture Park at Laguna Gloria—the museum's bucolic 12-acre lakeside site anchored by the 1916 Driscoll Villa.
Since then, the Contemporary has acquired or commissioned work by the top-tier artists such as Paul McCarthy, Liam Gillick, Orly Genger, Ursula von Rydingsvard, Terry Allen, and the duo Teresa Hubbard/Alexander Birchler. And now the roster includes Ai Weiwei, too. Along with facilitating the loan of Forever Bicycles, Grachos finagled the loan of Iron Tree Trunk, a solemn sculpture now tucked amid real trees at Laguna Gloria.
A master plan underway envisions ecologically-restored grounds at Laguna Gloria—and more art. And in a community-based gesture, the Contemporary has made several long-term loans of sculpture from its permanent collection to small parks and museum around Austin.
Recently the museum has codified its vision referring in its publicity and marketing collateral to its "Museum Without Walls" program.
But "Museum Without Walls" is as much a philosophy as anything else. Indeed, it's as much a description of Austin's current blossoming of art in the public realm. As the city rapidly urbanizes, more focus turns to its public space and more cultural expectations, too.
—JEANNE CLAIRE VAN RYZIN