Monja Coronada ("crowned nun") paintings are portraits of nuns completed either at the profession of their vows or upon their deaths. In these portraits, they are decorated with enormous headdresses made of flowers. For many of these nuns, being cloistered was their only chance at an independent life as a woman. "They hold a certain potency," said artist Amber Eagle, recalling the multifaceted sources of inspiration behind her work. "I made portraits inspired by the monja coronada out of sugar and was imagining what would be inside these huge flower crowns and where their journey beyond might take them."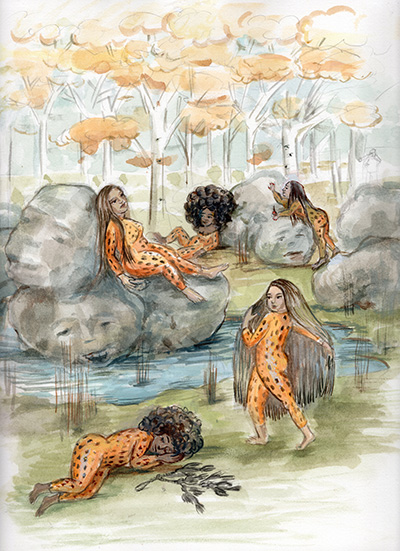 Eagle's work, on view in the exhibition Nap Dreams at Galveston Arts Center Nov. 23-Feb.23 2020, is driven by and builds upon Mexican folkloric themes integrated with ephemeral forms of celebration—prize ribbons, cake decorations, bouquets, and more.
"My fascination with ephemeral beauty began in the fifth grade," Eagle said. "I stayed up all night with my mom to make cast-sugar peek-in Easter eggs for my class, which they loved so much they promptly ate them." From there, her fascination grew to include other such forms of celebratory ephemera.
"The ephemera offer clues as to what to do, and my pieces develop as materials and imagery begin to tell me a story as I go along."
After visiting a bakery in Mexico City with three stories of display cakes up to 10 tiers each, Eagle's fascination with celebration began to amalgamate with her interest in local lore. Inspired by these massive baked goods, she applied for and received a grant that allowed her to research fiestas and sugarcraft in Mexico. "I went all over the country based on fiesta dates and worked with Alfenique artists (day of the dead sugarcraft). From then on, she would save up and spend as much time as possible in Oaxaca, Chiapas, and other states, eventually meeting her husband and staying in his hometown of San Miguel de Allende.
Eagle's work carries with it a deep sense of lore. The narratives are constructed quite literally and displayed like dioramas within her sculptures—a woman nude in a garden of pink roses, a torso lifted on its hands severed like the stumps surrounding it, a snake-like creature with an oddly human face sticking its tongue out at the viewer.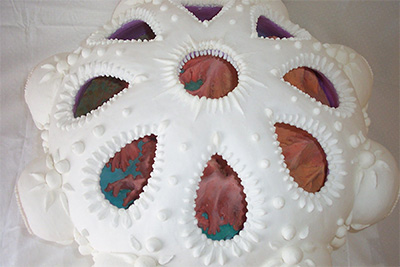 "I've read a lot about saints and indigenous culture, being inspired by Huichol and Mayan folklore in particular," she explained. "The imagery produced by the intersection of Catholic and indigenous culture is fascinating in its surreal combinations like peyote buttons on churches built by the indigenous for the Spanish."
Referencing her piece Lady of Highway 101, Eagle recalled the 14-hour drive back and forth between Houston and Mexico. "I noticed a spot on the highway in the middle of the desert, Joshua trees as far as you can see, where there were always a lot of trucks parked. It turns out it's the prostitute area."
The piece is a woman, her hair bundled up with three flowers and large golden hoops dangling from her ears. She wears a red bodice leading into an ornate, flowing skirt. Her hands pull it apart to reveal a series of cut outs, each featuring a cab of a semi-truck. These trucks carry over into another work, titled Lady of Transportation.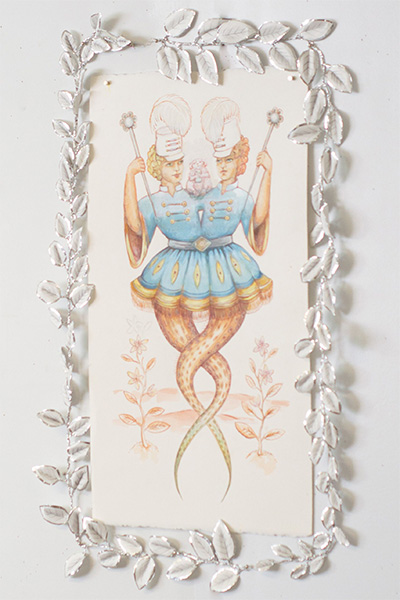 "While crossing the Reforma roundabout in Mexico City, the name Lady of Transportation flashed in my head," she recalled. "As I worked on the idea in miniature sculpture form, I realized she could only exist life-size—made of car parts." As she scaled the piece up, she utilized a semi-truck as the base for her giant skirt, which Eagle could drive from atop when the space isn't occupied by a saint figure of her own image, carved by Miguelangel Almanza.
"Mexico in all its baroque glory and traditions has really expanded my worldview," Eagle continued. "The ingenuity of the folk, indigenous, and fine artists changed my frame of reference for what art can be." This shift has changed her perspective on the city of Houston, to which she recently returned, as well—citing the magnificence of oil refineries, popping out of the ground like temples for the sacred spots of crude oil.
Her recent series "Diosas Crudas," or crude goddesses, was inspired by a nude painting over a bar in Big Bend. "My goddesses are protectors of their realm—naked, vulnerable, and at peace with their environment—be it a nuclear reactor, fracking flares  or pure space," Eagle said. "They are evolutionary creatures, evolved to meet their environmental requirements."
—MICHAEL McFADDEN