Colette Copeland, Video still from St. Sauveur 1, HD video, 2015.
---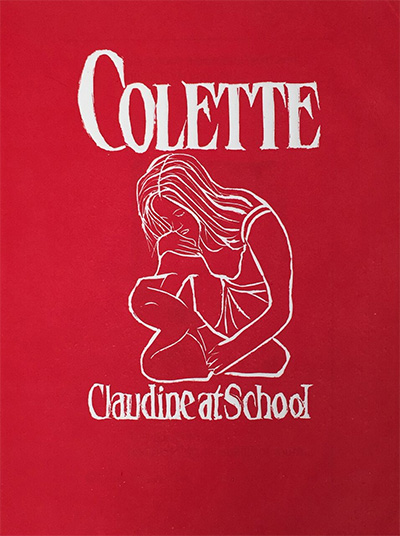 "The work I make is very quiet in some ways." Colette Copeland is speaking about her practice, and the new series of work, Becoming Colette, to be presented at The Reading Room through Feb. 20. The Reading Room, operated and directed by Karen Weiner, is an appropriate space for Copeland to be exhibiting; it is dedicated to text-based works as well as to art that explores the complex and varied ways text influences contemporary art.
Copeland's practice, like the space, is not bound by medium but instead flows in and around aspects of video work. The language of her work is literary, both through reference and allusion; her narratives are filled with the unsaid—the quiet, unscripted moments between two people. She seems to be interested in the happenings that influence our language, rather than the dictums themselves: The laughs (You Crack Me Up, 2014), the fights (The Argument, 2013), and the anxieties (Just Add Maggots, 2011) that twist and turn our words into knives or blankets.
For Becoming Colette the artist is reimaging the literary work of the celebrated French writer, Sidonie-Gabrielle Colette, known simply as Colette. Colette was a writer in Paris working during the period of Surrealism and interacting with the writers and artists of that epoch. Colette's work dealt with an early-feminist approach to gender studies and sexuality, in ways that at the time were considered profane, at least coming from a female.
Copeland was named after the writer by her mother, who was only really just aware of Colette's celebrity, inadvertently setting Copeland on a path to self-discovery through the writer's persona. Upon her first discovery of Colette's works she found the fantasy of early 20th century Paris a marketplace of sensuality and art. "I like the fact that she didn't care what people thought of her. And with her, her work always came first. I think of her as this flamboyant character that defied rules every step of the way."
The historical Colette had many affairs, with men and women alike, even consorting with her stepson from her second marriage. While she admires and, in some ways, identifies with Colette's non-conformist nature, Copeland is her own person, full of complexities and intrigue in her own right. "I feel like I have a balance. I have kids and I have had to sacrifice my own career," says Copeland. "But I really admire the fact that she broke out of barriers that confined women at the time."
Copeland believes that Colette's writing possesses a "feminist bent," but it's subtle. "As years went by, she was rediscovered by feminists who claimed her as their own. The books were reissued under a new lens. She probably would have never claimed she was a feminist. She was a strong-willed woman who was driven to expose the inequities of social class and of working women and how men used them as pawns of desire. I found myself re-reading her books and getting pissed off, and that wasn't her writing per se, but her exposing the social mores of the time."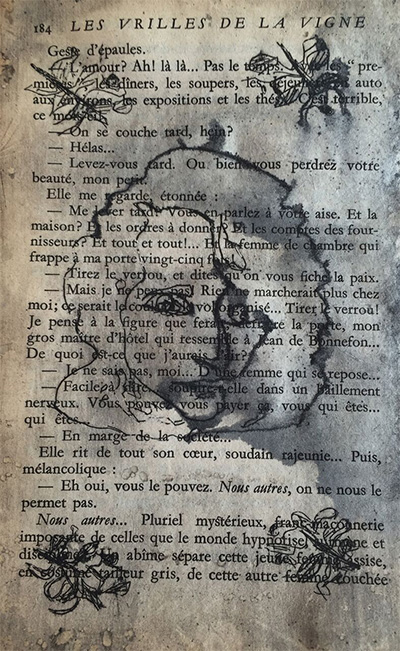 Copeland has been conceptualizing the show for some time. This past summer, Copeland traveled to Paris to research and relive moments in Colette's life. She visited the cafes and locales where Colette would spend her days as a writer in Paris and stayed in the hotel where the author lived. "I have been carrying around Colette for a couple of years, doing research, and then it came together," she says. "A friend donated air miles, and I did research and reread some of her novels."
The show consists of different mediums comprising Copeland's investigation into Colette. Included in the show are prints inspired by the covers of Colette's books; Copeland has a tender relation with appropriation, in her work borrowing becomes a sort of relational collaboration wherein an exchange of history and identity transpires between Copeland and her subject.
"I photographed a lot while I was in Paris, especially at the Colette Museum and I photographed other photographs. I was using those as sources to go into Photoshop and transform them where they resembled drawings by using a printmaking process. After two and a half months of experimentation, I wasn't quite happy with what I was getting. I really wanted to do photo etching. I had to suffer through these other processes. So then you see the prints that are based on those book covers, but don't look anything like the old covers. They're black and look like photo etchings. You can still see the font, the text, and the sappiness, but it changes the whole experience to something dark."
Copeland, inspired by the line drawings of Matisse, layered these drawings and rendered photographs on the pages of Colette's novels. "One of the things I'm exploring is not only the identity aspect of this show, but the element of being 'lost in translation'."  Copeland pushes this idea further by recording herself reading Colette in the author's native French, which she doesn't speak. She then sent the recordings to composer, Dallin B. Peacock, who "translated" the recordings, with very limited knowledge of the author, into sound pieces built upon Copeland's readings, creating a tapestry of sound and semiotic ambiguity.
For this show, and during a time of almost profane obsession with celebrity, Copeland is taking our notions of identity and carving them up into bits so small that, when put back together, they resemble something entirely new.
—LEE ESCOBEDO