"We have sympathy for other species, we've had the conservation movement." Jo Ann Fleischhauer explains. It's a winter day in Texas when we talk, the kind that turns the big sky uniformly white with a scrim of clouds. In the infant days of the new year, news reports are casting a backlit orange glow to screen-inclined faces the world over. Australia is on fire, and Fleischhauer's words ring with renewed urgency. "Always in the end the human species is seen as the top dog," she says. The artist follows her central observation with a question: "What would truly instigate a balance between humanity and another species?" It's the central concern that has animated Fleischhauer's work for more than three years, and she admits, "It's probably one of the hardest projects I've ever done."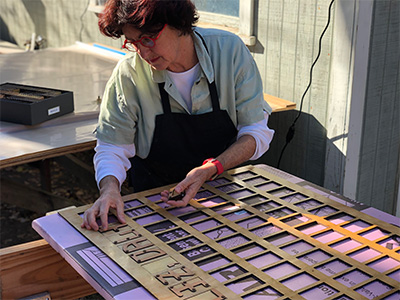 Her epic search for the tipping point of human empathy (itself a limited resource) for the remaining eight million plus species on the planet is culminating this year in a traveling exhibition called Disquieted Beauty. The story of this work's creation involves Smithsonian-sponsored orchid bee scientists in Panama, perfumers in Los Angeles, designers of a new Braille alphabet in Spain, master printmakers in Houston and countless other stops and starts between. "I look back at my original notes and I was completely all over the place," Fleischhauer laughs. But now she is the recipient of a grant through the Houston Arts Alliance, and her impending exhibition will debut at the Old Jail Art Center on Feb. 22, before making its way to the Institute for Art and Olfaction in Los Angeles in May, finally landing at Rudolph Blume Fine Art/ Artscan Gallery in Houston in October.
Fleischhauer is not one to shy away from the big questions. A philosopher who would likely shirk the title, she operates adjacent to science, but her primary orientation is to beauty—it's the door through which she guides her viewers. Often utilizing light, color and sound in ways that borrow from the traditions of grand European cathedrals, Fleischhauer's ambitious installations are meant to inspire a reverent blend of wonder and calm within her viewers.
Her many installations have transformed art spaces, but also include places as diverse as a lobby for a research lab at MD Anderson Cancer Center and the now-defunct I.M. Pei-designed air traffic control tower at George Bush Intercontinental Airport. The prints Fleischhauer has made for this exhibition reflect her desire to attract and inspire visually, but they are equally laden with meaning. They are "electron microscope images of the surfaces of orchids…abstract shapes." Reveling in the unseen beauty of the natural world helps us to examine the familiar in a new way, but it's also a calculation in pleasure. "It's very difficult not to come across as preachy," she says with concern.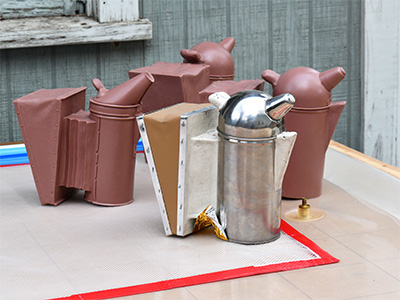 At the Old Jail Art Center, a repurposed space in Albany, Texas with a reputation for showing some of the state's best artists, Fleischhauer's installation will occupy "two renovated jail cells, one room completely lined with embossed texts. [It will] start as a visual experience, but then it will be interactive." The surfaces of the prints are laced with microencapsulated scents that the artist created in collaboration with The Institute for Art and Olfaction in Los Angeles and Orlandi Inc. in Farmingdale, NY. They contain "three accords, [which are] a building block of a more complex scent" made up of elements from orchid, mushroom or fungus, and rotting wood. The exhibition statement describes it best: "Viewers will run their fingers over embossed words and pick up individual fragrances. When touching more texts, the scents will accumulate and become more complex, like words strung together in a sentence." Fleischhauer further elaborates, "It parallels a human perfumer."
The jail cells, once used for solitary confinement, speak directly to Fleischhauer's central question of interspecies empathy. She gives the example of the Birdman of Alcatraz, Robert Stroud, a prisoner kept in confinement for decades, first in Kansas and then at the infamous island prison, who developed a long term informal research relationship with canaries he raised. "When you find that commonality, is that a way to connect? What forces the hand?" she asks. "Any kind of solitude."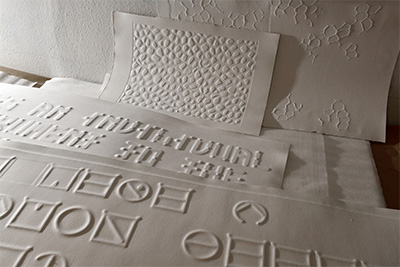 A germ for Disquieted Beauty comes from Fleischhauer's direct experience working with scientists. In 2015, she was part of a study on creativity run through the University of Houston's Cullen College of Engineering, in which she was asked to record her brain activity while creating art by using a device that resembled a shower cap covered in suction cups. Researchers used this device to measure electrical activity in Fleischhauer's and other artist's brains, as well as a similar device to measure the impact of viewing art on U of H Blaffer Gallery patrons.
"I started doing the brain study, and I was kind of working in parallel on this," she explains. But she has noticed, referring to science in general, "When they set up these scientific experiments they set them up with a bias." This seemingly inevitable narrowing of perception is something that Fleischhauer would like to crack open with works like Disquieted Beauty. "[I'm] trying to plant the idea that there's a back and forth going on." she says. To open our eyes, this show asks us to tap into our senses beyond just the visual. It asks us to consider other modes of communication and entire worlds of meaning going on just under our noses.
—CASEY GREGORY