Houston Ballet principals Jessica Collado and Connor Walsh rehearsing Sir Kenneth MacMillan's Mayerling, Sept. 22-24 at the Hobby Center for the Performing Arts.
Photos by Amitava Sarkar.
---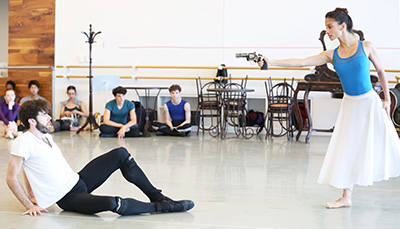 When Houston Ballet takes the stage next fall for the Houston premiere of Sir Kenneth MacMillan's Mayerling, Sept. 22-24 at the Hobby Center, it will surely be new for the audience, yet also be a continuation of a storied relationship between the company and the legendary British choreographer. He served as an Artistic Associate with Houston Ballet from 1989-1991, pivotal years for the company's artistic growth.
Audiences should expect to be riveted by MacMillan's three-act ballet chronicling the murder-suicide of the sole heir to the Austro-Hungarian Empire, Crown Prince Rudolf, and his 17-year-old mistress, Baroness Mary Vetsera. History provided the drama, but the ballet's success is due to MacMillan's unique ability to generate movement from music, story and strong characters.
MacMillan was one of the chief architects of the contemporary storyballet, plumbing the psychological depths to examine human relationships and all its flaws.  It's the stories that MacMillan brought into motion that made him a game-changing narrative choreographer.  "He turned to history, to dark stories exposing the flaws of humanity," says Stanton Welch, Houston Ballet's artistic director. "He was one of the first to move away from fairy stories with princes and happy endings."
Houston Ballet will be the first North American company to perform MacMillan's masterpiece, introducing a new generation of dancers and fans to this iconic ballet. "I wanted to pay homage to our important relationship with MacMillan," says Welch. "It's such an significant part of our history as a ballet company. Really, it's how Houston Ballet became a great acting company, first under Ben Stevenson, then under me."
MacMillan's career spanned the double ballet duties of resident choreographer and company director. From 1955-1966, he choreographed for The Royal Ballet and served as Resident Choreographer from 1962-1966. He directed the Ballett de Deutschen Oper, West Berlin from 1966-1969. He was Director and Resident Choreographer at The Royal Ballet from 1970-1977, and Associate Director, American Ballet Theatre from 1984-1989. He was knighted in 1983 and passed away in 1992, leaving a remarkable body of work.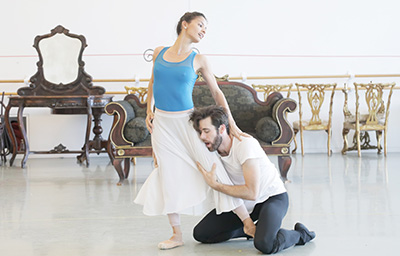 Stevenson first met MacMillan during the 1950's when he was dancing at Sadler Wells. "The greatest choreography I've ever done was getting Kenneth to come here and be artistic associate," recalled the then artistic director Ben Stevenson, in a Playbill story in a 1993 tribute program. Stevenson relayed how much MacMillan enjoyed coming to Houston during those critical years, and that perhaps the camaraderie of the company reminded him of his own days at Sadler Wells.
Starting in 1989, the repertoire quickly expanded to include such MacMillan masterworks as Song of the Earth in 1988, Gloria in 1989, Elite Syncopations in 1990 and Solitaire in 1991. Plans were underway for him to return to stage Manon when, on Oct. 29, 1992, MacMillan died of a heart attack backstage at London Royal's Opera House during a performance of Mayerling. Houston Ballet postponed the company premiere of Manon, and instead put on a memorable tribute to MacMillan, with the company performing Solitaire, Gloria and Elite Syncopations all in one program in March 1993. Houston Ballet premiered Manon, MacMillan's second three-act ballet as artistic director of the Royal Ballet in 1994, with great success.
Former Houston Ballet principal and current Ballet Mistress Barbara Bears remembers the early years with MacMillan well. He plucked her from the corps for a lead role in Gloria, his solemn opus on World War I. At 18, Bears was already a MacMillan fan. "I watched his Romeo and Juliet a million times," says Bears. "I knew it was a big deal to be working with him." Bears remembers his calm presence in the studio. "On opening night he came over to me and told me to just enjoy it," recalls Bears, who went to dance lead roles in several of his ballets. As for MacMillan's stamp on the field, Bears has her own opinion. "He made ballets about real people, real emotions, that we have all experienced." Like many a dancer, including Welch, Mayerling, was always on Bears's bucket list. "It's bittersweet in a way that I never got to dance in this ballet, but I am so excited for the company. They are going to truly enjoy it."
Stevenson may have been the artistic director that brought MacMillan under the Houston Ballet roof,  but it was Welch who kept the MacMillan fires burning by bringing back Song of the Earth in 2011, Gloria just recently in May of 2016, and Manon several times in his tenure. "A ballet company is like an art gallery, we need to have the masterpieces," says Welch. "I think of the MacMillan rep like I do Balanchine, Forsythe and Kylián. We need to dance MacMillan to be a great, classical company."
Welch's cadre of fearless dancers are always on his mind when selecting a new ballet. And Mayerling is rich with strong roles. Rudolf is a dream role for a male dancer, with seven pas de deux with five different female characters. It is believed that MacMillan revolutionized the male dancer with this ballet. "Rodulf is on stage nearly the whole time," says Welch. "The dancing is difficult throughout."
Franz Liszt's music completely supports the drama, supplying lush melodies and tension. John Lanchbery, who had served as Chief Conductor at the Royal Ballet, arranged 30 Liszt pieces, including excerpts from Faust Symphony, Mephisto Waltz, Twelve Transcendental Studies and Soirée de Vienne. Curiously enough, Liszt had composed music for Empress Elisabeth. "MacMillan had a gift for selecting a composer and finding the right pieces to tell a story," says Welch. "I love the music, it's beautiful."
The story may be tragic, but the setting is divine, as the first act opens at lavish State ball in honor of the nuptials of Crown Prince Rudolf of Austria-Hungary and his Belgian bride, Princess Stephanie. Costumes and scenery by Pablo Núñez capture the opulence of the era, amplifying the spectacle aspect of the ballet, which premiered on Valentine's Day in 1978 at a royal gala to great success. "MacMillan excelled at importing the aspects of strong theater into ballet, so the sets and costumes are lavish and gorgeous," says Welch. "Everyone is in for a treat."
Welch is simply thrilled to bring to bring this theatrical powerhouse of a ballet to his dancers and the audience.  A story taken from the history pages, roles of a life time for his courageous group of dancer/actors, a stunning set and powerful music, but most importantly, a ballet about the lives of authentic, but flawed human beings. Welch adds, "I am inspired by that."
—NANCY WOZNY
Reprinted from Playbill.