The National Tour Company of Fun Home.
Photos by Joan Marcus.
---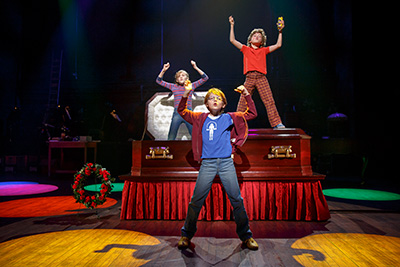 The foundation of Fun Home is not merriment as the title might suggest.   Rather, fear is what supports this coming-of-age musical about a lesbian graphic novelist and her closeted gay father, an English teacher who also runs the family funeral home. What ultimately transpires over the course of this well-written production is quite telling. In the end, Fun Home stands strong and proud as a poignant American musical, a theater experience of extraordinary perception and gravitas.
The production won five awards at the 2015 Tony Awards, including Best Musical, and hailed as a fresh take on universal themes. Unbelievably, it is the first Broadway musical with a lesbian protagonist. Currently on its first national tour, Fun Home plays at the AT&T Performing Arts Center in Dallas through Sept. 24.
Based on Alison Bechdel's award-winning 2006 autobiographical graphic novel of her family life and her journey to self-discovery, Fun Home craftily mixes youthful innocence and tomfoolery with the story's darker edges of lies and secrets her parents harbor. Alison's memoirs are relived through Alison as a confident young girl, growing up playing with her brothers in the funeral home, Alison as a confused college student experiencing her first crush, and Alison as a fully-functioning adult, but one still trying to understand her journey. Fun Home zigzags and circles through the three stages in Bechdel's life, but the staging doesn't hamper the emotional intensity that begins to brew from the opening song, "It All Comes Back (Opening)."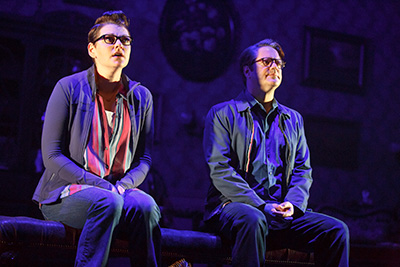 Alison's relationship with her parents, most significantly her father, is at the core of the drama. Audiences hear early on of his suicide while Alison is at college. But she still grapples with how her life as an out lesbian directly connects to the life and death of her father, a man whom she loves deeply but never really understands. As Fun Home progresses, Alison is drawn deeper and deeper into her memories, finally entering into them, desperate to reverse her father's self-destruction and rescue her put-upon mother, who sings of fear and heartache in one of several show-stopping numbers, "Days and Days."
The beauty in the story is how it masks one's inner fears with moments of merriment. Young Alison and her siblings goof around in the coffins, dancing and singing "Come to the Fun Home" to hilarious results just moments after being deserted by their father, who seems content sneaking away for a liaison leaving his baffled kids unattended. Later, college-age Alison awkwardly confronts her sexual fears when a girl admirer turns up the heat, and together their interplay is both charming and illuminating, captured in the delightful number "Changing My Major" (to sex with Joan).
The cast is uniformly effective. As the grown-up Alison, Kate Shindle sings beautifully and commands the stage as the 43-year-old still perturbed by her family. She introduces Small Alison (a bouncy Carly Gold, making her first professional debut), a little girl who yearns to fly, and Medium Alison (Abby Corrigan, flawlessly awkward) as the college student beginning to judge her family. All three bring a different dimension to Alison, giving us insight and making us fans of the character. As the manipulative and sometimes abusive father, Robert Petkoff is unsympathetic, with his fears of being judged by his wife and family fully registered on his face. As the long-suffering mother, Susan Moniz captures the essence of a life drained of humility and love.
Fun Home is smart, funny and makes you think about your own journey home. And while the music often soars, the story centers directly on the realness of the characters, reminding us that healing can often be our pillars in life.
—SCOT C HART