---
IMAGE: Clifton Brown and Laura Mead in Jessica Lang's Among the Stars. Photo by Todd Burnsed.
---
Jessica Lang Dance stops in Dallas and Houston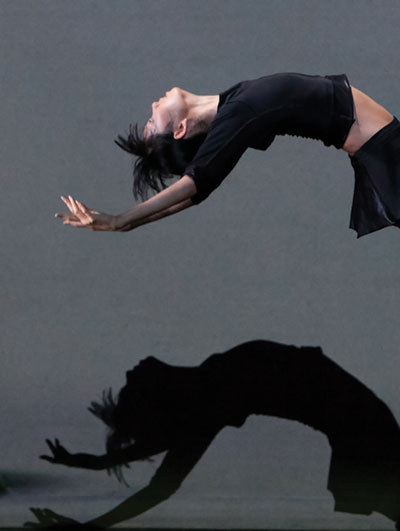 Jessica Lang paints movements in broad strokes, making her one of the most visually exciting choreographers in the dance world.
Houston's Society of Performing Arts presents Jessica Lang Dance (JLD) on Sept. 20, following the TITAS presentation in Dallas on Sept. 14.
My first introduction to Lang was in 2010 at Dallas' Music Hall in Fair Park during TITAS's Command Performance when San Francisco Ballet's Yuan Yuan Tan and Alvin Ailey's Clifton Brown pulled me into Lang's meditative piece, Among The Stars. Wrapped in a gossamer skirt that took on the appearance of clouds, Tan and Brown masterfully controlled Lang's delicate world, while the fabric became a third dancer, adding an unexpected layer that is central to Lang's aesthetic—a painterly quality that pushes her work into a dramatic arena.
---
IMAGE:  Photo by Takao Komaru, courtesy of AT&T Performing Arts Center.
---
"This is the way that I am, what I've always known," says Lang of her artistic aesthetic. Her family exposed her to creative environments from a young age, and when you've lived in a world full of art, the structure of it is sure to seep into your everyday—and for Lang, that also includes her movement language. There is an obvious interest in ritual, in organization, and in tasks that are repeated for a particular reason—which is to create an experience.
Schooled at Juilliard, and formerly a dancer with THARP!, Lang has distinguished herself as a fresh voice in the ballet world. She has created works for Birmingham Royal Ballet, Joffrey Ballet, Kansas City Ballet, Cincinnati Ballet, Colorado Ballet, Ballet San Jose, Richmond Ballet and Pennsylvania Ballet, among others. Whether it is through a direct narrative or ideas and images that come together coherently, the ritualistic quality of her movement style is a reprieve from the improvised nature of contemporary dance today.
"I have made a conscious decision to make work that is crafted," she says. "It's like making poetry. It's difficult, but there is so much beauty in piecing it all together."
In Lines Cubed (2012), the stage and backdrop are divided into panels of white and primary colors. The linear quality is reflected in the choreography, as if a Mondrian painting has become three-dimensional.
White, a short film from 2011, made in collaboration with visual artist Shinichi Maruyama, explores the constructs of time and space. The resulting duet of slow motion and real time layers dancers over one another, creating an intriguing mixedmedia work that is not quite film or dance; it's something else: a new medium of movement. (This work will only be shown in Houston).
Also produced in 2011 with Maruyama, i.n.k combines dance and video bringing forth images of Yves Klein's Blue. Here though, everything is done in black and white. The simple gestural score of Mendelssohn / Incomplete (2011) focuses on the natural rhythm and weight of the body.
Among the Stars, the intimate duet whose images have stuck with me for three years, will be staged in both cities.
The Calling (2006), or what is fondly referred to as "the dance with the giant white skirt," is a ballet of lyrical and angular movements that work together to create a hypnotic experience, and A Solo in Nine Parts (2010), which will be staged only in Dallas, is one of the few pieces in Lang's repertoire that uses a bare stage.
On the heels of her stunning debut at Jacob's Pillow in 2012, where her performances sold out, and following her equally successful repeat performance there in August, it's clear that Lang is on the rise. The timing is right for her to begin working for herself. She's committed to her work, and to her company.
"It all happened so quickly," says Lang. "It exists because of me, and I'm not going to leave it anytime soon."