Oscar Murillo (La Paila, Colombia & London, England): A prophecy in the history of things, 2015. Photo by Mark Menjivar.
---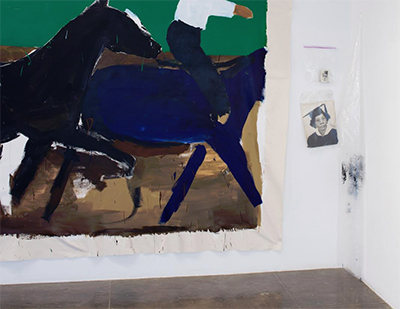 Originally, I thought I would review Oscar Murillo's installation at Artpace. After all, he's the most talked-about artist in the world right now. Since 2011, his prices have shot up from four figures to six. Murillo was discovered by art collectors Don and Mera Rubell, founders of Miami's Rubell Family Collection and his star has only risen since they showed five of his paintings during Art Basel Miami in December 2012, some even going so far as to declare the 29-year-old, Colombian-born artist the new Jean-Michel Basquiat.
Curator Cesar Garcia, co-founder and director of The Mistake Room in Los Angeles scored a major coup by securing Murillo as one of the three artists featured in the Spring 2015 International Artists-In-Residence exhibit on view through May 17 at Artpace in San Antonio. In a New York magazine cover story, Murillo's work is described as "scribbly, urgent and defiantly un-precious painting – which he makes using a broomstick and sometimes stitches together from multiple canvases, often (featuring) 'dirt' among their listed materials and tagged with large enigmatic words."
No such work is on view in his Artpace installation. Instead, Murillo chose to paint a sparkling, large-scale Toyota logo on one wall and suspend eight workmen's coveralls from the ceiling. A small pile of concrete debris and fence wire is on the floor beneath the coveralls and a large, dark tarp is draped on a wall. In one corner, a small drawing has logos for a brand of coconut water, Vita Coco, and Sir Edwards Finest Scotch Whiskey.
Murillo may have been meditating on the Toyota factory in San Antonio while experimenting with a slicker style, but whether he intended any kind of social commentary is not clear and his installation feels unresolved and unfinished. During his artist talk Murillo admitted he was distracted because he was about to become a father, so maybe he should be forgiven for having other priorities.
Los Angeles artist Henry Taylor, however, took the residency to heart. Titled "They Shot My Dad, They Shot My Dad," his installation is a complex, multilayered consideration of the gun culture in Texas, inspired by his grandfather, who was shot in East Texas in the 1930s. Taylor depicts his grandfather riding a horse in his largest painting, which also features two white women looking complacently at the viewer and the ghostly image of a black woman wearing a mortarboard hovering on the horizon. In another painting, a wide-eyed black chauffeur driving a vintage car appears to be trying to outrun a race horse, horses serving as Taylor's symbols of the illusive freedom granted African American men.
Born in 1958, Taylor worked odd jobs before earning a bachelor's degree from the California Institute of the Arts in 1995. He's gone on to have solo exhibitions at the Santa Monica Museum of Art and the Museum of Modern Art's PS1 in New York. Rejecting the "outsider" label, Taylor paints in a loose, old-fashioned 19th-century folk-art style, while using much larger canvases than most folk artists. He also paints on unusual found materials and makes haphazard sculptural collages.
At Artpace, Taylor uses toy guns, bow-and-arrows, clippings, photographs and other objects to trace American history from the Civil War, through Manifest Destiny's impact on the development of the Old West, to the Disneyfication of the Alamo in the 1950s. A picture of Geronimo held prisoner at Fort Sam Houston in the 1880s gives way to a recent Los Angeles Times Travel Section cover touting the charms of the Alamo City. On a recess in the ceiling, Taylor has scribbled drawings and written "Prison" and "Plantation." He also made a sculpture out of cotton plants and a garbage can.
Taylor's approach may be scattershot, and his attitude toward Texas appears ambivalent, but at least he used his time at Artpace to create thoughtful, compelling work.
– DAN R GODDARD
---
Spring 2015 International Artists-In-Residence Exhibition
Artpace
Through May 17