Joey Fauerso, You Destroy Every Special Thing I Make (video still), 2019, 4 channel video, 10:00.
---
San Antonio is having a moment, and it's a good one. The city is in the spotlight as part of State of the Art 2020, an exhibition of works by contemporary artists across the US, on view Feb. 22 through May 24 at Crystal Bridges Museum of American Art and The Momentary, the museum's new satellite venue. Of the 61 artists in the exhibition, seven are Texans, and San Antonio is home to three: Jenelle Esparza, Joey Fauerso, and Mari Hernandez.
It has been 10 years since Crystal Bridges opened in Bentonville, AR, and The Momentary, also in Bentonville, opens its doors in conjunction with the opening of State of the Art 2020 and will serve as a home for contemporary performing, visual, and culinary arts.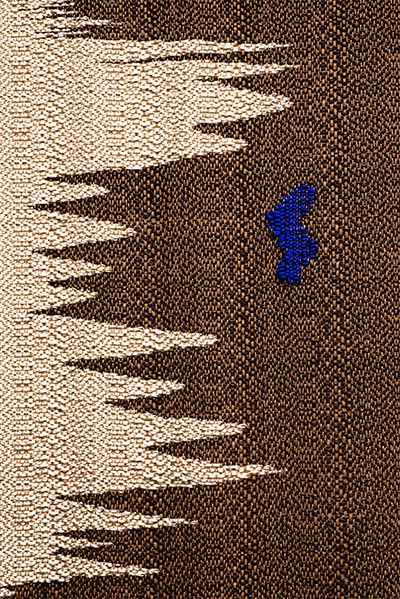 "It was as simple as a studio visit," says Esparza, referring to how the potential opportunity became an actuality. She was an Artpace artist-in-residence in 2018 when she created Gathering Bones, a series of textile works, two of which are included in State of the Art 2020, each looming large at approximately 85 inches long.
Though formally trained in photography, Esparza explains she is constantly shifting gears in her work. For example, due to her interest in and familial connection to cotton, she taught herself to weave. "I work a lot with cotton fibers because of cotton's history—as a cash crop and because of its tumultuous history in America. And because I come from generations of Mexican American cotton pickers in Texas," she says.
She was interested in examining a heritage narrative, focusing on the cotton fiber, the plant itself, and the dirt in which it grows. Compelled to connect with and share that history, she wanted to do something physical with her body and weaving seemed fitting. The weavings combine natural brown fibers with standard white cotton, representing the body in association with labor and other bodies in the places where labor happens (for example, cotton fields). The pattern depicts a scar tissue of sorts, representing the stress and strain of labor, the strength and resilience of the body over time.
"I work around material and I let it guide my process. I hope people notice that the works are made of cotton, and they take it from there. The works are Earth tone, skin tone, and I hope people put a story together."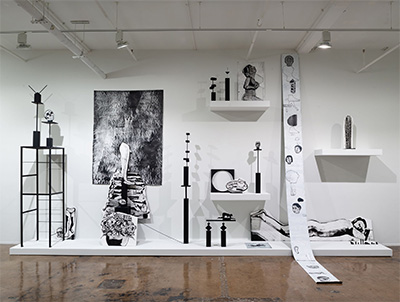 Artist Joey Fauerso also thinks about the body in her creative process, with aspirations of transcendence. "In the studio, in artmaking, I am completely engaged in the process and outside the analysis that happens during the rest of my day."
Fauerso grew up in a Transcendental Meditation community in Iowa in the 1980s. Aspects of those teachings show up in her work today as black-and-white ink drawings, paintings, sculptures of mountain silhouettes, stacks of wood logs, disembodied heads, human figures, textures, patterns, even performance—all in the form of modular components that fit together as parts of various systems.
"I think a lot about the deconstructed body and landscape…how we exist in space, how we are portrayed. This modular way of working, of installation, allows me to think about those ideas in flexible, ever evolving ways."
Her installation Devotion Story, included in State of the Art 2020, "interweaves personal experiences with bodily transcendence, and those stories are constructed through the arrangement of modular pieces," she says.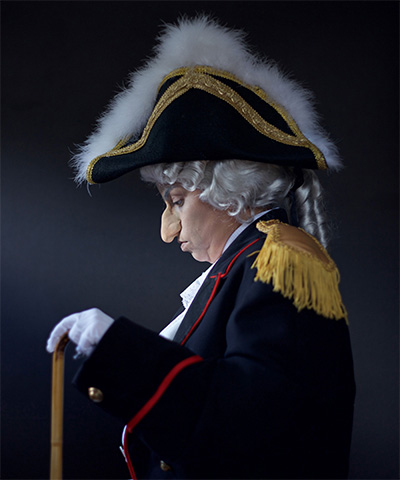 Mari Hernandez creates individual works that are also meant to be seen as a collective group: images of history that bump up against each other. "They are all self-portraits…a form of storytelling based on regional Southwest history, Chicana identity, and the Mexican-American experience," she explains.
By using prosthetics and other forms of mimicry, she literally "faces" complex historical themes such as war, power, and struggle, all the while wielding humor as a powerful narrative tool. "One of the best ways to address heavy topics is to use humor. Because I deal with such heavy topics, I don't want to be too heavy-handed. It's a way to draw people in. It's also a way to feel comfort within myself since I am uncomfortable with a lot of these issues."
For example, she has transformed herself into Julia Pastrana, a 19th century indigenous Mexican woman who was exhibited in sideshows as "The World's Ugliest Woman in the Word" and into character archetypes (physical manifestations of emotion and perception) such as Maria Guadalupe and Manifest Destiny, to name only a few. State of the Art 2020 features two of her self-portraits: Colonizers and Los Hermanos.

"When I first started using prosthetics, I was focused on making them look natural. But because my work is about false narratives, it didn't add anything. It wasn't what I wanted. So now I keep everything raw. You can see the prosthetics which helps the story become clearer."
—NANCY ZASTUDIL