Steve Parker, Sirens: Brass, plastic, conduit, and recorded voices. Photo by Jose Lozano. Sirens is on view as part of Steve Parker's Tito's Prize Exhibition WAR TUBA RECITAL, Oct. 19 – Nov. 18 at Big Medium.
---
For his Tito's Prize-winning exhibition, the Austin artist creates cacophonous new sculpture
Steve Parker uses the two-car garage attached to his North Austin home as his studio. He frequently has the garage door open, a tangle of brass instrument parts and simple electrical components (color-coded wire, plastic wire nuts, switches), on view to his neighbors.
A few of them have asked: Does Parker repair brass instruments, fix the worn and dented trombones, tubas, trumpets and French horns, so they can make music again?
"It always makes for an interesting conversation starter," says Parker.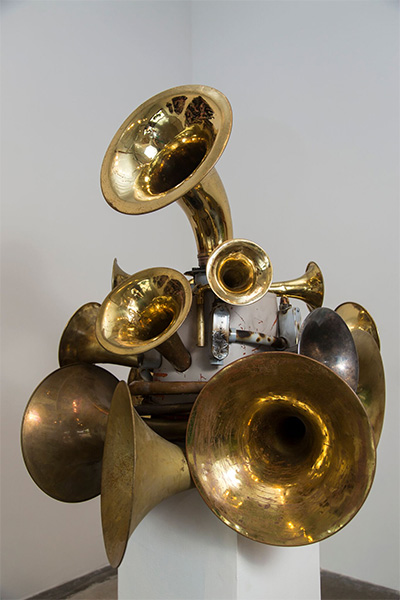 Parker is the recipient of this year's Tito's Prize, a $15,000 cash award funded by the Texas vodka company and administered through Austin arts organization Big Medium, who give the winning artist a solo show staged during the East Austin Studio. Initiated last year, the Tito's Prize is the largest cash prize granted to an Austin visual artist.
Parker, though, is by training a musician — a trombonist, specifically — who studied music at Oberlin College, Rice University and the University of Texas, where he obtained his doctorate at the Butler School of Music.
His expansive practice makes Parker already a well-known figure on Austin's cultural landscape for his performance events that involve putting unusual combinations of musicians and sound-makers in non-traditional — and mostly public — places. Parker's happenings are civic rituals of a sort, communal and democratic. He's performed at the Lucerne Festival (Switzerland), MASS MoCA, the Lincoln Center Festival and the Guggenheim Museum, among other institutions.
Intellectually, Parker's projects investigate the formal and conceptual properties of sound and music. But they do so by employing no small amount of humor, whimsy and a geeky sense of fun.
Parker was serving as the Blanton Museum of Art's first-ever artist-in-residence in 2011 when he launched the now ridiculously popular afternoon-long Soundspace events. Parker puts musicians — and dancers and actors — in every conceivable space from the museum's galleries to its elevators, allowing the audience to come and go as they please.
Traffic Jam is Parker's acclaimed piece for a chorus of vehicles — cars, bicycles, pedi-cabs and carhorns — re-staged at Art Basel Miami Beach after its 2015 debut in Austin
For the 2016 Fusebox Festival, Parker's Bat/Man sprawled on, around and under Austin's Congress Avenue Bridge. The composition was performed by a megaphone choir, a conch shell ensemble and a live audio feed of 1.5 million Mexican Free-Tailed bats the live under the bridge. For the 2018 Fusebox, grackle calls were the focus of Parker's city-sprawling, collaborative performance-cum-birding-tour.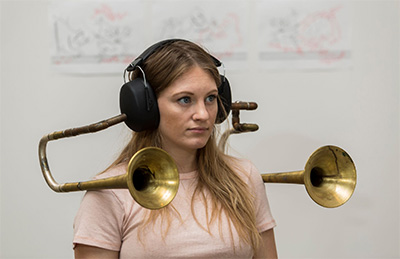 The temporality of such singular happenings has its own kind of artistic allure. Expending an enormous amount of creative production, coordination and rehearsal for an impossible-to-replicate event can be exhilarating.
It can also leave some artists wanting more.
"All my training as a musician focused on the performance — events that as a musician you walk away from after you're finished," says Parker. "But artistically, I think I've grown more curious about what I create having a life of its own, beyond a performance. I want the things I make to have resonance when I'm not there."
For the past several years, Parker has increasingly spent more time making sculpture from instrument parts and other simple materials: bicycle parts, hobbyist-level electrical components or pretty much anything you can buy at a home improvement store. Many of Parker's sculptures to date have been playable by the audience, or intended as low-tech listening devices. And they have popped up as temporary installations in city parks, the Austin City Hall parking garage and most recently at the Lady Bird Johnson Wildflower Center.
War Tuba Recital — Parker's Tito Prize exhibition on view Oct. 19 through Nov. 18 — features a new body of sculpture that expands on ideas he's explored before — chiefly how sound is used during instances of conflicts.
War tubas  — the enormous acoustic locators fashioned during WWI before radar was perfected in order to listen for enemy aircraft— fascinate Parker, their gigantic horns resembling giant brass instruments. Civil defense sirens too hold allure for Parker, not just for the manner in which they use sound as a warning, but with their hulking presence in the build landscape.
Ideas too for his new body work came from other sources. Parker delved into the propaganda cartoons designed by Theodor Geisel, aka Dr. Seuss, and used by the U.S. Army. Geisel's fluid lines resonate in a series of cartoon-like drawings Parker made for the exhibition.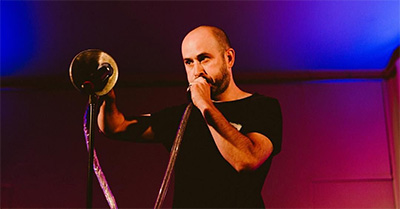 As he has for previous sculpture, Parker also turned for inspiration — and geeky fascination — to the Ghost Army, a WWII tactical deception unit of the Allied Army that used, among other stagecraft, phony radio transmission and vehicles with enormous speakers that blasted pre-recorded soundtracks of advancing troops.
Parker's War Tube Recital is a cacophonous exhibition, each of the sculptures emitting sound of one kind or another.
"I'm suggesting that sound be considered almost like an object, and how that changes our relationship to it," says Parker.
Jurors Mellard and Nance both mention the depth and strength of Parker's proposed exhibition as crucial to their decisions to select him for the Tito's Prize.
Nance, who only became acquainted with Parker's work through the review process, said Parker's bifurcated artistic practice impressive.
"I think his not being a 'gallery artist' was a strength in his application as it demonstrates his ability to navigate between different types of practices that could be presented in a number of places," says Nance.
Mellard has worked with Parker on a number of sound performances at the Contemporary Austin.
"Drawing on a wide range of wildly diverse inspirations isn't new for Steve nor is teaching himself new ways of making art that employ sound," she says. "The gallery is a fairly new territory for Steve and I and the other jurors were captivated by his ideas of how he'd use it."
"(Gallery-based work) demands a different sort of rigor," Parker, says standing in his garage. "A kind of rigor that's new for me."
"Sound affects us in very profound ways, physically and emotionally," he observes. "And I'm fascinated by how we use it, for good and in conflict."
—JEANNE CLAIRE VAN RYZIN