Artists of Houston Ballet in Stanton Welch's Velocity.
Photo by Amitava Sarkar.
---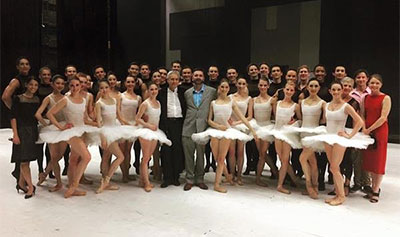 Houston Ballet's reputation in the Bayou City is solid, as it is in Texas and across the nation. Building an international stature requires more high profile touring, which is exactly what happened this past summer when the company made its debut in Germany at the Hamburg Ballet Days Festival, July 7-8, 2015.
Touring is not just about growing a reputation, but sharing the wealth of what the company has achieved in Texas. Houston Ballet's recent performance of La Bayadère in Alberta, Canada, garnered stellar reviews. When the company toured Spain, the enthusiasm was also palpable. Houston Ballet Artistic Director Stanton Welch came to this city with an international resume. Why not let the rest of the world see what all the fuss has been about?
With artists from all over the world dancing works from internationally renowned choreographers, Houston Ballet is truly a global company.  In order to continue to draw the world's leading talent, trips like the Hamburg performances are vital to ensuring Houston Ballet remains a major force in ballet, both locally and abroad.
"Our invitation to perform at the Hamburg Ballet Days is a great honor," said Welch. "I'm proud to present our unique repertoire and to share the company's talents with this audience. Their reaction to our first performance is validation of the immense talent that Houston Ballet continues to develop, nurture and display across the world."
First Soloist Jessica Collado finds touring a critical component of a ballet company's agenda. "Not only is it great for Houston Ballet to get exposure in cities around the world, but it puts us on the map as being a high caliber company worth coming to see," says Collado. "Our company is extremely talented. Coming to be a part of a wonderful festival like this one, in such a dance cultured city, only let's us grow as artists and continue to push ourselves."
At the festival, the company performed a triptych of  Welch's most popular and enduring works: Tapestry (2012), Maninyas (1996) and Velocity (2003), demonstrating three distinct flavors of Welch's choreographic style.
Set to Mozart's lively Violin Concerto No. 5, Tapestry expresses Welch's more romantic side. Nichelle Suzanne of Culturemap described the ballet as,"Daring, inventive and occasionally just plain jaw-dropping partnering punctuates the entire first section….Welch has played on the strengths of his versatile dancers and woven something that, devoid of pretentiousness, feels fresh and exciting."
Maninyas, set to Australian composer Ross Edwards' Concerto for Violin and Orchestra, reveals the choreographer's earthier edge.  All fire, sass and drama, Maninyas spins its sultry spell as a ballet battle of the sexes unfolds in this highly sensual dance theater piece.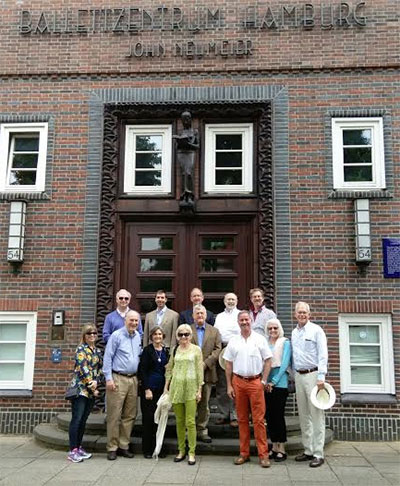 Welch's powerhouse white ballet, Velocity, originally created for The Australian Ballet, is always a rousing crowd favorite wherever it is performed. The lightening-fast pace and breathtaking ensemble formations, combined with Welch's finesse in showing off the technical prowess of the dancers, make this ballet edge of your seat exciting. DL Groover, who attended the festival, praised the company's performance of Velocity in this Houston Press review, "Welch's piece is all bravado, a brilliant close to an evening that left the Hamburgers in noisy awe."
It's rare that an audience gets to see such a wide range of work in one evening from the Welch canon. This particular mix hit all the right notes, according to the the German daily newspaper, Die Welt, which raved about the entire performance as "a triumph"and "a phenomenon."
The trip came about because of a confluence of forces, notably John Neumeier coming to Houston to stage A Midsummer Night's Dream to open the 2014/2015 season. That event was years in the making itself, as Welch worked to get Neumeier and his masterwork to town.  When Neumeier finally got here, he was so impressed by the quality of the company that an invitation to dance at the festival followed shortly afterward. Other than San Francisco Ballet, Houston Ballet is the second American ballet company invited to perform at the festival.
After the debut, Mr. Neumeier praised Houston Ballet's abilities, from the caliber of the choreography to the superb dancing. As expected, the audience went wild with a full standing ovation and many curtain calls.
Six Houston Ballet dancers were invited to perform excerpts from Stanton Welch's Clear and Sons de L'âme in the Nijinksy-Gala at the close of the festival, including Principals Ian Casady, Karina Gonzalez and Connor Walsh; First Soloists Jessica Collado  and Aaron Robison; and Corps de ballet member Chunwai Chan.
"Stanton's pieces were a lovely addition to the gala program. Bowing at the end of the performance, alongside some of the worlds biggest ballet stars, with a bouquet of flowers in my hand and confetti falling from the sky. Those are moments that I will remember forever," recalls Collado.
Touring isn't just life-changing for the dancers and audiences. About 30 Houston Ballet trustees and guests traveled to Germany, and enjoyed a number of exclusive opportunities, including a private reception hosted by Houston Ballet President Phoebe and Bobby Tudor at the U.S. consulate in Hamburg.  Angie Lane, Houston Ballet's Chief Development Officer, finds that a first hand experience of touring can be also a wonderful opportunity for the trustees and donors. "To see the dancers' pride and so much positive feedback was just incredible for all of us," recalls Lane.
Lane recalls a particularly moving evening when Neumeier and Welch shared their mutual respect for each other, with Welch talking about Neumeier's mentorship and Neumeier's admiration for all that Welch has achieved at Houston Ballet. "To be able to witness this meaningful exchange deepened our appreciation for all that we do at Houston Ballet," says Lane. "The trip was also about building relationships and making new friends. Forging those bonds makes everyone feel more connected to the dancers and the organization."
The company also enjoyed having some familiar faces along. "It was very special that so many of our Houston patrons were able to come and support us in Hamburg," says Collado. "Hopefully, it was gratifying to them to see how our company was so well-received by German audiences."
The Hamburg performances were such a success that a trip is already on the books for next summer, when Houston Ballet brings Welch's lavish version of Romeo and Juliet to his hometown in Melbourne, Australia, June 30 – July 9, 2016, as the global demand for Houston Ballet continues.
—NANCY WOZNY
Reprinted from Playbill.