Houston dancer/choreographer Laura Gutierrez will be performing as part of CounterCurrent 2018, April 10-15, 2018.
Photo by Amitava Sarkar.
---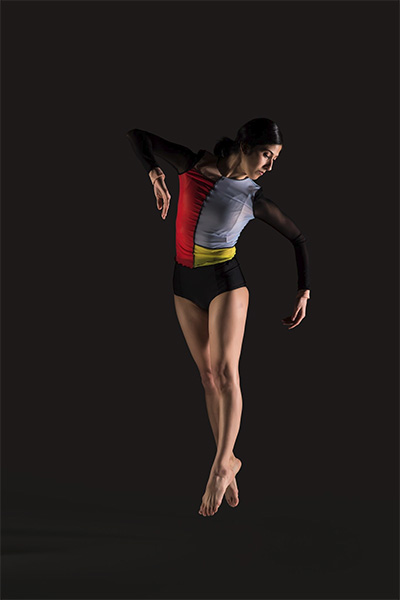 Let's be honest, things are a bit crazy right now, no matter which side of the political aisle you're on. Has the 1960s phrase "the personal is political" ever had such resonance? In the hands of artists, the inherent truths of the sentiment have become considerably more evident.
One artist has literally occupied the aisle—though probably not the kind you assume. Choreographer Laura Gutierrez's new dance work is titled Center Aisle Blues, created for CounterCurrent, a free festival of performance, installation, and ideas presented by the University of Houston Cynthia Woods Mitchell Center for the Arts. More specifically, she created it to be performed in the Fiesta Mart grocery store located in the Midtown area of Houston.
CounterCurrent, now in its fifth year, takes place April 10-15 at various sites throughout Houston. The 2018 lineup includes artists—mostly women of color—from Costa Rica, the UK, and throughout the U.S., including Houston. And in true Mitchell Center fashion, the festival is presented in collaboration with partners citywide. CounterCurrent is arguably one of the most politically personal festivals taking place in Houston, its impact rippling through and beyond the confines of the city.
Mitchell Center director Karen Farber says, "For us, artists lead the way since we really don't know what the festival will look like until we choose the artists for that year. As we hear what they are working on, and find themes, we begin to know where artists—and often our society as a whole—are headed. This is especially true since so many CounterCurrent projects are new works."
Center Aisle Blues, co-presented by DiverseWorks, and described as "a traveling performance to challenge concepts of performance and place," stems from Gutierrez's childhood memories of Fiesta and is connected to some of her more recent political realizations. The artist, who splits her time between Houston and New York City, explains, "For the past year, I've been focused on where we're at politically and culturally, as a society, and asking 'What's the purpose of my work? What impact am I having?'" she says. "I'm trying to understand my beliefs, why I go for this and not that, and the effects of how and what I communicate through my work."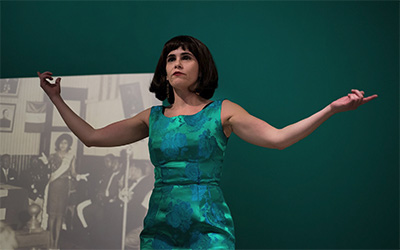 Situated in the grocery store, the title refers to the center aisles—you know the ones—that mostly contain the foods we are told to avoid if dieting or simply trying to eat healthier. If, however, we are trying to save money or simply don't have much money to spend, those center aisles are our go-to: the cheaper, packaged foods with a longer shelf life than the more expensive, perishable produce on the outer aisles.
Xandra Eden, Executive Director and Chief Curator of DiverseWorks, first talked with Gutierrez about the piece last year as a potential DW production. But the piece was a good fit for CounterCurrent in both content and timing, and once they connected with Pia Agrawal, the Mitchell Center's powerhouse program director, the collaboration was in full swing.
"In addition to choreographing the material I'll be performing," says Gutierrez, "an important element to this piece is also choreographing how the audience views the dance, how they move through the space; it's not just me leading them through the store. My goal is to disrupt the natural shopping environment as little as possible but also to highlight the beauty and uniqueness of the store." Perhaps this is her way of encouraging people to talk, to work, across the aisles in areas of politics, too.
The relationship between identity and food are central to the work of other artists in CounterCurrent works as well. Selina Thompson, an artist and performer based in Leeds, England, uses her art to address the politics of identity, including the fat body, dieting, control of food as well as topics of black identity and unemployment. For each iteration of Race Cards, an ongoing installation, archive, and research element of her larger project As Wide And As Deep As The Sea, Thompson installs and reads 1000 questions, inviting audiences to answer just one of them. For example, "Why do people assume that racism will just passively die out if we wait long enough? And "When does it all end?" Readers can experience the piece this year at Fusebox in Austin as well.
The black body is also the focus of Okwui Okpokwasili's work in CounterCurrent. "I am here and this is what's happening to me," she says in Bronx Gothic, a film directed by Emmy-nominee Andrew Rossi about Okpokwasili and her Bessie-winning, 90-minute one-woman show, Bronx Gothic. As part of Performing the Neighborhood, the Mitchell Center's five-year initiative with PRH (Okpokwasili is also Mitchell Center/Project Row Houses Artist-in-Residence), CounterCurrent audiences will have the chance to see the film in its entirety.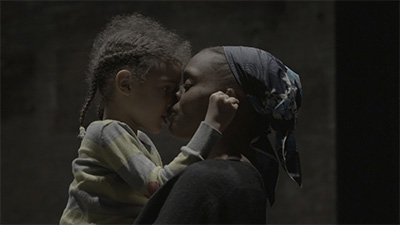 Okpokwasili is a Brooklyn-based writer, performer, and choreographer, and the daughter of Nigerian immigrants. For the past two years, she and her partner Peter Born have been developing a new work under the auspices of Performing the Neighborhood. According to Farber, "the work will incorporate the idea of a 'collective song,' and will be inspired by a protest method called 'sitting' that is practiced by Nigerian women.
When New Yorker contributor Hilton Als saw Okpokwasili's performance of Bronx Gothic, he wrote, "…the top of my head blew off," which is to say the piece is extraordinary. Using dance, song, drama, and comedy to "create an intimate look at what it means to be a black girl coming of age in the 1980s," audiences are compelled to watch Okpokwasili as she performs her truths, moving between dance and convulsions, gesture and glitch, expression and exorcism. "Maybe Bronx Gothic creates visibility for the invisible," she says.
CounterCurrent attendees will recognize visibility and identity themes in other festival works such as Patronas y Conductas by international performance artist, cultural activist and UH alumna Elia Arce which responds to another artist's work: Contemporary Casta Portraiture: Nuestra "Calidad," an exhibition and ethnographic art project by Delilah Montoya, a Chicana Artist and UH professor. The genealogy, identity, and memory thread continues with Kinswoman, a bilingual exhibition and performance by multi-disciplinary artist Karina Aguilera Skvirsky and presented in collaboration with Aurora Picture Show.
Additional works presented as part of CounterCurrent are Horse Dream Horse by Cynthia Woods Mitchell/School of Art fellow Mateo Tannatt who works in a variety of media and approaches performance as a sculptural experience. Horse Dream Horse is a "physical translation" of the 1965 Andy Warhol film Horse.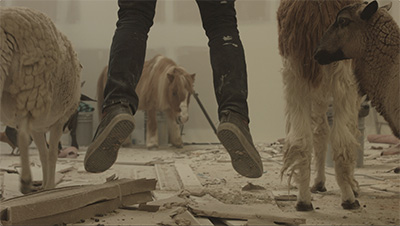 Since no one ever knows exactly what The Yes Men will do, readers will want to be on the lookout for what they are bringing to the festival. They will be in town, sharing their activist strategies with local artists and others. Horn Concerto (with Houston Art Cars) returns for a CounterCurrent performance, as does Ten Tiny Dances, curated by Harrison Guy and Agrawal—this time with a "color" theme—and Current Conversations, curated by Houston artist Carrie Schneider.
When asked if she sees the "artists lead the way" approach as unique to CounterCurrent, something that sets it apart from other festivals, she says, "I do believe it is a defining characteristic of CounterCurrent. We believe in artists' ability to engage with contemporary issues in ways the rest of us haven't yet considered. Why? Because artists—CounterCurrent artists, certainly—are seeking a means of connecting with the world and responding to it…sometimes seeking to improve it, creatively. No other field is this wide open, and this cross-disciplinary."
—NANCY ZASTUDIL