Chesley Antoinette is a Dallas-based multidisciplinary artist whose soft sculptures elevate humble materials to regal new heights. She works in fabrics and all sorts of found, reclaimed, and recycled materials, including seat belts, zip ties and straws from 7/11.
"I sort of fell into the fiber/textile category," says Antoinette, who received an M.F.A from the University of North Texas's recently discontinued but nationally renowned Fibers Program. "Finding a balance between sculpture and craft became my practice, exploring ubiquitous materials and creating wearable forms."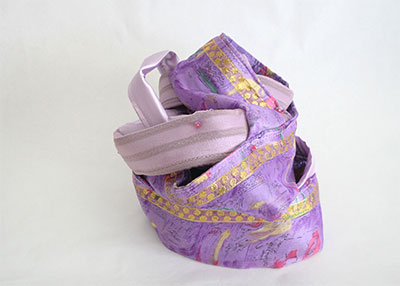 Her most recent show Tignon—initiated at the South Dallas Cultural Center before going to Texas Woman's University and Fort Worth Cultural Arts Center—is an example of how Antoinette layers materials and techniques. Her turbans are made with fabrics such as cotton, satin, velvet, and silk, but also include plastic beads, metal chains, vinyl, grass, and even painted wooden birds. Her forms are varied, turbans wound tightly like golden skyscrapers, or loose and flowing like waterfalls.
There is a material sensuousness to Antoinette's work; one can imagine her going through the world spying things that someone might discard and rescuing the material from the landfill by placing it into her studio. In fact, her Oak Cliff studio is overflowing with fabrics and materials, sewing machines, and bright colors and patterns. "I think about the materials first, and what I want to do with them; then I think about the subject," she adds.
After completing over 50 wearable sculptures for the show, she decided to create a photoshoot with models dressed in period clothing wearing her turbans or tignons. The Tignon law was an edict in 18th century New Orleans that ordered women of African descent to wear a handkerchief or head wrap while in public. Antoinette says that although head wraps and turbans are technically the same, that "The turban will always cover the top portion of the head and a head wrap would typically expose the top portion of the head." The juxtaposition of these bright sculptures on the descendants of slaves, referencing their ancestors in the photographs, is striking. There is a regalness to what Antoinette is doing, a sort of historical futurism. She unearths the history of the head wrap and its close kin the Sunday head piece and reimagines it as contemporary sculpture.
In her show, which featured the wearable sculptures, photographs, and primary source documents explaining the history of the Tignon law—one starts to appreciate the fullness of Antoinette's practice. She has the physical skill of a master craftsperson, the vision of a conceptual artist, and the research instincts of an ethnohistorian.
Collaboration is often a part of Antoinette's work. "Choosing to collaborate, you're not just physically making art anymore, but also taking on the role of art director/curator, in organizing a vision that includes others." Her series Tessellated Fold is a fiber art installation that involves sound art, video, dance, and performance. The purples, fuchsias, and soft pinks folded on themselves, wrapped around wooden stretcher frames. They could be paintings, or a sound booth, but they definitely came from the future. She worked with musician Lily Taylor, media artist Sean Miller, and Brown Girls Do Ballet company to activate, wear, and bring the multi-dimensionality of her work to life. She is also working with the community in her "Heart of the Head Wrap" workshop, where she teaches women about the history of the 1786 Tignon Law, and how the head wrap became a symbol of rebellion—subverting intentional oppression by enhancing beauty, intelligence, and adaptability.
Besides attention to materiality and collaboration, the last through-line of Antoinette's work is sustainability. From her earliest work to present, Antoinette has reused old floppy disks, roofing materials, mini clamps, headphones, cardboard, plastic straws, and Jet magazines. "I learned earlier on that sustainability has three parts to it—social, economic, and environmental. Materials have always dictated my concepts and process; I love the mundane, especially in objects where the focus is adding additional value and function."
—DARRYL RATCLIFF