With ten sold-out shows in a span of two and a half years, including the Stephen Friedman Gallery in London and Vielmetter Los Angeles, Deborah Roberts is experiencing a deluge of success. Her works have been acquired by LACMA, the Brooklyn Museum, the Studio Museum in Harlem and the Whitney. She's currently working on her first Texas museum exhibition at the Contemporary Austin, slated for a 2020 opening. Along the way, she's had a few "pinch-me" moments, like when superstar Beyoncé snapped a selfie in front of her own Deborah Roberts piece and then shared it with her 132 million Instagram followers.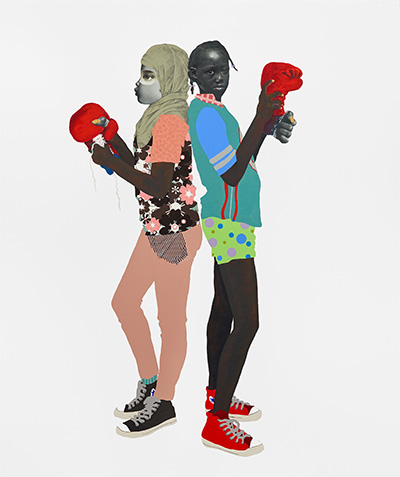 On a scorching Tuesday in August, Roberts is busy working in her Austin studio surrounded by an accomplished group of female studio assistants, all with master's degrees. In the midst of all the acclaim, Roberts remains resolutely focused on creating art that's both apposite and profound.
She spent her early career producing what she calls "black romantic" paintings à la Norman Rockwell to sell at street fairs and educational conferences. According to Roberts, her work shifted thematically because "the images that had been projected through the media of black people and what I was actually painting weren't the same thing." Moreover, while in graduate school at Syracuse, she'd drawn a nude of a young African-American girl and was admonished by a male studio visitor that "you're going to get in trouble for that." His warning propelled Deborah Roberts down a path to investigate the incipient womanhood and sexuality of African-American girls and how that complicated developmental narrative has been shaped by society.
Soon after, she was given the opportunity to present her portfolio to renowned art critic and former LACMA curator Franklin Sirmans, who advised her to focus on one thing and do it twenty times until she was able to work it out and see what happens. She returned to Syracuse and used an image of herself from elementary school as the basis for a series of collages. With titles like Hoodratgurl, these self-portraits began a decade-long investigation of identity and the maturation challenges of African-American youth.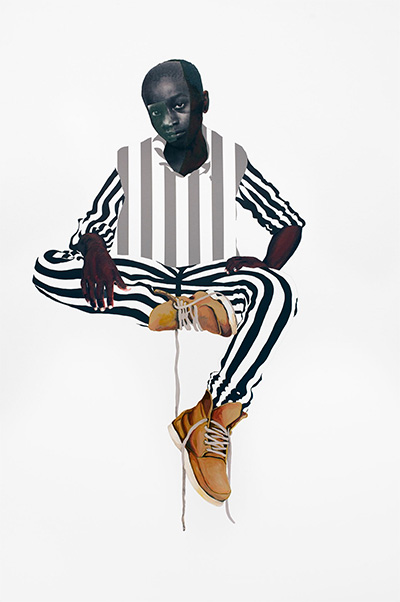 Roberts tackles issues surrounding African-American identity through her mixed-media works which combine appropriated images with pencil, ink and paint. One of her main intentions with her collaged girls is to illustrate their adolescent purity and playfulness, with her subjects dressed in vibrant colors and exuberant patterns. She remembers embracing fashion as an early act of independence and captures this by painting their delicate figures with zany combinations of polka dots and stripes.
The celebration of the African-American girl as innocent, sprightly and full of potential is meant to contrast with a societal portrayal she sees as oversexualized and, at times, marginalized, while also challenging standard definitions of beauty. When we visited, she was working on a new series entitled "that's not lady-like" in which girls sit in comfortable and carefree positions which might be deemed provocative by societal standards. In one of her most insightful pieces, Red, White, and Blue, from 2018, Roberts poses the question, "What are you most afraid of?" Two girls, dressed in typical young American garb and sporting Converse All-Star sneakers, stand back-to-back against a stark white background. One girl is African-American, the other wears a hijab, and each holds a cherry-red boxing glove. Their demeanors convey seriousness and determination. Poised to don the gloves and counterpunch against discrimination, they literally have each other's back.
Roberts has also widened her lens to delve into the racial and social issues around young black boys in America. It all began with series on George Junius Stinney Jr., whose photograph she encountered while searching for a mugshot of Martin Luther King. Stinney was convicted of murdering two white girls, ages 7 and 11, in 1944, in his hometown of Alcolu, South Carolina. At 14, he was put to death by electric chair. At just over five feet and weighing only 90 lbs., his executioner used a Bible as a booster because he was too small for the device. While his conviction was vacated in 2014, he remains the youngest American to be sentenced to death and executed.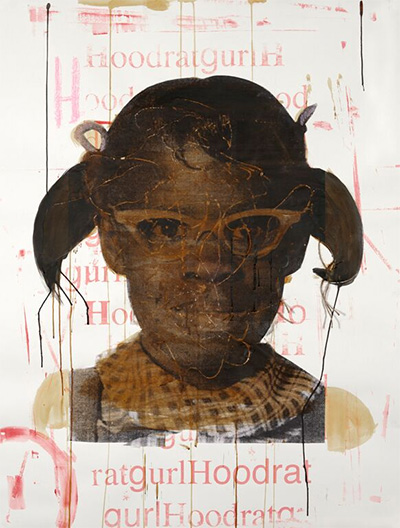 Moved by his story, Roberts was inspired to create a series about Stinney–a timely subject when social injustice is at the forefront of our national conversation with a string of unarmed African American boys killed by police. Using the same spirited palette, her collaged portraits of boys tackle ideas of toxic masculinity and racial bias. Her intention is to illustrate the youthful innocence that's so quickly stolen from African American boys.
According to Roberts, her point of departure for this work is the notion that "law enforcement sees black boys as older, dangerous people and not little boys just in need of some discipline." In these works she has often used fragments of the late James Baldwin, like an image of his eye collaged on the face of a boy. Baldwin, an American novelist, playwright and searing critic of racial injustice in his country, is a fitting inclusion in the story Roberts is telling. From October 26, 2019 to August 30, 2020, Roberts's portrait of George Stinney will hang in the National Portrait Gallery in Washington, D.C., as a finalist in the 2019 Outwin Boochever Portrait Competition. One can't ignore the poignant notion that this young African American, who was ignominiously buried in an unmarked grave, will have his likeness on display in one of our country's most prestigious institutions.
While exquisitely rendered and pleasing to the eye, Deborah Roberts's works contain powerful and timely themes. In her words, her creations are "honey on top of the medicine; when you take that medicine, it tastes sweet, but it works your body." Her medicine acts upon our consciences and the deep-rooted biases that regrettably still exist in our country. Piece by piece, Roberts hopes to challenge her viewers to think long and hard about the plight of black youth. In the piercing words of James Baldwin: "It is certain, in any case, that ignorance, allied with power, is the most ferocious enemy justice can have."
—ILLA GAUNT