Delita Martin, Trinity
Acrylic, Charcoal, Decorative Papers, Hand stitching, Liquid gold leaf, Relief printing
8ft 6in x 6ft (Unframed)
2019
---
At the end of her 1982 Pulitzer Prize-winning novel The Color Purple, author Alice Walker concludes with a single sentence, a final acknowledgement of sorts: "I thank everybody in this book for coming." The sentence is a poignant expression of gratitude, yes. But it is also a subtle statement about the writer's process. The early 20th century rural community of black women sharecroppers, domestics and blues singers who come to life in the novel were not merely created by Walker. She was their conduit. They were of her imagination and yet they also hailed from an alternative, ancestral plane. What we read on the page is the result of a symbiotic push-and-pull, wherein Walker was at once operating as both writer and medium.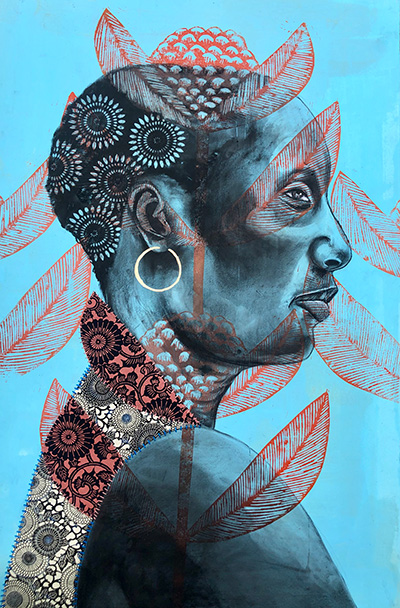 When I visited artist Delita Martin at her Black Box Press Studio this past December, it became clear over the course of our conversation that her bold, multi-layered prints of "everyday" working-class black women emerge through a strikingly similar kind of spiritual traversal.
"I'm kinda like a vessel. I mean, the work comes through me. Not because of me, but through me. So that's how I work. I have the responsibility on the formal end—but the spiritual, I have to allow. I have to keep myself open enough to be able to allow that to come through."
Comprised of various elements, including drawing, sewing, painting and collage, Martin's prints are monumental in scale and depict two types of black women figures: those that are based on the artist's photographs of black women sitters/models and those that Martin refers to as "spirit women."
These latter figures, often depicted as shadow or masked forms, materialize organically through her art practice. They are based on an intergenerational compilation of, as Martin puts it, "my mother, my grandmother, the lady down the street, the lady at the grocery store. They are us, they are all of us." In staging ethereal connections between black women in the physical world and those in the spirit world, Martin unsettles the boundaries of time and space while also exploring the mystical aspects of self-exploration and identity.
It should come as no surprise that notions of spirituality and otherworldly dimensions figure prominently in Martin's printmaking. After all, she was first introduced to the process through what one might consider a serendipitous encounter. While she was an undergraduate drawing major at Texas Southern University (TSU), Martin stopped by the art department one Saturday to pick up her sketchbook. There, she came upon renowned Houston artists Dr. John Biggers, Harvey Johnson, Charles Criner and Earlie Hudnall gathered in the printmaking room working with a lithograph that Biggers originally created back in the 1960s and 70s. Martin slipped into the room and perched on a stool to watch, mesmerized by the process.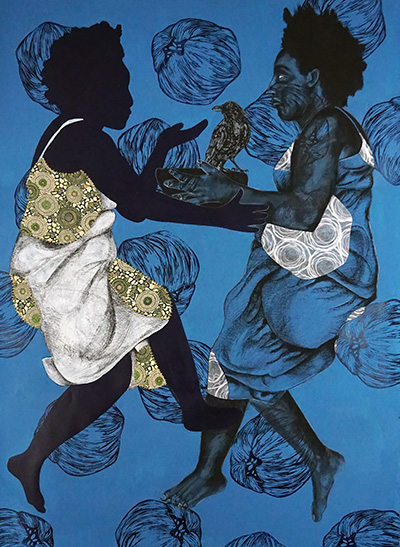 "I'm just sitting there on this stool and I'm thinking to myself—there was this beautiful piece of artwork that looked just like a beautiful drawing being pulled off the press, but you looked at the table and there's these chemicals and all this printmaking equipment and materials. And it's like, how could something so complicated look so beautiful and flawless in the end?"
Even more remarkable was the synergy that emerged between the artists as they each applied a different element to the work. "There was this magical dance that was happening between everybody in the room. This energy that was just flowing around. Dr. Biggers was in his robe and slippers and he was signing [the prints]. Harvey was wiping. Criner was rolling and Earlie was photographing…and it was just pure magic." The moment proved to be a seminal one in Martin's training. When she went on to graduate school at Purdue University, she chose printmaking as her focus.
Since entering her studio practice full-time in 2013, Martin's work has garnered widespread attention from collectors and curators alike. She is currently working on an upcoming solo exhibition at the National Museum of Women in the Arts in Washington, D.C., entitled "Calling Down The Spirits." The works that will appear in the show reflect the ways that Martin has managed to re-create  through the mixed-media in her solo printmaking practice some sense of the magical synergy that she first witnessed back at TSU. Black women figures, who are depicted in relation to objects such as birds, bowls and masks, are embellished with tactile fabrics and ornamentation that are applied through detailed hand-stitching. The stitching is magnified by bold colors and circular patterns that dominate the work and at times complement and at other times maintain a generative friction with the black women figures.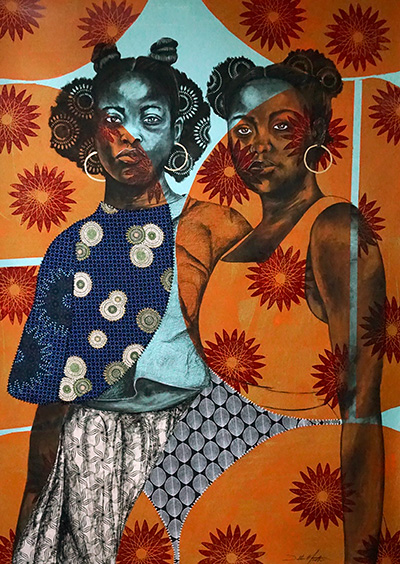 Inspired by Martin's memories of quilting with her grandmother as well as her own rigorous study of African aesthetic and spiritual traditions, each of these elements and their specific placements in the pieces work together to signify what the artist refers to as a "visual language" that transmits certain ideas about the human spirit, freedom, generational lineage and death.
Through her work and practice, Martin is situated within a tradition of black women creatives, including Alice Walker and others, whose artistic craft is constituted by journeying forth into black women's unseen, yet ever-present "otherwise worlds." But while Walker merely hints at these worlds in her concluding acknowledgement, Martin's work places them in the foreground, entreating us to enter into and explore their instructive and expansive possibility.
—JESSICA B. DAVENPORT