Lovie Olivia is an artist living in, and hailing from, Houston, TX. I have visited this studio before, when I wrote about Olivia's partner, Preetika Rajgariah. It's different this time, though; during my first visit, the pair were using the space as a home as well as a studio, but have since transitioned to living elsewhere. The integration of the two artists is still beautiful.
Rajgariah has the front half of the apartment and Olivia has the back, including the kitchen—appropriate given her current and forthcoming work with food. Rajgariah's fabric paintings and sculptures float along the walls when you walk in, and Olivia's striking gallery size paintings hit you right in the face as you walk further in. There are bits of sculpture, tools, and a pasta maker Olivia uses for clay arranged all around us.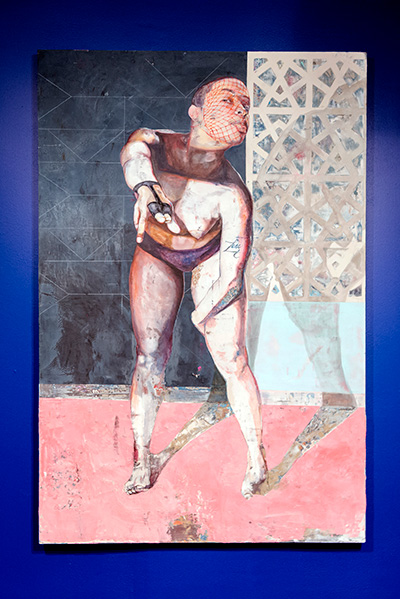 Olivia identifies as an autodidact, having never completed a higher education degree. She has always been an artist though, and attended the High School for Visual and Performing Arts at the prodding of her middle school teacher Elizabeth Hornick, one of those all-important art educators so many of us remember well. It was at HSPVA that Olivia discovered three key components of self identity.
"When I say I discovered my blackness I mean that I discovered who I was in relation to everyone else around me," says Olivia. "I learned the importance and value of this long rich history but also the weight of racial inequality, disenfranchisement, and the overall treatment of Black people in this country for centuries. I began to dig into the history of the American Black through arts and cultural experiences provided at HSPVA. I began to embrace my sexuality as a same-gender loving woman. These identities, Black Queer Woman, began to inform my works and still do to this day."
At HSPVA, Olivia discovered artists that still influence her: Audrey Lorde, James Baldwin, Angela Davis and others. She started competing in 11th grade with the NAACP program Afro-Academic, Cultural, Technological and Scientific Olympics (ACT-SO), which pushes African-American high school students towards high academic and cultural achievement. After winning both locally and nationally, Olivia's career launched. She attended HCC for a couple of years post high school, but left once her scholarship ran out and never completed a degree. Since then, she has been living as a "full time artist, part time everything else."
"For 22 years, since 1997," she elaborates, "I've been surviving and trying to reach as far as possible with my work without a college degree. I have been everything from a barista, designer, interior designer, furniture designer, and very briefly, an artist residency and space director."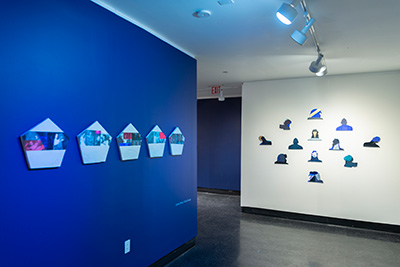 It's important to Olivia to produce work outside of the educational institutional environment, in part to lead by example and show others that a formal degree doesn't always give you a foot in the door, nor is that potential leg up even necessary. "The best way I can describe it is that I'm a purist," she explains. "I have always been driven to make work that is honest and sincere and I feel that more art school than I already have would water down and reconstruct my vision. I have been autodidactic for 22 years and I choose to make from that lens. Autodidacts are under recognized and less often celebrated and I'm interested in challenging those systems of thought."
Until recently, Olivia has always lived and worked in the same space. For about a year, during 2016-2017, she began building up a space of her own that she described as "a gallery, a repository, a haven for women artists of color who felt they did not have access to the art world." Space 55 was located in Third Ward in a building Lovie had always felt a connection to. She built it out and lived in a small attached apartment, and hosted a few events before Hurricane Harvey hit and the damage sustained was too great to move past. That's how Olivia found herself in her current shared studio space, and since then big things have happened.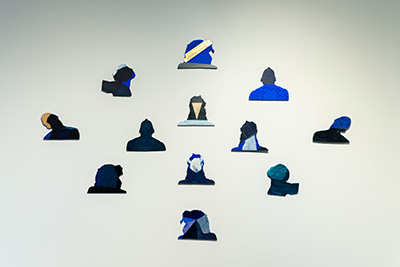 With less overhead and more ability to travel, all of Olivia's creative energy is devoted to making work, applying for grants and residencies, and focusing on what's next. She currently has work up in San Antonio, at Pressa House Gallery's Intersections, curated by Jonathan Paul Jackson, in Chicago, at Acre Project's Anarchival Impulse, curated by Stephanie Koch, and at She Matters, a group show at A&M College Station that is a sequel to a post-Sandra Bland exhibition at Art League.
The archival theme of the Acre Project exhibition is not accidental. Olivia's work involves digging through and reimagining history, often physically. There is usually a performance aspect, for instance an "onsite excavation," in which Olivia literally carves into the walls of the space to dissect the past, see what wallpaper there was, how many layers of sheetrock, and what lies beneath. At Acre Projects the walls are new, so Olivia made physical carbon copies of the original 1930's stained glass windows.
"Architecture helps guide our thoughts and impulses. I'm interested in the history that spaces reveal, the clues and memories that are left behind. I am interested in Black spatiality, domestic memory, aesthetics and how the Black queer body fits into these spaces. I guess you could say that I am always working from a 'If these walls could talk' lens."
All of Olivia's paintings are made using plaster as the base so that she can turn that excavation process on her own works as well, often digging into their surfaces and sculpting. Layering plays a huge role, both in the physical action of creating the work and psychologically.
"If I am to address painful subjects and experiences," she explains, "then why not have it be beautiful, flashy and seductive enough to draw the viewer in? I strategically choose colors, materials and patterns with aesthetic capital that are familiar enough to spark thought and dialogue."
There is evidence all around Olivia's studio of what is to come. There will be a series of food-based projects with Rajgariah, the first at Jonathan Hopson Gallery. She received a grant from Houston Arts Alliance to create This is Not a Piece of Paper, But My Arm, a project based on the letters and relationship between Black queer artists Pat Parker and Audrey Lorde, who both have their own Houston connections. Olivia will create eight cement plaques with excerpts of the two artists' writings to each other, which will be installed at strategic points around the City of Houston. Each installation will have its own performative ceremony. Olivia wants to celebrate differences and commonalities at the same time.
"The sheer intimacy and real love made evident in these letters triggers my imagination," she says of the project. "The intimacy that comes from being like-minded, committed and sincere in the sharing of love for one another without motive. I hope to remind people that love can exist between parties that sometimes disagree."
—EMILY HYNDS